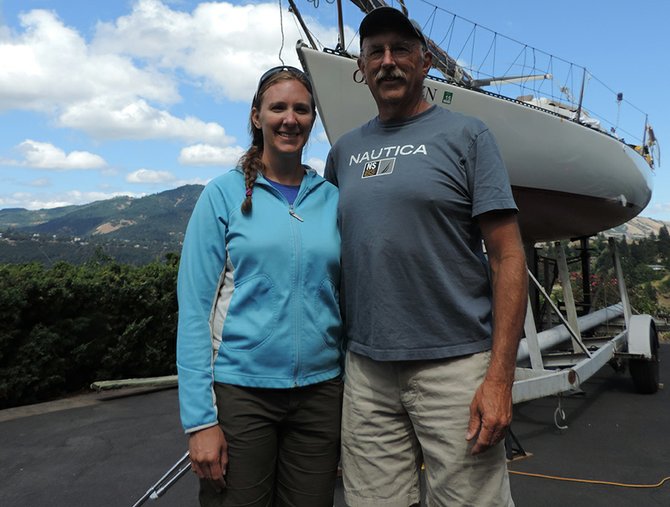 The "Mirage" points its bow at something all too real: the horrors of child sex trafficking.
The father-daughter team of Stan Perkins and Kerry Hallyburton will set sail aboard the 27-foot Mirage on July 7 in the 2014 Pacific Cup, a sailboat race from San Francisco, Calif., to Kaneohe Bay, Hawaii.
Hallyburton and Perkins are tackling the 2,070-mile sailboat race to help raise funds and awareness for Remember Nhu, a nonprofit organization that works to prevent the exploitation of children in the sex trade industry.
Hallyburton, a 1997 Hood River Valley High School graduate, first heard about the injustice of the sex trade in 2006 and since then has been serving actively to help make a difference.
"When my husband, Rick, and I first heard about Remember Nhu, we heard how children as young as 3 years old were being sold into the sex trade. We had a baby at the time and we couldn't imagine the thought of children just like ours being sold and the horrific things that would be done to them. We knew at that moment that we needed to partner with Remember Nhu," Hallyburton said.
Kelly and Rick, with their two children, lived in Thailand for 15 months working with Remember Nhu building a safe home, meeting the rescued children and learning more about the terrors of the sex trade. The Hallyburtons returned to the Columbia Gorge in 2012 and have continued working to get the word out and put a stop to the sex trade industry. They recommend the website remembernhu.org.
The sailors don't have a figure on their fundraising yet.
"It's mainly a word-of-mouth thing," Perkins said. "It's more awareness than anything. To see funds accrue from that, it's from someone who has looked at it a few times and feels comfortable and provides a donation."
The overall goal is to reach $160,000 to build a new safe house for the rescued children. One-hundred percent of the funds raised will be put toward the safe house.
Hallyburton said, "It's been spreading awareness to people who have not heard a lot about sex trafficking, and that has been really good."
Perkins and Hallyburton are an experienced double-handed crew, with races in the Gorge, the Oregon Coast, and the Swiftsure in British Columbia, among others, but their longest race was 70 hours — and this is the first time Perkins and Hallyburton have sailed across the Pacific. They'll be racing against two fleets of about five boats each, and one team has done the crossing 18 times.
"This is our first. We're the rookies. Most people have at least one person who has done it," said Hallyburton, who with her husband, Rick, runs Hallyburton Construction of White Salmon. Perkins is a retired phone company employee who has been a sailing devotee for 30 years.
The crossing will take 13-15 days of steady sailing on the Mirage, equipped with a propane cooker and plenty of freeze dried food. Space and weight limitations do away with any refrigeration, and the pair is undergoing painstaking decisions on what to eliminate in order to save weight.
You can follow their race progress on the Facebook page Sail For Remember Nhm, which will include daily updates during the race.
There's also a link on pacificcup.com, featuring a tracker that shows all 70 boats, color-coded by class and fleet.
Once in San Francisco, the Mirage will be fitted with a transponder that enables updates every 15 minutes.
Perkins primarily acts as skipper and Hallyburton as navigator, but the duties do cross over.
"We'll work in shifts and overall for the trip we won't see each other a lot," Hallyburton said. They will start with two-hour shifts that increase to six-hour shifts, for better rest, and cycle back to two-hour shifts again.
"As we get into squalls on the seventh or eighth day we may modify our schedule so we are both awake and can really push it," Hallyburton said.
A Pacific Cup inspector has visited twice for safety checks.
"They are very high on safety, making sure your boat is ready and your crew is ready," Hallyburton said. Asked if they were queried about their degree of experience for this type of race, she said, "We've sailed so much; we have a lot of experience together."
"Plus, sailing here in Hood River, they've given us a lot of credit," Perkins said. "We get 30-knot winds that are unheard of in Seattle."
"They say, 'if you can sail in Hood River, you can sail anywhere'," Hallyburton said.
Hood River preparations have included washing the boat and covering the bottom of the boat with a coat of slick bottom paint; "I'll run newspaper across it, just buff it up," Perkins said. One or two other measures done to increase speed they are keeping to themselves. Winners vie for a trophy and bragging rights, and awards including Fastest Family and Most Prepared.
In San Francisco, the boat will be moored and all gear loaded, a solar panel installed, and then the boat will be pulled from the water and weighed to determine its handicap.
And just what gear to take?
"This duration for a race has taken three years to prepare," Hallyburton said. "It's like a backpacking trip: you don't want to carry any more than you have to."
Last week, for at least the third time, Perkins and Hallyburton were standing at the bathroom scales, weighing each item and considering its expendability.
Perkins said they are constantly looking for ways to cut their overall weight by 10 percent.
He holds up a pair of socks.
"We have some duplication, but at one time those socks seemed to be pretty important, but today, it's nice weather, and 'Do we really need this?' It will be cold the first few days, then it will warm up. The big thing is, 'How do we stay warm and dry?' But these socks, they're gone, part of the 10 percent.
"I've helped a guy in Seattle get ready three times, and watched him leave," Perkins said. "I learned a lot."
The sail, an 85 percent spinnaker (15 percent smaller than others), weighs 19 pounds, and is possibly on the chopping block. They have three other spinnakers, but are "weighing" taking this one along, for versatility's sake in different wind conditions.
"We're asking, 'Do we need to do away with this 19 pounds?'" Perkins said.
For sail repairs, one item is sure to make the cut.
"We have plenty of tape," Perkins said.