Gov. John Kitzhaber announced Monday the appointment of Karen Ostrye to fill the vacancy on the Circuit Court for the Seventh Judicial District created by the retirement of Judge Paul Crowley. The Seventh Judicial District encompasses Gilliam, Hood River, Sherman, Wasco, and Wheeler counties.
"Karen Ostrye's broad experience in both civil and criminal law and her demonstrated commitment to the community make her the ideal person for this appointment," said Gov. Kitzhaber. "I have no doubt that she will contribute immensely to the court's work and serve the five-county judicial district with distinction."
"It was an honor to have received the call from Governor Kitzhaber notifying me of his appointment decision; a very great day," Ostrye said Monday. "It also was great to have received so much support from my colleagues. This is an important and exciting opportunity for me and I plan to give it my all."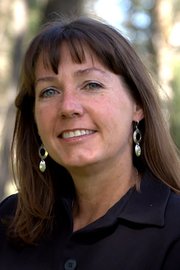 Ostrye ("awe-stree") graduated from both Portland Community College and Portland State University before receiving her law degree from Lewis & Clark Law School in 2003. She has been in private practice her entire career, first as an associate and eventually as a partner at Jaques, Sharp, Sherrerd, FitzSimons and Ostrye. With extensive litigation experience, Ostrye has handled cases in areas such as family law, juvenile delinquency and dependency, and employment law.
Ostrye's community involvement has included serving as a mentor with Big Brothers Big Sisters of the Columbia Gorge and on various boards, including the Hood River County School District, Court Appointed Special Advocates, and the Mid-Columbia County Bar Association. Her volunteer work earned her the recognition as mentor of the year in 2012 from Big Brothers Big Sisters of the Columbia Gorge.
Ostrye said she has advocated for all sides of most issues and her strengths include 11 years of litigation experience mainly in the areas of family, juvenile, criminal and employment law, a commitment to the community, an open mind, and "a genuine like and interest in people."