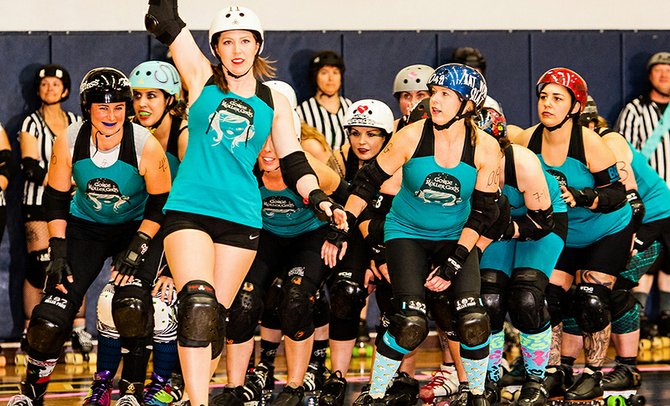 The Gorge Roller Girls hosted Atomic City Saturday night at Hood River Valley High School in their final bout of the season, and for the many hundred fans who have followed the team through its first two years of competition since being formed, this was the bout to end all bouts.
Down by seven points at the half and more than 20 points in the final minutes of the fourth quarter, GRG looked as if it didn't quite have enough steam to overpower the Atomic City lineup, which was out for blood after getting knocked out of a tournament by GRG the last time they met. In a last-ditch effort as the final minute counted down, the home team, led by jammer Ginger Binger Danger Hips, scored its best jam of the bout to overcome a 24-point deficit and take the bout 140-138.
"This was one of the most amazing bouts I have seen to date," said team member JP Bruiser. "These girls played their hearts out."
After the final jam, there was a tense break as judges tallied the final points.
"Everyone stared at the score board to see if Ginger was able to do it," Bruiser said. "It felt like it took forever, but when we passed 138, everyone went nuts. The team all dog-piled on a collapsed and exhausted Ginger on the track. It was an amazing moment. I am very proud to be part of The Gorge Roller Girls."
The win means the team finished with a winning 4-2 record in its first complete season since being formed a couple years ago. High scorers in the bout, for GRG, were Ginger Binger with 70, Comet with 39 and Wreckless with 31. MVP honors went to Ginger Binger.
Coach Yo-Duh gave the following account of the action:
"The last time these two teams met was at a tournament in Spokane. We won, knocking them out of the tournament … so Atomic City came looking for revenge. I have never been a part of a game that was this close. With 3:45 left in the game GRG was losing by over 20 points. Our jammer had trouble in this jam and Atomic City was able to run the clock down to 45 seconds. It seemed like Atomic City was going to get their revenge.
"We called a time out and regrouped. We had to get Lead Jammer, get four points and call the jam with at least a few seconds to spare, so that we could call another time out and have another chance to win. It all worked out. We not only had 10 seconds left in the game, but our blockers forced a penalty on their jammer. We were still losing by 20 points. So far, in this game our biggest jam was 15 points, so we didn't know if we could pull it off. But, we were sure going to fight to the end and get as close as we could.

"We sent in Lady One-Eighty, Kat Von Splat, Faye Spounder and Maytag with Ginger jamming. Our blockers were outstanding, and not only were able to stop their jammer, but they forced another penalty and gave our jammer, Ginger, the opportunity to get the points we needed.
"As the game ended and our team collapsed on the ground, the points slowly added up on the scoreboard. Then the score added up, then stopped at 138-138. It seemed like it stayed there for an hour, but the final tally was in and we were given two more points to win the game. It was an insane finish to a great season, and the most stressful game I have ever been a part of."