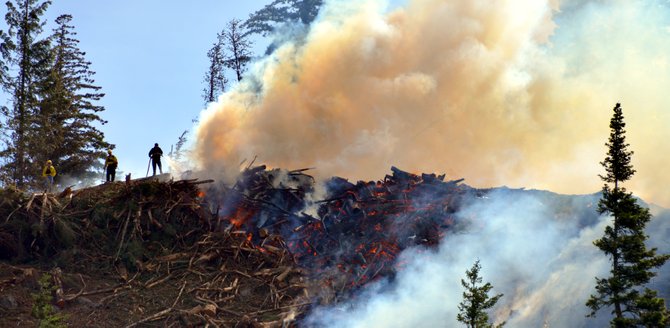 UPDATE at 3:45 p.m.
The 50-acre Owens Fire burning 12 miles south of Hood River off Pinemont Drive was declared 50 percent contained at 3:15 p.m. today. Firefighters expect to achieve full containment by 6 p.m. on June 19. Though the fire is now nearly fully lined, there are still some hotspots in concentrations of fuel. A logging slashpile burning on a log landing on the northeast corner of the fire is still pretty hot.
UPDATE at 2:10 p.m.
The approximately 50-acre Owens Fire burning about 10 miles south of the community of Hood River was 10 percent contained by 1:30 p.m. today according to the Oregon Department of Forestry. Burning on Hood River County forestland, the blaze spread rapidly this morning through dry logging slash, pushed by wind. Once the slash was consumed and the fire moved into reprod timber, the behavior moderated.
Firefighters have nearly completed fire line on the south flank of the fire, and a fire hose lay is fully in place. Work is underway this afternoon to complete fire line on the north flank. The east flank has a road running along it to provide a fire break, and a bulldozer line has been constructed there as well to serve as a contingency line.
Overall, fire line has nearly been completed around the fire, and firefighters expect to have it fully lined by the end of the day.
The Hood River County Forestry Department reported that the slash that burned - from a timber harvest three weeks ago - was just starting to turn red. The area that burned contained felled timber, mostly Douglas-fir with some Ponderosa pine.
Humidity is expected to drop this afternoon as the temperature increases.
In view of the forest fuel types, firefighters will likely need to monitor the site for flare-ups for the rest of the fire season.
Firefighting resources currently on scene include: 2 contract hand crews, 1 hotshot crew, six fire engines, 1 ODF bulldozer and 2 private dozers, 1 medium helicopter, several water tenders, and miscellaneous fire management (overhead) personnel.
The incident command post for the Owens Fire is located on Pinemont Road just past the Mt. Hood Forest Products mill.
UPDATE at 10:55 a.m.
A 50-acre wildfire, now referred to as the Owens fire, is burning 12 miles south of Hood River on Hood River County Forestry Department land.
The fire, reported at 3:45 a.m., appears to have ignited within an active timber harvest operation.
A bulldozer line has been completed along the top of the fire (east flank). Fire behavior is currently moderate, with backing and flanking observed. ODF estimates the final fire size when it is fully contained will be approximately 200 acres.
Resources fighting the fire include: one helicopter, 6 hand crews, 3 bulldozers, 5 fire engines, and several fire management (overhead) personnel.
High winds from 20-30 mph are expected today and this evening, which could pose a challenge for firefighters.
A type 3 (local) fire team is being assembled to manage the fire.
Original story follows below
Crews are currently battling a wildfire burning 12 miles south of Hood River off Pinemont Drive on land owned by the Hood River County Forestry Department. Initial reports early this morning indicated the fire is between 50 and 75 acres in size.
The fire is reportedly burning in a steep canyon with a portion of the fire in an area of heavy slash from a recent clearcut. The fire perimeter is also stretching into a forested area.
The Oregon Department of Forestry and the U.S. Forest Service responded to the blaze. ODF has four fire engines and one bulldozer at the fire. The agency is also sending a helicopter and five hand crews this morning. The USFS is assisting with a hand crew, a fire engine and overhead personnel. Local fire departments are also on the scene.
Hand crews and fire apparatuses are working hard to knock down the flames before temperatures and wind increase and the humidity drops.
No word on percent containment. Cause of the fire unknown at this time.