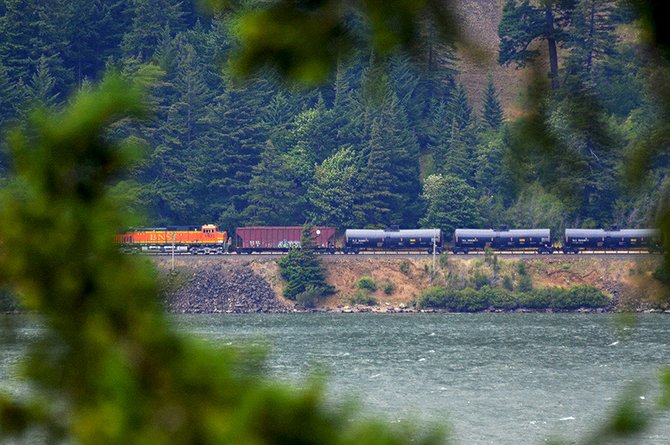 As mayor of Hood River, I am frequently called upon to take a stand on issues. As someone with strong opinions, you'd think this would be easy, but there's a bit of subtlety required. As a citizen I am entitled to my strong opinions on any topic; as mayor of Hood River I am careful to limit myself to issues where the mayor and council have a legitimate policy concern under our city charter.
The City of Hood River, for example, does not have a foreign policy, so no matter how strongly I feel on such an issue, I do not think it appropriate for the mayor and council to presume to speak for the citizens on foreign policy. Our citizens are quite capable of speaking for themselves, and I encourage them to do so.
When the question of coal and oil transport through the Gorge came before us, the council had to apply the filter of our charter. While I would personally agree that global climate change is the preeminent environmental issue of our time, we did not discuss it, since though it may determine the future of life on earth, you would have to contort our charter quite a bit to find our authority to address it as a city. As individuals yes, as a city no.
Instead, we chose to focus on an area where we undeniably have authority and charter= responsibility. Our city council oversees the operation of the Hood River police and fire departments which are responsible for maintaining order and emergency response within our city limits, and through a series of mutual aid agreements, for assisting in emergency responses through much of the Gorge, on both sides of the Columbia.
We are permitted, and I believe obligated, to address issues which concern the ability of our city to carry out an emergency response, as well as issues which concern the safety of our emergency service personnel and citizens. When I started to hear terms like "rolling pipeline" and see news items about exploding rail cars in cities that don't look that different from Hood River, I assumed two things: higher authorities must be far ahead of us addressing this, and that the risk is infinitesimal. Spoiler alert— I was wrong.
I'm a pretty methodical, analytical person, so my first instinct was to start asking questions and gather data. I think there are two questions every jurisdiction should ask.
1) What is the likelihood of a serious accident, and
2) In the event of such an accident, are we prepared to respond in a way that would contain the loss of life and loss of property?
So let's start by asking the straightforward questions:
What is the probability of a derailment in the Gorge?
I assumed that since oil was already traveling on the rails, there must have been careful risk analysis done of the likelihood of accidents, and the expected cost in life and property. I asked Rob Davis of the Oregonian if he was aware of any such study, and he referred me to one by the Port of Vancouver. Sure enough, they have a press release with the headline "Study shows very low risk of derailment on new rail entrance." They commissioned a study by TÜV Rheinland Rail Sciences, Inc. It "evaluated the derailment risk on approximately 3,000 feet of rail track exiting the BNSF Railway mainline and entering the port."... "The purpose of the study was two-fold. First, the port wanted a neutral, third-party safety evaluation of track that will serve as a significant portion of the port's main rail entrance beginning in 2015. Second, the port asked TÜV Rheinland to offer recommendations on additional steps that could be taken to make that section of track even safer."
There are quite a few pages of graphs, charts, footnotes, and analysis, which I suspect they assume no one will read. But I love this stuff. I read all the charts and text and here's the only conclusion I think is supported by their analysis: With $500,000 of track improvements, a properly loaded train is very unlikely to derail while braking from 10 mph to a stop on their 3000 foot rail frontage.
My concern is the full 75 miles of Gorge, with trains traveling in excess of 60 mph on tracks that haven't just been upgraded for safety which may have been loaded by an employee with a serious hangover, but I couldn't find any analysis other than those 3000 feet of track under ideal conditions. Lacking anything better, I resorted to a back of the envelope calculation — an engineer's term for an estimate useful to determine at least the order of magnitude of the problem in the absence of anything better.
I found a peer reviewed study in The Transportation Research Record, where they did a statistical analysis of all of the official accident reports for the last decade. Without getting into too much detail, there were 58,299 rail cars derailed in 11,215 accidents in the US in the last decade. Another industry source estimates there are 142,000 miles of freight rail in the US. With roughly 150 miles of rail in the Gorge (75 miles on each side) if you assume average track conditions, average rail traffic, average everything, this simple-minded analysis says we should expect to see 1.2 accidents in the Gorge every year, with 6.2 cars derailed. I'd happily set aside my simple-minded analysis for one which carefully considered local conditions, traffic, etc., but apparently no one has seen fit to do that analysis.
So I'm left with roughly an accident a year, most of which I presume will be low speed with a few cars hopping the track, hopefully cars containing nothing more hazardous than Sriracha Sauce.
So, to summarize question one: how likely is a derailment? No one seems to be asking, so we don't know, but simple-minded analysis says it's not infinitesimal and therefore should not be dismissed from emergency planning.
So let's go to my second question: are we prepared for such an accident? I prepared 19 questions for each of the first responder agencies in the Gorge. I wanted this to be non-political, fact-based, so I was careful not to ask broad questions like "are you prepared" but instead asked for specifics of what sort of personnel, equipment, and training is in place to respond. How quickly will you be on scene, with how many people and what sort of apparatus, how will you know what is burning, how much water can you pump to cool the scene and limit spread, how much Class B foam do you have to extinguish the fire, and how will you establish a perimeter to keep the public at a safe distance.
I am still gathering responses, but certain patterns are emerging. In the event of an oil train derailment, local responders will be on scene within minutes with firefighters, some volunteer and some full-time paid staff, and an array of equipment intended to fight brush or wild land fires and structure fires. Other agencies will respond to a mutual aid request within minutes. They will not have confirmation from the RR of the contents of the derailed cars for 45 minutes or more afterward. None of the local agencies have Class B foam, necessary to extinguish a burning oil tanker car, and none of them have received any special training, funding, or equipment from the railroad help them deal with a derailment.
So, to summarize the answer to my second question: are we prepared to respond to such an accident? We don't really know, as neither the state nor local governments have yet studied this question with any rigor. Preliminary responses to my informal survey at a minimum suggest serious deficiencies. I don't have the ability to translate the answers to my survey into a prediction of the outcome of an accident, and those who do have that ability haven't asked the question.
One common response I hear when talking about oil trains is that there is already plenty of bad stuff transported by rail. I suppose the logic is that since I haven't been complaining about railcars with paint thinner passing through Hood River, I was somehow being a hypocrite by complaining about unit trains of Bakken crude.
I'll accept the claim that I'm a hypocrite as long as I can be a hypocrite that understands math. Adding Bakken crude oil to the mix of hazardous materials passing through the Gorge is not an incremental increase in the overall hazard. The quantities and the volatility of the material lead to an exponential increase in the hazard. I may have been remiss in not asking about transport of hazardous materials through Hood River before, but that doesn't obligate me to keep my eyes closed now.
It's unfortunate that even this question has taken on partisan tones, because the risk to life and property has nothing to do with party. I would think that every agency responsible for emergency response alongside the tracks would ask the same questions: Do we know what's passing through our city? Are we prepared to respond to a derailment? Do we have the equipment and personnel we'll need to do so?
Instead, I've been told "This is about jobs." The argument is that our neighbors need the jobs building rail cars and operating terminals, so we should look the other way as they site these facilities. I have great sympathy for the plight of neighboring communities, but I'd like them to understand a little bit about the economy of the Gorge.
The Information Revolution has changed our economy in a fundamental way. We are seeing strong and steady job growth in Hood River and neighboring communities for one reason. We have a phenomenal quality of life, and people who can move their companies any place in the world chose to come here. That brings us good, high- paying jobs, and we don't intend to put these jobs at risk so that another town can generate short-term jobs building an oil terminal. Selfish, I suppose, but until you can convince me that your jobs don't come at the risk of the life and property in my city, don't expect my support.
So let me summarize my thoughts. I think state and federal regulators have really let us down by allowing first the BNSF and now the Union Pacific tracks to be converted into a rolling pipeline without answering the obvious and basic questions: What is the likelihood of an accident? And if such an accident occurs, are we prepared to address it? Local governments should demand the careful analysis to answer these questions, and no such rail transport should ever have been allowed without knowing those answers.
Recent federal and state actions are a patchwork, and still don't answer our basic questions. Sure, we should know how much oil is being transported through the Gorge, but how are we translating that into adequate readiness? Are we getting Class B foam, personnel, and training as part of that information package?
Sure, we should remove antiquated tanker cars from the fleet— and after we've accomplished that, can you give me a number for how safe this transport will be, and what loss of life and property we should expect?
In my eight years in local government, we've constructed roads, water pipeline, parks, and sewer facilities. Every detail of those projects was subject to careful state and federal oversight to assure safety both during construction and through the lifetime of operation. Not one spoonful of dirt is moved before we provide satisfactory answers to every question from each regulatory agency. We couldn't lay one foot of water pipeline until we verified we have American with Disabilities Act compliant restrooms at the building where you pay your water bills. How can the same state and federal government allow the construction of a rolling oil pipeline through our community without informing us it was happening, without studying the risk, and without planning for emergency response?
I suspect that cities and counties between here and North Dakota are operating under the delusion that rail transport is regulated as carefully as local government activities are. It is not. As local governments, we have to ask the basic questions about the safety of these operations, and demand a "stop work" order on this pipeline until we have satisfactory answers.
Mayor Babitz delivered this address to the Columbia Gorge Climate Action Network at a forum on June 16 at Riverside Community Church.