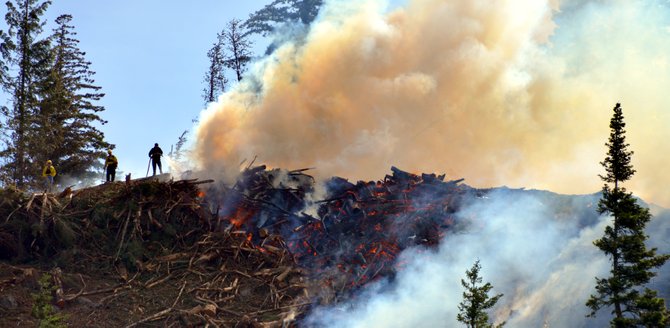 With high temperatures and drought conditions predicted for most of the state of Oregon this summer, firefighting agencies throughout the Gorge are already girding themselves for what is expected to be a challenging wildfire season that is already underway.
Last week, authorities busied themselves with extinguishing fires on the Washington side of the Columbia River: a small one near the Chamberlain Lake rest area along Highway 14 near Lyle and a 5.25-acre wildfire near Dog Mountain in Skamania County. This week, the Oregon side experienced its first significant blaze of the season with the 20-acre Owens fire located approximately 12 miles south of Hood River off Pinemont Drive (see the above story). That fire, which burned on Hood River County forestland, was 85-percent contained as of Friday morning.
Although last year's wildfire season was a "little light" for his department compared to previous years, Devon Wells, Hood River Fire and EMS chief, reported local firefighters are gearing up for what is forecast to be a heavier fire season in 2014.
"We are doing our regular preparation of testing equipment, training on wildfire safety, strategy, and tactics, and getting our minds thinking about wildfire again," he said. "We only rely on the [U.S.] Forest Service predictions, which this year seem to be telling us that the fuels are heavy and the summer weather prediction shows a tough fire season ahead."
Although long-range forecasts are frequently subject to change (just take a gander at the original snow predictions for this past winter recreation season), USFS does indeed predict conditions will be particularly conducive to producing wildfires this year.
"Oregon's fire season is already upon us, but it is still hard to predict what will happen later this summer and fall around Mount Hood," reported Laura Pramuk, public affairs officer for the Mt. Hood National Forest. "According to Predictive Services at the Northwest Interagency Coordination Center we can expect increased fire potential for the state of Oregon, due to the lack of snow pack in the mountains and the drought situation throughout the entire state. The potential increase in fires is also attributed to higher temperatures."
According to the most recent statistics from the U.S. Drought Monitor, the eastern half of Hood River County is currently experiencing a moderate drought, while portions of the western half are either classified as abnormally dry or are not considered to be in a drought at all. Almost the entire state, with the exceptions of the western Columbia River Gorge and the far northwestern and northeastern corners of the state, is either considered abnormally dry or is at some level of drought.
Darren Kennedy, fire management officer for the Columbia River Gorge National Scenic area, concurred and reported the west end of the Gorge was in "pretty good shape," but that the eastern Gorge was suffering from a lack of rain. He added that fuel loads and snowpack levels aren't currently as much of a concern in the Gorge as they are on Mount Hood.
"It all comes down to when the grass gets brown and when the wind starts blowing," Kennedy noted.
Forecasts like these are starting to become more of the norm. USFS and the Department of the Interior reported last month that climate change is contributing to longer and more intense wildfire seasons. According to a USFS report, fire season lengths have increased by 60-80 days and annual acreages burned have more than doubled to over 7 million over the past 30 years.
Fire costs have also soared accordingly, high enough that without legislative intervention, they would exceed department budgets. The most recent numbers project firefighting costs will reach $1.8 billion this season — significantly more than the $1.4 billion allocated in the DOI and USFS budgets for 2014. Typically, agencies have to borrow money from other programs, which can leave less funding for fire prevention activities such as mechanical forest thinning and controlled burns. Legislation has been introduced that would create a special disaster relief cap adjustment for use when costs of fighting fires exceed department budgets.
Kim Valentine, east zone fire management officer for the Mt. Hood National Forest, concurred.
"The Mt. Hood National Forest has many special places and we need everyone's help to protect them from wildfire," she said. "Firefighting is expensive work, and human-caused fires require resources that would otherwise be used to maintain trails, restore watersheds or take care of campgrounds."
Last year, $1,339,000 was spent on putting out 76 fires in the Mt. Hood National Forest, according to Pramuk, 11 of which were in the Hood River Ranger District. The previous year was even higher, with $2,401,000 needed to suppress 86 wildfires that occurred in the national forest in 2012.
Of those 162 fires over the past two years, 123 fires — approximately 76 percent — were determined to be caused by humans, as opposed to a natural cause, such as a lightning strike.
In the Gorge, the percentages are even higher. Kennedy reported that in 2013, CRGNSA crews responded to 61 fires, some of which were outside the Scenic Area. He estimated that "the vast majority of our fires — about 95 to 98 percent — are human-caused."
With such high percentages of human-caused fires, authorities are stressing that people should be extremely cautious this season.
Wells warned that "big fires start small, and careless camping and recreational practices can cause large problems for land owners and firefighters alike." He advised those who are working in the woods to be sure they have a water source handy that is capable of extinguishing small fires.
Pramuk said with well over a million people visiting the Mt. Hood National Forest every year, it was especially important for visitors to take special fire safety precautions. She said those who are cutting firewood should complete a one-hour fire watch before leaving the cutting area to ensure their chain saws haven't inadvertently sparked a fire. Pramuk also cautioned that "hot vehicle engines have even been known to start fires in dry grass along forest roads," and people should be cognizant of that.
"We all need to be vigilant about any potential fire situation this summer," she said. "Human-caused fires are totally preventable and we are looking at a busy fire season."