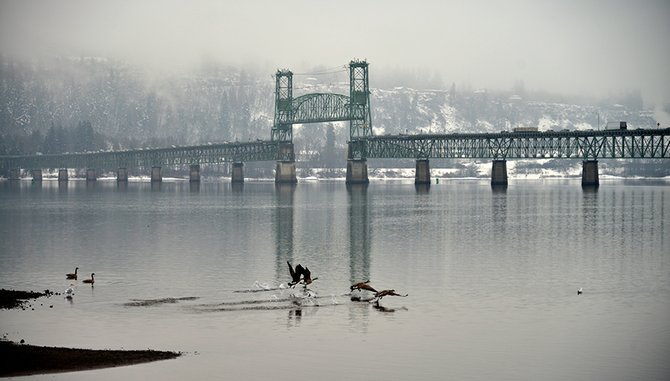 Those who use paper tickets to cross the Hood River Bridge will no longer receive a discounted rate on bridge tolls come next year.
During a Port of Hood River Board of Commissioners meeting on Tuesday, commissioners agreed to end the discount for ticket users come Jan. 1, 2015.
Currently, ticket users receive a 20-percent discount on the cash bridge toll price, which is $1 for passenger vehicles. The port sells 25-ticket books, but only charges customers $20. Motorists who use BreezeBy, the port's electronic tolling transponder, receive a 25-percent discount.
Port Commissioner Jon Davies reported during the Tuesday evening meeting that 17 percent of the bridge's toll income is derived from bridge tickets. Davies said the paper tickets are often "a big convenience" for employers because "you can dole them out and you don't have to give somebody a whole pass — a BreezeBy." Although the port earlier this year switched to plastic transponders that can be fastened to a windshield via Velcro or suction cups, most vehicles still have the original sticker transponders, which are not able to be removed from a windshield without damaging the transponder.
Despite the convenience the paper tickets may offer, Commissioner Hoby Streich noted during the meeting that "the cost of printing them is astronomical," and that he would "almost be in favor of charging [ticket users] a little extra."
Commissioners also discussed the possibility of eliminating the tickets entirely at some point in the future, although no specific date was mentioned. Elimination of the tickets would also likely force many bridge users to sign up for the BreezeBy transponders.
"We really want to push people that way," Davies said of the transponders. "It's much better for traffic flow and for everybody."
Port Finance Manager Fred Kowell said that if the tickets were eventually discontinued, he would like to find another way to accommodate those bridge users.
"We're also looking at upgrading the tolling equipment and that system, I hope — I hope, that I could still substitute some payment method that mirrors something like a ticket," he said.