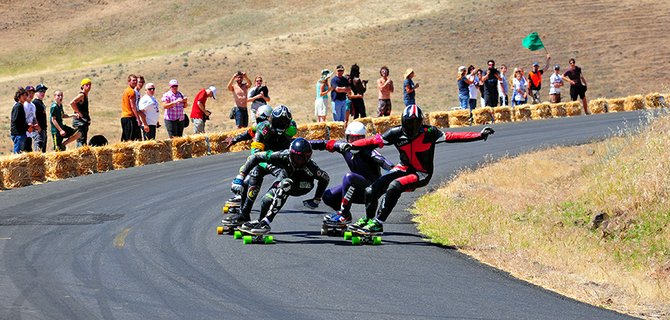 The Maryhill Festival of Speed returns to the Gorge next week, June 25-29, for five days of hair-raising downhill skateboard and street luge action on the world-renowned Maryhill Loops Road. The annual event has become known by adrenaline junkies the world over as one of the best races, and the absolute best venue, on the International Downhill Federation's World Cup circuit.
More than 250 racers from 24 countries will compete in this year's Festival, where, along with global exposure and major bragging rights in the downhill skateboarding world, $10,000 in prizes and coveted world cup points will be up for grabs as racers tear down the 2.2-mile, 22-corner course of pristine, steep and sticky asphalt originally created as an experiment more than 100 years ago by the legendary road designer Sam Hill.
Action starts June 25-26 with two days of open practice for competitors, who will dial in their gear and technique while conditioning their nerves to prepare for a day of qualification rounds June 27 and a day of elimination rounds June 28. Action comes to a head June 29 as the top qualifiers in each division go head to head in the final rounds; street luge also runs the final morning of the festival.
For spectators, the final two days will be the most exciting, but a home base for the event at the bottom of the road will have activities throughout the festival, including a daily halfpipe contest, games for product prizes and food and drink concessions. There is no entrance fee, and race fans can either watch the action from the finish line or get up close and personal with racers by hiking up the course (on designated paths) to watch from behind hay bales as skaters in full leather suits fly around hairpin corners in tight packs, at ludicrous speeds, with the scenic backdrop of rolling wheat fields blowing gently in the breeze.
This year, Maryhill is the opening event on the 11-event 2014 IDF World Cup Circuit. For the many racers who call the sport a lifestyle, the adventure continues with stops in Whistler, British Columbia; Neukirchen, Germany; Kozakov, Czec Republic; Peyragudes, France; Pike's Peak, Colorado; Pala California, Parque Nacional, Columbia; Tarma, Peru; Belo Horizonte, Brazil and Pringle Bay, South Africa.

Maryhill Loops Road is located east of US 97, off Highway 14 — cross the Columbia River at Biggs Junction and head east. For more information and detailed schedules of the action, visit maryhillfestivalofspeed.com.