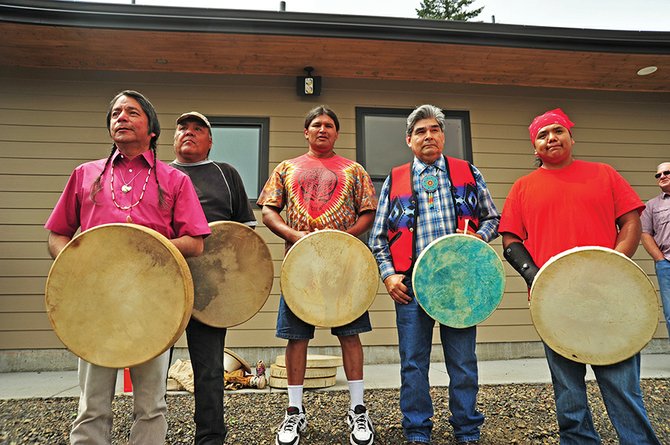 More than 100 people, led by a group of Umatilla drummers divided by men and women on the north and south, gathered Saturday to spiritually dedicate one of Cascade Locks' newest businesses.
The musicians presented Washut, or dance — three songs celebrating work, heart, and life — at Brigham Fish Market, on WaNaPa Avenue, which opened in February, one of two new businesses to open in 2014, along with neighboring Jumpin Jax Java, on land purchased from the Port of Cascade Locks.
"Today we are going to make a big sound with our heart, so our creator will know who we are," said Armand Minthorn, who with Umatilla tribal members David Thompson Sr., Tommy Pierre, Woodrow Star, and Sam Spino, did the honors in the 20-minute traditional ceremony involving song, prayer, bells and drums.
"This has big meaning. You feel fulfilled," said Kim Brigham, part of the family ownership of the business. "It was a wonderful ceremony, and now it just feels complete. I was waiting for the blessing. It will just feel right now."
Brigham Fish Market opened on Feb. 8, in a snowstorm, but the ceremony took place on a shirt-sleeve day in which family and friends spent the morning in the market courtyard, enjoying numerous samples delicacies courtesy of the Brigham family. Meanwhile, the store did brisk business, with oysters, crab and other Pacific Ocean specialities on ice in the brightly lit display case.
As if the smoked salmon and sturgeon and chowders weren't enough, Thunder Island Brewing served up a keg of pale ale, and Sara Patrick baked pans of moist huckleberry cake, served to visitors by Kim's mother, Kat Brigham.
Minthorn spoke of the ancient and honored place the salmon has in the lives of the people of the Columbia River, and said a business owned by tribal members that sustains the physical and spiritual nurture of the salmon. He thanked the community for attending, after asking that women stand to the south and men to the north, and that an open path be made to the east, from where the sun rises.
"When our songs are sung there is that light will shine and today that light shine here," Minthorn said. "That light will shine into our hearts and our bodies. Today we stand ourselves up to work for our lives, to pray for our lives, to sing for our lives. A big thank you," Minthorn said. "That you are here today is good medicine."
"Today on this big day we come here to pray with you, and it is true all of you in some way at some time can remember your old people, and us as Indian people, we try our best to echo and to follow examples of the people that were before us and this belief that we follow," Minthorn said. "It was their belief, this belief that was given to us way before the white man came here, and we carry it as best we can, and all of you are helping us carry it today."