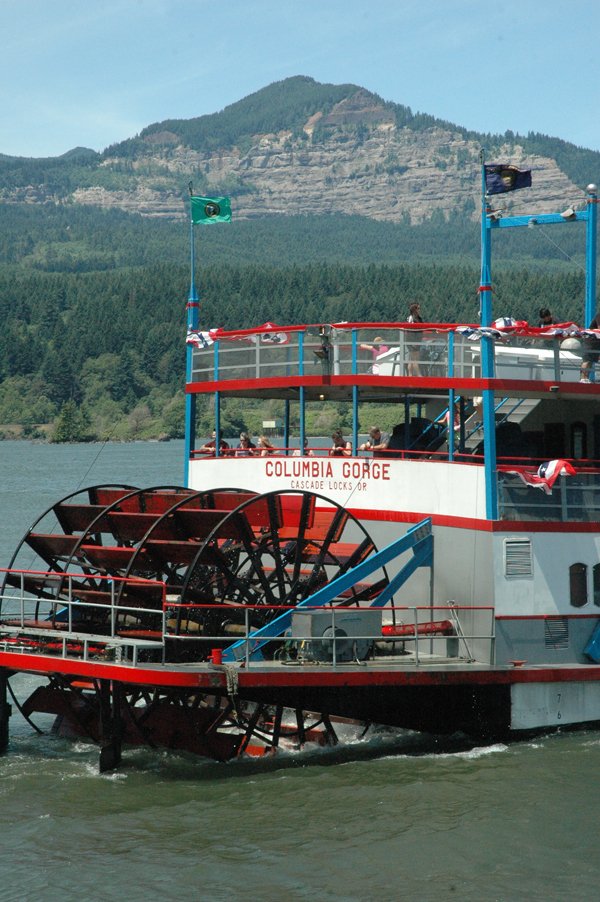 Community volunteer Kari Goben will lead Saturday's parade as Grand Marshal of Sternwheeler Days 2014. The three-day event pays tribute to the community's historic ties to the river, through the sternwheeler vessels that carried passengers and cargo through the Gorge.
The Sternwheeler Columbia will be on view throughout the weekend, and rides are available at the Sternwheeler headquarters in Marine Park.
The community's annual festival features activities of all types, including the popular Mountain Man Encampment throughout Thunder Island, all three days.
Anyone may ask questions of the period-authentic devotees of pioneer crafts and lore; clothing, weapons, furniture, tents, cookware and fuel, musical instruments and just everything else in camp is faithful to how life was lived by trappers, settlers and pioneers of the 17th to 19th centuries in North America.
Period cannons are fired by those with ordnance experience, among other attractions. Watch the "mountain" folk do weaving, blacksmithing, and other crafts.
In Marine Park, find more modern products and activities, ranging from crafts vendors to bounce houses, live music, and Sunday morning worship service.
n
Most Sternwheeler Days events happen in Marine Park.
Saturday's parade starts at the west end of WaNaPa and proceeds to the school.
Here is the full schedule of events:
Friday, June 27
10 – 6 p.m., Mountain Men Encampment, Thunder Island
12 – 8 p.m., Lions Bingo, Marine Park
5 – 7 p.m., Asher and Lost Highwaymen, Marine Park
10 – 9 p.m., Food and craft booths and kids' games and rides, Marine Park
Dusk, Movies in the Park, Marine Park
Saturday, June 28
7 a.m. – noon, Eye Openers Lions Club Breakfast, Marine Park
9 a.m., Columbia Gorge Walking Club 5K and 10K run/walk-a-thon, Marine Park
10 – 9 p.m., Food and craft booths and kids' games and rides, Marine Park
11 a.m., Parade starts at the Bridge of the Gods
Noon – 8 p.m., Lions Bingo, Marine Park
12:30 – 5 p.m., Phoenix Rising, main stage, Marine Park
4 – 7 p.m., Salmon bake, Marine Park
Sunday, June 29
7 a.m. – noon, Eye Openers Lions Club Breakfast, Marine Park
9:30 – 10:30 a.m., Church in the Park, Marine Park
10 – 3 p.m., Mountain Men Encampment, Thunder Island
10 – 5 p.m., Food and craft booths and kids' games and rides, Marine Park
11 – 5 p.m., Lions Bingo, Marine Park
1:30 – 2:30 p.m., Asher and Lost Highwaymen, Marine Park
5 p.m., Festival closes, Marine Park