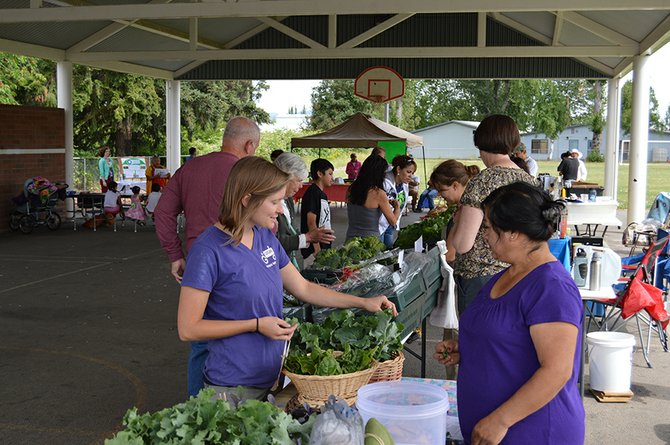 El Mercado del Valle opened for the summer season on Saturday, a fair-like array of produce, hot food and cold drinks, craft items and information booths — including Cover Oregon — under the Mid Valley Elementary covered play area.
There was even something for children, aside from Mid Valley's popular playground — Sandy Salazar, Mid Valley instructional assistant, read books and led children in craft projects at a special table grouping just their size.
The goal of El Mercado, the newest Gorge Grown farmers' market, is to "make this a market for the Odell community, created by the Odell community," said market manager and Jesuit Volunteer Anna Osborn. And while there were less than a dozen vendors at Saturday's market, as the growing season progresses, so will the offerings.
Osborn was particularly pleased with the success of the community table—La Comunitaria Mesa—that attracted four backyard gardeners with extra produce to sell. Osborn said that usually one or maybe two people take advantage of such a booth.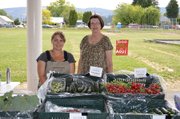 It's an easy way for those who have too much produce for their own use but too little for a full vendor table to sell what they have on an as-needed basis (no long-term commitments or space reservations required), whether it's a small bunch of herbs or a large basket of greens, both of which graced Saturday's community table. Simply bring what you have to the market. It's a convenient perk for both buyers and sellers.
Like all Gorge Grown Markets, El Mercado accepts WIC coupons and participates in a SNAP Match program. "When a food stamp shopper comes to the market and swipes their card for $5, they will receive $10 in market tokens," said Osborn.
El Mercado will run every Saturday through Sept. 20 from 10 a.m. to 2 p.m. in the Mid Valley Elementary covered play area. (The market's mention in today's Kaleidoscope, page B10, contained incorrect schedule information.)