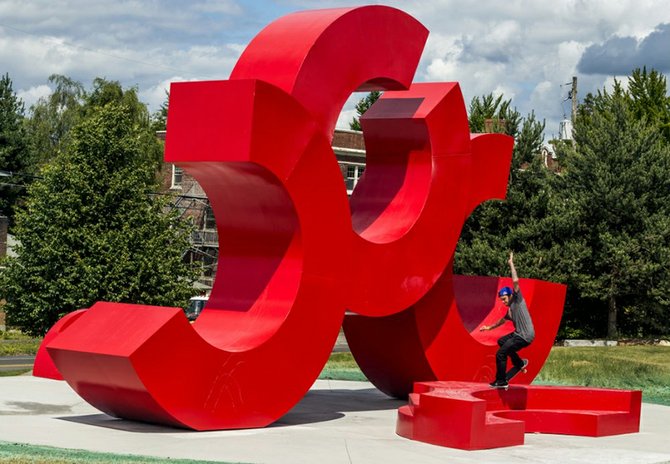 Hood River artist and metal sculptor C.J. Rench and his team unveiled the final product of several months of hard work and collaboration over the weekend in Seattle, Wash., where a 22-foot high, 11,000-pound structure was pieced together in the city's Jefferson Park. The project, called Red Bull Skate Space, is a joint effort between Rench, Red Bull and professional skateboarder Torey Pudwil. In addition to its appeal as a bright and cheerful piece of public art, the work is and is designed to be interactive and, in particular, to be skateable.
After winning the highly competitive bid for the project, Rench worked with Pudwil for more than a year to design the piece, which will be placed permanently at the central-Seattle public park. The piece was installed and unveiled over the weekend, in time for International Go Skateboarding Day. Along with Pudwil, other big name skaters like Ryan Sheckler, Felipe Gustavo, Tom Schaar, Alex Midler, Ryan Decenzo and Joey Brezinski were on hand to showcase the piece in the company of hundreds of fans, media and public officials.
"Bridging the game between art and sport is such a cool concept, but once we finished putting this up I realized that we had done it," said Rench. "Seeing moms and dads sitting on the sculpture as their kids skated around, it was just icing on the cake to see all of these people enjoy one art piece so differently."
Rench and his crew designed and built the structure at his Tucker Road workshop in Hood River, in multiple pieces, with Pudwil visiting several times to give input and test-skate different sections. Once completed, the pieces were loaded onto flatbeds and trucked to Seattle.
"Weighing in at 11,000 solid pounds of steel, the sculpture stretches more than 50 feet wide and 22 feet tall," RedBull reported in a media release. "It is made out of mild carbon and stainless steel, requiring 26 people to move and install in its final resting place in Seattle's Jefferson Park. Multiple forklifts along with the assistance of an 18-ton crane were needed to lift all of the pieces off the truck.
"Jefferson Park is a designated District Skatepark location in Seattle's Citywide Skatepark Plan. This plan identifies a network of safe, legal places throughout the city that can begin to change the way people think about and experience skateboarding in Seattle."