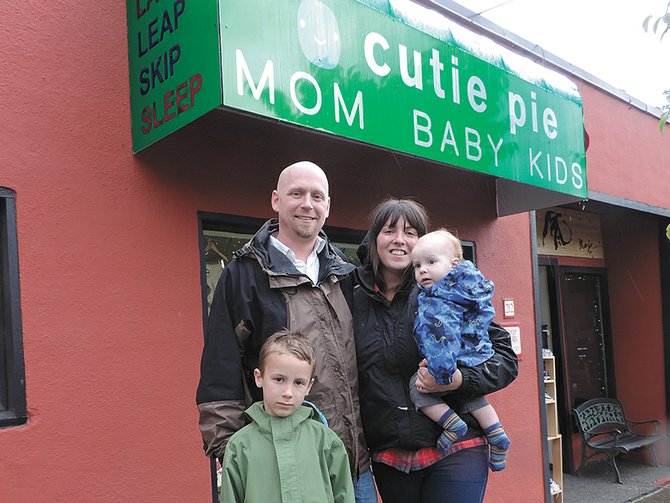 Do you have small children and did you forget something on your way to go camping?
Are you vacationing in town and need a stroller for the week but prefer not to buy a new one?
Cutie Pie is there for you.
The new and consignment shop for families, located a block from the library, is under new ownership. Founder Erika Doring sold the four-year-old store to Brittney and Brycen Weaver in March.
The couple relocated from their native Eugene, with their children Noah, 6, and Kallum, 10 months. Noah just completed kindergarten at May Street.
"We unloaded the UHaul April 2, and took over (the store) on April 3," Brittney said. This is the first time either has worked in retail. Asked if it was scary or exciting, Brycen said, "It's a little bit of both. It's a leap of faith, a little risk, but we knew what we wanted to do, something where we could be with the kids and work together and work for ourselves," he said.
"We were ready for a change of pace and we both vacationed in Hood River and loved it, and we saw the opportunity and jumped into it," Brittney said.
They are in the process of expanding products and services, with an emphasis on renting equipment, and sustainability.
"We plan to grow the business, and become the go-to children's store, and expand to serving people with vacation rentals, things people need for babies they didn't pack with them," Brittney said.
"We have things to offer for rental now, as with the previous owner, but we will need to invest in quite a bit of newer stuff, for example strollers, hiking packs, high chairs, baby gates, cribs, portable potties, and cribs," Brycen said.
"Three quarters of your vehicle is taken up with that stuff, and it can be nice to not have to pack it all and know we can rent it."
They hope to be so equipped by early July. "We have room to grow," Brittney said.
The Weavers will keep the name and motif; the store website is cutiepieconsignment.com, and it has an active Facebook presence.
"Everyone seems to know (the name)," Brittney said. "The community response has been way better than we could have anticipated, the community has been so kind and supportive, and even with the (State Street) construction, where we expected it to be more dead, it's been busy. I think everyone is excited about the changes."
"We want to encourage the idea of sustainability, of people reusing clothing that's basically new, and offering eco-products for babies, encouraging cloth diapering and expanding the nursing line of things," Brittney said.
She also wants to store to become "an information hub for moms," letting people know about classes in parenting or CPR, linking people to campsites, pediatricians, toddler play dates, and more.