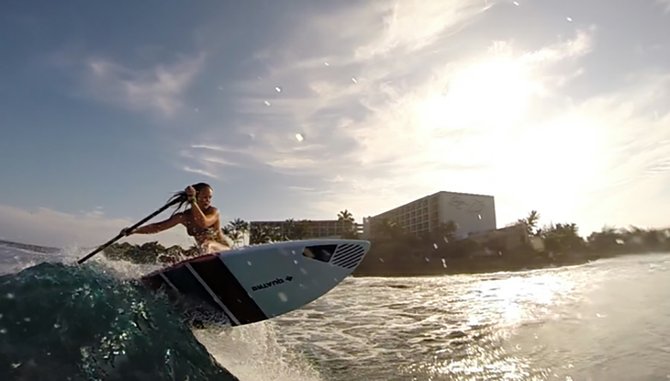 Seventeen-year-old Fiona Wylde grew up around water, so it's probably not surprising she's an elite water sport athlete.
"Both of my parents (MacRae and Ellen Wylde) are avid windsurfers, so naturally I've grown up around the water watching them sail," she said. "I was around five when I stepped on my first rig, but really I got excited about the sport when I was nine."
What is surprising is that Wylde is a four-sport elite water athlete, competing in windsurfing, kiteboarding , stand up paddling (SUP) and surfing events all over the world — all while attending high school. So far this year, she's competed in eight major contests, making it to the podium at every event save one.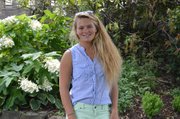 The first, in February, was the Stand Up World Tour on the north shore of Oahu, where she placed fifth. Next came the Master of the Ocean, held in the Dominican Republic, a windsurfing, kiteboarding, SUP and surfing contest, where she won the women's division and placed fifth in the men's in both windsurfing and SUP.
Late March brought the Surftech Shootout in Santa Cruz, a SUP surf and race event; she placed first overall. In April, she traveled to Wrightsville Beach, North Carolina, for the Carolina Cup, a 13-mile SUP race "with the most elite fleet in the entire world," she said. "It was a really hard race, but I won the junior division and placed eighth in the elite women."
Right afterwards, she was on a plane bound for Huntington Beach for the Junior Pro Youth SUP Fiesta, "an invitation only SUP surf and race competition hosting some of the top tier elite juniors in the world," she explained. She not only won the race, but she also won the more prestigious SUP surf contest.
This month, she participated in back-to-back events in Santa Cruz and Gold Beach. "The Santa Cruz AWT event unfortunately had no wind, so we ran two stand up contests where I made it to the finals each time competing against men."
Gold Beach — specifically, Pistol River — had "epic conditions, and I placed second in the women's division and fourth in the junior's, competing against boys."
And last weekend, she participated in the Payette River Games at Kelly's Whitewater Park in Cascade, Idaho. "Before this weekend, I had never paddled a whitewater river, so it was something completely new, but I really enjoyed it and got the hang of it pretty quickly," she said. "I won the sprint race and because of my combined score from the cross, I placed second overall."
Sometimes, the races are much closer to home.
"Of course I competed in the first two local Gorge Cup windsurf race series (held May 31 and June 21, with more to follow)," she added. "It's always a good time to be out there on the line up with the boys, having fun in my own backyard!"
Wylde feels fortunate to be able to participate in so many events, crediting the support from national sponsors Quatro International, Werner Paddles, O'Neill Women's and Cabrinha Kites, and local sponsors Sailworks, DaKine, Big Winds, Gorge Dental, Vector Fins Maui, Pocket Fuel Naturals and Nolimitz and for making it possible for her to attend.
"I feel extremely fortunate to have support from Hood River based companies," she said.
Wylde is now in Hood River, enjoying a three-week break from the action. Since competing in the Payette River Games, she's "paddled, ran, biked and caught up with some friends," she said. "Hopefully the wind will come back in a couple days so I can go windsurf."
But mid-July, she's headed to Peru to film a SUP movie and compete in a windsurfing contest "which I can barely wait for!"
Although the wind blows her around the world, it's Hood River she calls home. Wylde was born in Port Townsend, Wash., moving to Hood River with her parents when she was nine years old.
"This is where my home, parents, grandma, and aunt and uncle are, so this is home base," she said. "And of course the Columbia River provides incredible training grounds for me between my contests.
"Whenever I come back home to Hood River, I realize how fortunate we are to live in this beautiful town," she said.
Because of her busy travel and race schedule, Wylde attends Metro East Web Academy, an online high school based in Gresham. She will start her senior year this fall.
"School is extremely important to me and I take it seriously," she said. "It means not having as much time on the water, but in the big picture, having a solid GPA to fall back on will be better than a solid paddle stroke. This is not to take anything away from my water sports — I love my sports more than anything, but at this time in my life, I am a student athlete."
She plans on going to college and getting a degree in medicine, but that's filed under "future endeavors" for now. "I am not planning on going to college directly after high school," she said. "I will probably take a couple years to dedicate myself to my sports."
Wylde enjoys her rather nomadic lifestyle. Although there are negatives associated with traveling so much — it can be very lonely, she said — it's the positives she's focused on.
"Being young and traveling, I'm exposed to a very different upbringing," she said. "It's fun to be able to pack my life into a suitcase and board bag and travel to exotic places. It's the unknown that keeps pulling me back to the airports to begin new adventures. I've always known how to split time between cultures and be away from one home because I grew up going to school in a small town called Los Barriles in Baja, Mexico, for four months each winter. That exposure has helped me so much in my present traveling, along with the fact I am fluent in Spanish."
Still, having Hood River as a home base keeps her grounded.
"When traveling, routine is something that is simply not in the picture, so coming back to Hood River and getting in a rhythm of school, training and seeing friends always feels good," she said. "I think it's good to be able to do things unexpectedly, but then also be able to buckle down and live in a pattern for a while."
Her parents also keep her grounded while encouraging her to reach her goals.
"My parents are a huge influence on my windsurfing career," she said. "They tell me to embody the joy the sport, and do it because I love it, not because I have pressure to do so, which I honor exponentially."