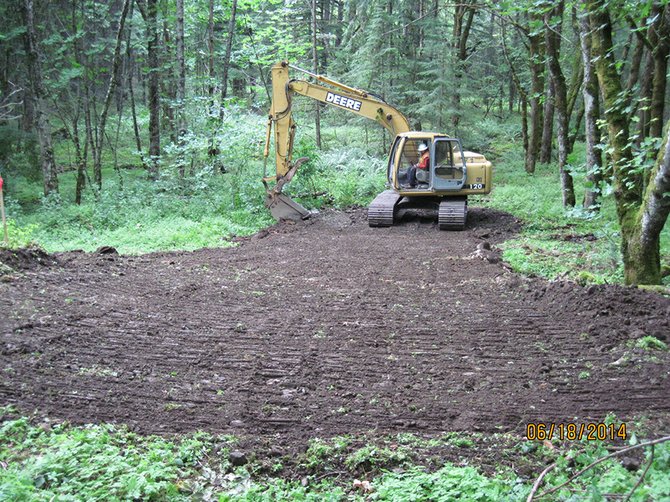 Physical work has begun on a project that will restore a long-dormant section of the Historic Columbia River Highway in Hood River County to its former glory when it was first constructed nearly 100 years ago.
Kristin Stallman, Columbia River Gorge National Scenic Area coordinator with the Oregon Department of Transportation, reported that geotechnical work started earlier this month on an abandoned portion of the HCRH located several miles west of Hood River between Wyeth and Starvation Creek. Crews are performing the work in order to prepare for a later project that will involve restoring and reconnecting a 4-mile portion of the HCRH in the same location.
"The geotechnical explorations provide us data that helps the engineers understand what type of foundation is necessary or if they are going to hit rock or not," Stallman explained. "The explorations help inform the design by telling the engineers how stable the slope is, how much soil can be removed and if the slope will remain stable during construction."
Early this year, ODOT submitted an application to the Hood River County Planning Department that called for the digging of 48 test pits, drilling 58 boreholes, constructing 4,000 linear feet of temporary access roads, and the felling or limbing of up to 80 trees that would comprise the scope of the geotechnical work. Stallman expected the work would be completed sometime in mid-July.
When it was first completed in 1922, the Columbia River Highway provided an uninterrupted route for motorists to travel from Troutdale to The Dalles. An engineering marvel, the highway was crowned the "King of Roads."
By the 1950s, though, demand for a faster water-level route through the Gorge resulted in the abandonment and even the destruction of some portions of the HCRH. After the establishment of the CRGNSA in 1986, the Oregon State Legislature tasked ODOT with restoring and reconnecting the fragmented sections of the HCRH.
The 4-mile section of the HCRH that ODOT is currently concentrating on will be tackled in sections: first, a 1.25-mile section from Starvation Creek to Lindsey Creek and second, a leg from Lindsey Creek from Wyeth.
Originally, construction on the first section was supposed to begin in spring of 2015 with an expected opening of the trail to the public in spring 2016. Stallman said the construction of the project is still on track, but noted that the opening date of the Starvation Creek to Lindsey Creek section of trail had been pushed back to fall of 2016 in case of construction delays.
The year 2016 is of significance to ODOT as it marks the centennial of when the first section of the HCRH opened between Multnomah Falls and Crown Point in 1916.
"We just started to plan for the celebrations in 2016," Stallman said. "We see the trail opening as a great opportunity to celebrate the highway."