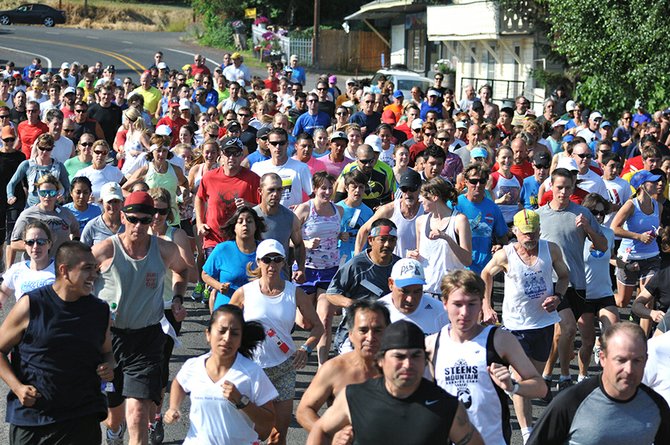 Organizers of the annual Kollas-Cranmer Memorial Run are gearing up for what has become a wildly popular Independence Day tradition for several hundred people every year. This year marks the 39th-annual 4th of July run, named after the late Joe Kollas and Jerry Cranmer, both of whom were active runners and community members.
Get there:
Registration for the annual Kollas-Cranmer Memorial Run starts at 7 a.m. at Mid Valley Elementary School in Odell. The fee is $5, or $10 with a previous year's shirt or $25 with a 2014 shirt; only cash or checks accepted. Walkers start at 8 a.m., runners start at 9 a.m. More info at www.4thofjulyrun....
The course, start times and registration protocol are the same as they've been for many years, but there are a couple new elements to the run that organizers want people to know. The event has taken its first strides into the digital age. A website, www.4thofjulyrun.com, is up and running and includes event basics, historic info, a course map, downloadable forms to help speed up registration and links where annual results and historic course records will be posted.
"People have so many questions about the event; we needed somewhere for people to go to find information and learn about its evolution over the blast 40 years," organizer Mary Gumm said this week.
The second addition to the event this year is a shuttle service that will be offered to get runners and walkers from the finish at Jackson Park back to their cars in Odell. The service is being offered by the Hood River Wrestling Club, which owns a team bus it uses for transportation to tournaments. For the last several years HRWC has provided support for the run as a fundraiser for its programs, and money from the shuttle will be used for the same.
Other upcoming runs
Sternwheeler Days 5K/10K Run: June 28, 9 a.m. start in Cascade Locks, registration at 8 a.m. at start/finish line at museum (S.W. Portage Rd.)
Bridge of the Gods Half Marathon: Aug. 10, this inaugural run starts on the Washington side of the Bridge of the Gods, crosses into Oregon and runs out and back on the Historic Columbia River Highway before finishing on Thunder Island. Info at www.bridgeofthego...
Columbia Gorge Running Club hosts a number of runs in the area each year. For info: columbiagorgerunningclub.com.
"A shuttle is something that people have wanted for a long time," Gumm said. "The cost will be $5, which people can sign up for when they register in the morning. From the finish, the shuttle will go back and forth until everyone who signed up gets a ride back to their cars."
The route is 7.41 miles from downtown Odell to Jackson Park on May Street in Hood River. Although only a slight overall drop in elevation, the course is famous, and infamous, for its steep descent from Odell to Tucker Bridge and its slow and painful climb back up to Windmaster Corner before leveling out for the final three miles. As added motivation to finish strong, the final stretch of the course passes through the same route as Hood River's July 4 parade, which is usually fully lined with spectators by the time the final waves of participants are finishing.
About Kollas and Cranmer
The Kollas-Cranmer Fourth of July Memorial Run has been a summer tradition since the 70s. Kollas was part of a small group of cross country enthusiasts who called themselves the Mid-Columbia Track Club. The run was named after Kollas when he passed away, and then renamed again after Cranmer's death in 2009. Cranmer was active in cross country, which led him to be an active organizer of the Joe Kollas 4th of July run. He supported the event for over 25 years, helping it become a part of Hood River 4th of July traditions. He manned the water stops and helped at the finish line until he passed away on Sept. 10, 2009.
The first run started with about 40 participants and today draws about 500 runners and walkers a year.
This is actually the 42nd year since the run was started, but the first three years were with limited numbers and records were not kept until 1975.
Course records:
Fastest male: Ahrlin Bauman, 37:18, 2002
Fastest female: Gwen Thomas, 43:59, 2013
Grade 1-5 male: Toby Chapman, 47:42, 1977
Grade 1-5 female: Grace Neal, 55:52, 2013
Grade 6-8 male: Toby Chapman, 44:04, 1985
Grade 6-8 female: Tiger Fifer, 54:48, 1993
Grade 9-12 male: Dan Nelson, 38:19, 1982
Grade 9-12 female: Kerry Martinson, 48:53, 1980
Post high school to 29 male: Ahrlin Bauman, 37:18, 2002
Post high school to 29 female: Liz Downing, 44:35, 1987
30-39 male: Ahrlin Bauman, 38:08, 2004
30-39 female: Gwen Thomas, 43:59, 2013
40-49 male: Al Beck, 39:54, 1988
40-49 female: Judy Duffy, 51:21, 2007
50-59 male: Dick Jenkins, 45:36, 1987
50-59 female: Madelaine Sellers, 51:09, 2013
60+ male: Don Menard, 51:15, 2013
60+ female: Mary Finegold, 1:14:41, 2002
Oldest male: Carol Baker, 77, 1:17:56, 1977
Oldest female: Mary Finegold, 60, 1:14:41, 2002
Youngest male:Eric Beebe, 7, 1:17:56, 1977
Youngest female: Rachael Nellermoe, 8, 1:07:47, 1978