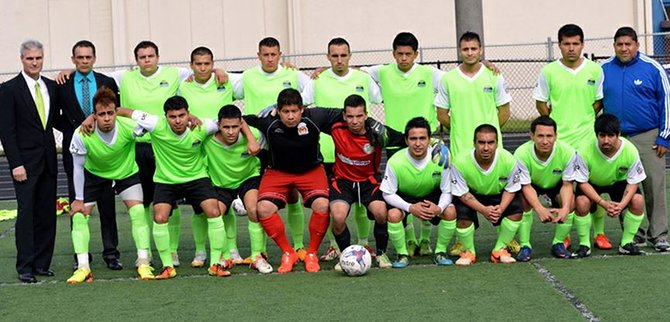 "Definitely not luck," is how Gorge FC manager Roger Sherrell describes his team's first league win of the season last weekend over Seattle Sporting FC. After going through structure and coaching changes midway through the spring, the Hood River-based semi-pro soccer team has found its rhythm as it concludes its first season in the Northwest Conference of the National Premier Soccer League.
The lineup of Gorge-area all-stars plays its final league game of the year Saturday, 7 p.m. at Hood River Valley High School, where they'll take on Inter United FC; tickets are $7 at the gate or $5 if purchased in advance online (www.gorgefc.com).
"You can really see the difference in the team, and a huge part of that is our new coach – the level of experience and professionalism he brings to the team," Sherrell said. Coach Edgar Gonzalez-Amaro was hired this spring to lead the team through its first season in the NPSL's newly-formed Northwest Conference, which is a four-team league that is now part of the 16-team West Region. Gonzalez-Amaro brings nearly three decades of experience at the professional level, both as a player and a coach, to the program.
Last weekend the team hosted Seattle Sporting FC for their fourth and final game against the big-city team from the north. After losing the first three games of the series, Gorge FC took Seattle to the cleaners with a 5-1 stomping that included goals by five different players — Cheno Barajas, Raul Marquez, Edgar Bravo, Felipe Heredia and Luis Hernandez.
"We really got into the other team's head," Sherrell said. "Their coach ended up getting ejected from the game and had to leave the field." The win brought the team's league record to 1-2-8 going into Saturday against the King County-based Inter United FC. In their previous three meetings, Gorge FC lost 3-0 and 4-2 and tied 3-3, but with a dramatically-improved game plan and fitness level and the momentum from last weekend under its belt, Gorge FC is going to be out for revenge in its last game of the season. For more info on the team, its developing youth academy and upcoming tryout opportunities, see www.gorgefc.com.