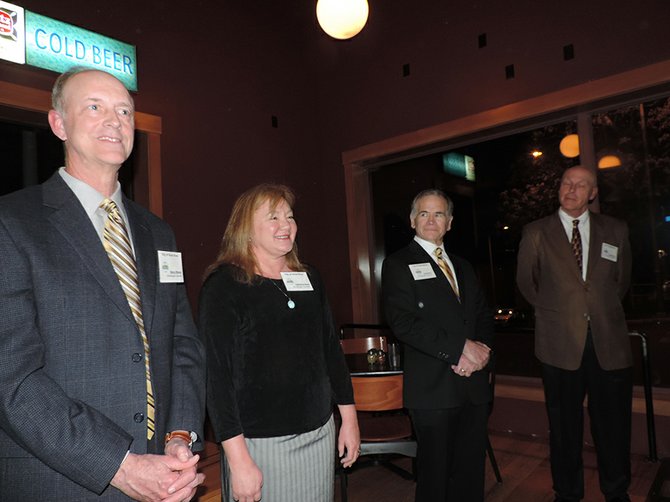 It was like political open mic but without the microphone.
In a unique and unprecedented public involvement event in Hood River, four candidates for the job of city manager stood on stage in a noisy Double Mountain Brewery Wednesday evening and gave 3-minute statements of personal history and professional hopes.
Speaking without electrical amplification were candidates Cathy Green of Monument, Colo., Ronald Morgan of Rancho Vista, Calif., Greg Sund of Hayes, Kansas, and Steve Wheeler of Tualatin.
They actually averaged about 4 minutes each, but it was okay because the speeches were interlaced with humor as the finalists spoke to the audience of 50 people — private citizens along with current city council members and city staff including Mayor Arthur Babitz and interim city manager Ross Schultz.
The casual setting was the next step in what has been a three-month national search for a new city manager. Decision time comes next month for City Council.
"This is the cream of the crop, the best of the best," consultant Greg Prothman said in introducing each candidate. "Each has a history of being a successful city or county administrator." The job came open after former city manager Bob Francis stepped down in July after nine years on the job. (Francis is now chief operations officer for Hood River Juice Company.)
Prothman was hired by the city to screen the 56 applicants down to 12, who were then pared to a final five. (One candidate dropped out earlier this week.) "I'm confident each can do the job. The hard part is how do we decide?" Prothman said.
"They're trying to decide, too, and each of you is part of the process," Prothman told the brewpub assemblage, who snacked on pizza as they mingled and met the finalists. "They're also taking notes to try to decide if they're a good fit."
Each attendee on Wednesday was asked to fill out a form expressing what they saw as the strengths and weaknesses of the candidates.
"This does exclude you folks," Prothman joked, gesturing at the four finalists.
On Thursday three panels comprised of selected local citizens, area government officials and the mayor and council took turns interviewing all four candidates at three locations around downtown. Candidates also received a tour of the community, including city facilities. The panels' assessments of the candidates, along with the citizen feedback, will be taken under consideration this month prior to a decision and job offer scheduled to be made in April.
Wednesday was the important introduction of the candidates, who gathered in the north wing of Double Mountain over slices of pizza and conversation, before standing for their short speeches. All four seemed at ease with being on the dais. There was some camaraderie. Green noted that she had visited Tualatin while researching municipal projects for her town in Colorado. When Sund concluded his talk, Green spoke up, "You have your wife here, right?"
"Yes, thank you, my wife, Elizabeth, is here with me," Sund said.
"Good luck, Greg, after that faux pas," Prothman joked.
Morgan volunteered to go first, stating that he got his start in public service as a police officer, a job he liked but not enough to make it a career. He has 38 years in local government, including 17 years with Rancho Mirage, Calif., where oversaw finance and IT, and served as assistant city manager. He retired in 2005 and now does financial advice and consulting for small cities.
His wife has family in eastern Washington, and the Morgans had been looking for opportunities to come back to the Northwest.
"What attracts me to Hood River is the manager council form of government, which is the best form of government, and I'm an outdoor person, I like to hike and to fish and ski," Morgan said. "So for personal and professional reasons we decided to come back."
Greg Sund said "I've been gradually working my way west." He grew up in the Chicago area, attended college in Wisconsin, worked for several years for a city in the Black Hills of South Dakota.
"My first exposure to city government was as an elected official, to the city council of Deadwood, S.D., and through that experience I got hooked on city government and went back for my master's degree in public administration and jumped into this business full-time after that," Sund said. He worked as a city finance officer and city administrator in western North Dakota for 12 years, and came back to South Dakota as city administrator.
"I have been a county administrator for the past three years; the role in both sides gives me a unique perspective to work on all aspects of city government," Sund said.
Steve Wheeler, currently interim director of planning and development with Metro, said "Hood River is where I want to be.
"I have lived in Oregon since 1996. I haven't been to Hood River a lot but I have visited twice in the past few months, and I talk to people who say 'Oh, I love that place, that's such a cool place,' and the challenge is keep it that way."
Wheeler grew up on the East Coast, migrated west, and has spent half his career in California and half in Oregon. He worked for two cities in San Diego area, including assistant city manager.
"After that I figured I really wanted to try to be a city manager," he said. He was hired as Tualatin city manager in 1996, and stayed for 10-plus years, then became deputy Clackamas County administrator, then administrator. In March 2013 he accepted the job of interim planning and development director for Metro, saying, "I was not a candidate, and had not wanted to do that."
"Hood River became a place I thought was fascinating with the urban land forms and the natural way it has been built on the hillside, and the challenge of maintaining such a special and interesting place. This is a fantastic opportunity."
Catherine Green said, "Most people call me Cathy," and added that "and Green is my last name for now, but I was married last fall, and will probably change it to Senard." She then introduced her husband, Kirk.
By education and experience an urban planner, Green did planning work in Washington, D.C., and with a firm that worked with 30 small municipalities in Maryland. She returned to Colorado's Pueblo County, where she stayed as environmental planner, "which meant processing permits for landfills; and then I heard something the city of Pueblo was doing, uncovering a diversion of the Arkansas River for a river walk, and it was the most exciting thing I'd ever heard of."
She was hired, and helped the city create river walks, and did renovations and urban renewal projects including building a convention center. For the past eight years, she has been in Monument, a town of 6,000, first as planning director, then interim city manager within a week, and within three weeks she was the permanent manager.
"We have been looking for a similar-sized town, and we love the mountains.
"It is very exciting that Hood River has this many people who will give up a weeknight and come to do this and meet us and I very much appreciate it," she said.