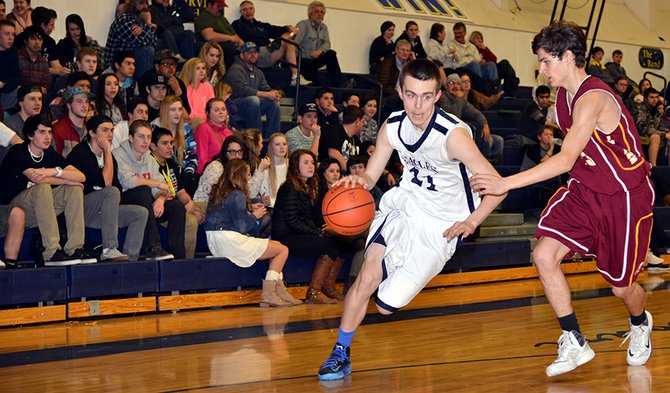 Skyler Hunter had a team-high 13 points Tuesday in what ended as the Hood River Valley High School varsity boys basketball team's closest game of the year. The 49-44 loss against The Dalles-Wahtonka was the last home contest of the season for the Eagles; it was meant to be senior night, but with five juniors and eight sophomores on the roster, the pregame ceremony was omitted.
The Eagles led 12-9 after one quarter and 24-22 at the half against their rival Eagle-Indians, giving the sizable home crowd rays of hope for the first win of the season. A frustrating third quarter doomed the Eagles, however, as TDW rallied for 17 points to retake the lead and capture all the momentum they needed to cruise through the fourth quarter, which HRV led in scoring 11-10.
Alongside Hunter, Noah Noteboom and Parker Kennedy had eight points apiece to lead the Eagles on offense, while defensively the team gets credit for holding their opponent to less than 50 points — something they've only managed three times this season.
On Thursday the boys traveled to Pendleton, where they lost 83-64 to close out their season with an 0-23 record.
The HRV girls played at home twice this week to close out their season. Kelsey Wells led the team with eight points in Tuesday's 39-19 loss against The Dalles and Jestena Mattson had 16 and Wells 10 in Thursday's 58-39 loss to Pendleton that ended a winless Columbia River Conference campaign and a 4-18 season.
Although the season was vexing for both boys and girls teams, they have something to look forward to in the potential return of nearly every player on both lineups. The HRV boys graduate zero seniors this year, while the girls will lose just two (Kinalu Bailey and Annie Veatch).