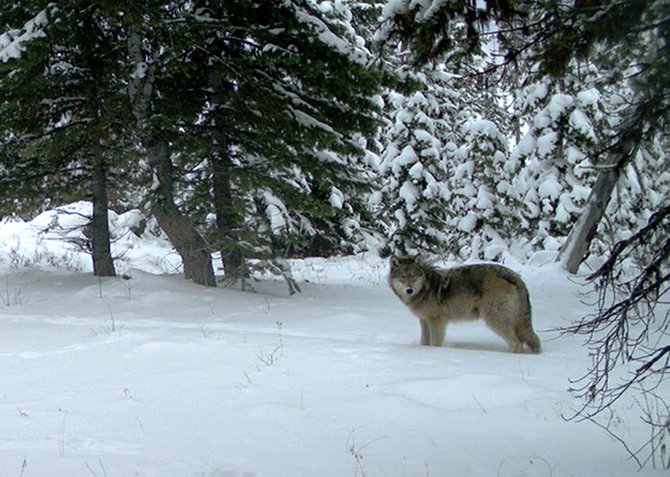 After a nearly 70-year absence, wolves have returned to the North Cascades.
A report released this week by the Oregon Depart of Fish and Wildlife states that in December of last year, a single wolf was documented in the White River Unit — a swath of territory that runs east of Highway 35 to Highway 197, bound by the Columbia River to the north and the Warm Springs Indian Reservation to the south.
Robert Klavins, wildlife advocate for conservation group Oregon Wild, says that according to ODFW Wolf Program Coordinator Russ Morgan, wolf tracks were discovered by a private citizen in the snow in the Mount Hood National Forest last December and were reported to ODFW. Morgan was contacted for this story, but had not returned the call as of press time.
It is not known whether the wolf is part of a pack, whether it is male or female, or if it is a resident or transient wolf. Still, Klavins says the tracks are an encouraging sign that the endangered species is slowly, but steadily, making a comeback.
"Generally, it's good news," he said of the report. "The wolf populations are growing."
Klavins reported the wolf is only the second confirmed presence of the species in the Cascade Range since 1947. Another wolf, OR-7, also known as "Journey," has been spotted the last couple years hanging out in the southern Oregon Cascades, but hasn't been seen this far north in the mountain range. According to the report, only 64 wolves are currently known to exist in the state — almost all reside in the northeast corner — and Klavins noted that "a quarter of those are pups less than a year old."
So why is the recovery of the wolf noteworthy? For one, Klavins says wolves are important for ecological balance and the control of elk and other animal populations. Evidence has shown when elk populations are controlled, less riparian ash and willow trees are eaten, which can provide more habitat for beavers and songbirds. And in monetary terms, Klavins notes wolves have been big business in Yellowstone National Park, where tourists flock to catch a glimpse of the silver-maned predator.
Moreover, Klavins added that wolves simply are "a native species that have a right to be on the landscape."
However, Oregon has only recently welcomed the return of the wolf. For most of the Beaver State's existence, the wolves have quite literally been the targets of many who fear what the animals will do when they come in contact with livestock, pets, or even their families. Klavins said the very first legislative session in Oregon's history was held, in part, to address the "problem of marauding wolves."
The problem was solved by hunting wolves nearly into oblivion, but Klavins mentions that fears over wolves wantonly killing livestock are somewhat misplaced.
"Conflict isn't automatic," he explained. "It doesn't have to be that way. If [wolves] have a stable prey base and they're not being shot, they're okay."
According to Klavins, livestock is far more susceptible falling prey to automobile collisions and thieves than wolves, but livestock predation does occur. ODFW's report shows that wolves killed six sheep, five cows, and one goat and injured seven other animals last year. The state has a compensation program, though, and paid out over $16,000 last year to those who had animals that either died, were injured, or went missing due to wolves — all in the northeast part of the state.
As wolf populations continue to rise, Klavins says it's important for the state to continue managing the complex dynamic between human and wolf — to ensure both wolf and livestock owners are protected and able to coexist. So far, he said, Oregon is doing it right, and is a leader in wolf management practices in western states.
"We're doing the best we can," Klavins said, "and we're doing it better than anybody else."