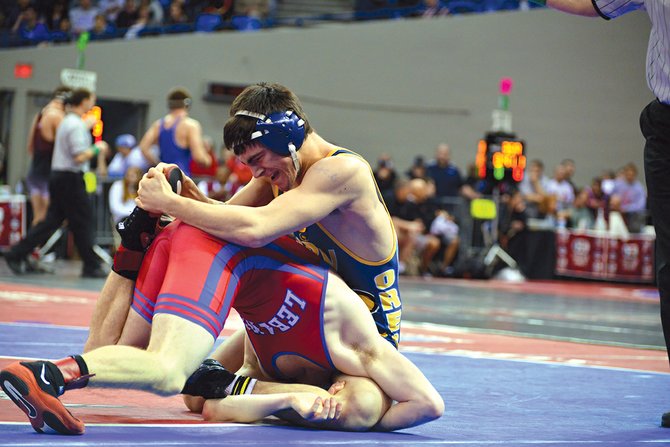 Hood River Valley High School wrestling sent eight guys and four girls to the weekend's OSAA State Wrestling Championships at the Memorial Coliseum, where 12 mats stretched across the arena floor and the constant echo of commotion set the stage for two days of action-packed and emotion-filled wrestling.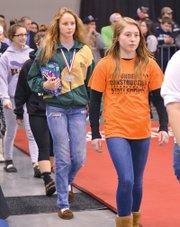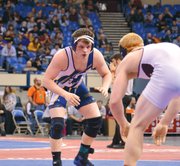 As top four placers in the previous weekend's 5A Special District II regional tournament, Jessica DeHart, Christian Marquez, Charlie Mallon, Chas Peterson, Andrew DeHart, Kyle Weseman, Steven Swafford, Max Lane and Jeremy Breedlove earned places in the 16-man state championship bracket, which opened with preliminary rounds Friday morning and trimmed down to just the top six placers by the following afternoon.
Jessica DeHart elected to forfeit her slot in the 5A 106-pound bracket to compete in a girls state tournament, where she was joined by teammates Payton Rigert, Jenna Powell and Joanna Endow.
Of the eight HRV boys, four ended with podium finishes. Christian Marquez narrowly defeated two-time state champion Matt Hofenbredl of Dallas to pick up a state title in the 126-pound weight class (see accompanying story). Peterson was the next-highest finisher at fifth and DeHart and Swafford finished sixth. As a team, the Eagles were 12th overall with 58 points; Hermiston took the team trophy with 174 points, followed by Dallas, Lebanon, Eagle Point and Sandy in the top five.
"We brought eight guys and four girls to the tournament; that in itself is exciting," coach Trent Kroll said after the tournament. "To have four of our guys place, one win a title, and have two girls win state titles is great."
The HRV boys suffered a tough opening day that saw five of eight lose matches in the first round, which placed them on the long path back to placing in the top six. For Lane (195 pounds), the story was two-and-out, and although a disappointing finish, just getting to state was an achievement for the sophomore. Mallon, Weseman and Breedlove both won their second-round matches to make it through the first day, but were eliminated the following morning shy of placing rounds.
Andrew DeHart and Chas Peterson had the longest tournament of the group, with six matches total. DeHart won his opening match, lost his second, won the next two, lost the fifth and lost the sixth to finish in sixth place. Although not the result the senior had hoped for, DeHart held his head high as one of just six wrestlers in HRVHS history to place at state three straight years. He also accomplished a four-year goal of winning a district title the weekend before.
Peterson had perhaps the toughest road to recovery after losing his opening match by fall in less than one minute to Redmond's John Hickey. He battled back with three straight wins — all hard-fought matches — and one loss to end up in the round for fifth and sixth place. As fate would have it, Peterson's final match was again against Hickey, and this time it was Peterson who picked up a first-round pin (off a cradle) to finish his high school career with a taste of sweet revenge and a fifth-place medal.

Swafford came within seconds of qualifying for the 182-pound finals in one of the best efforts any HRV wrestler put forth all season. After winning his first two matches, one by fall and the other a 5-2 decision, he faced No.3-seeded Jeremy Funk of Sandy, who he had lost two by fall twice this season. Swafford held a 4-2 lead going into the end of the third period before giving up one point for stalling and an escape, which forced an overtime period. Funk got the takedown to win 6-4; he went on finish second, while Swafford lost the next matches 8-7 and 11-2 to finish sixth.
"Steven did an outstanding job," Kroll said of the junior. "He weighed in at 174 pounds but wrestled at 182, and he wrestled an excellent tournament that he should be proud of. He hates to lose and wrestles with a lot of heart; that's a great combination in this sport."
The four HRV girls competed in a two-round state tournament alongside the guys, with one round Friday and the finals Saturday. DeHart and Rigert pinned both of their opponents to earn state titles — a first for Rigert and a third for DeHart — while Powell and Endow, both first-year wrestlers, lost their matches.
"We're proud of our female wrestlers and the progress they made this season," Kroll said. "Jessica is one step closer to her goal of being a four-time girls state champ, Peyton picked up her first title and the other two (Powell and Endow) got to wrestle at the state level in their first year on the mat. The girls trained hard this season; they set goals and took on the challenge of accomplishing them."
For a handful of HRV wrestlers, there's only a short pause in action before the freestyle and Greco roman seasons start, with several tournaments this spring and the state finals May 3 and 4 at Crescent Valley High School.