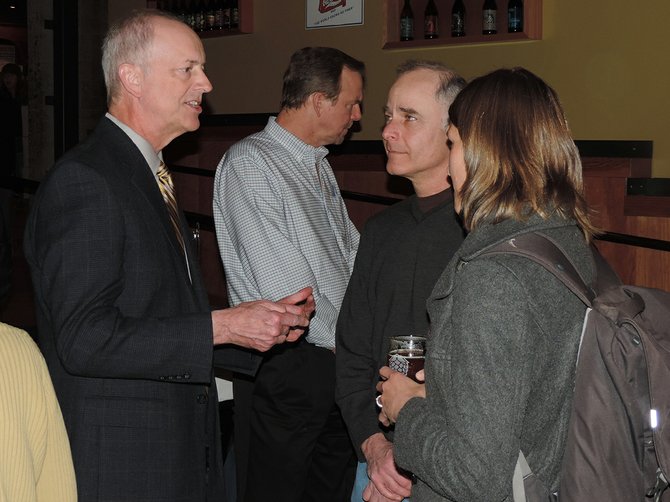 Steve Wheeler will start work in early May as city manager of Hood River.
Wheeler, 61, was hired Monday, Mayor Arthur Babitz announced.
"Steve will bring to Hood River an incredible wealth of experience," Babitz said. Wheeler is currently interim director of planning and development at Metro in Portland, and previously served as Clackamas County administrator and Tualatin city manager.
"Steve plans to start work officially on May 5, but he'll be working with staff and council before then to assure a quick and smooth transition. Don't be surprised if you see him around town before then," said Babitz, who added that he is already briefing Wheeler on city issues.
"We had four highly qualified finalists, but Steve's experience is exceptional," Babitz said. "He has worked as a city manager and as a county administrator, and that gives him the ability to understand the issues from both levels of government. The 'been there, done that' factor is powerful."
Wheeler also served as assistant city manager and then manager, for two small cities in the San Diego area.
Wheeler will work with interim city manager Ross Schultz, but Babitz said, "The overlap won't be very long — it doesn't need to be."
"It's exciting to be going there," Wheeler said Monday. "I've been with larger organizations and have been asked about going to 'a little place,' but I don't really see it that way. I welcome getting back to city manager, which is my real job roots from California and Tualatin.
"The focus of working for a city, particularly outside of Metro, is kind of welcoming and refreshing to me," he said. "I'm not saying bad things about where I've been, but it feels like the right place at the right time. Hood River is a unique and special place."
Wheeler was asked to expand on his statement at a public introduction for all four candidates on Feb. 26, published in the March 1 Hood River News: "Hood River became a place I thought was fascinating with the urban land forms and the natural way it has been built on the hillside, and the challenge of maintaining such a special and interesting place. This is a fantastic opportunity."
"It's about the balance between quality of life and job opportunities, economic success and prosperity," Wheeler said Monday. "Often times, there is that dynamic about many people wishing things not to change too much because they like it the way it is; but also wanting to pursue economic vitality.
"It's about finding the right dynamic," he said, acknowledging that he won't figure out that dynamic until he's been in Hood River awhile, "and had a chance to do a lot of listening."
Wheeler said, "I don't come in with a big agenda, I want to help things but I always want to be open to what people feel."
Wheeler said his three goals for his first 90 days are:
n Financial assessment of the city's ability to pay bills and make payroll: "Not to suggest that there are issues, but any good manager wants to make sure there is not some looming financial abyss."
n Emergency services: "I want to understand my role and the city's role in any type of emergency service provision that might arise. You never know what's around the corner. I want to make sure everyone knows their roles and I know my role."
n Getting acquainted: "More generally, I want to get out and about, to get to know the City Council, the city staff, and people in the community, and do a lot of listening and try to figure out what are the top issues."
Wheeler said that the message he got from people in last week's visit was "They love Hood River and they recognize it as a special and unique place.
"People come at it from different ways but I heard that, and more specifically, the quality of life versus prosperity, and finding that balance." He said he also heard much about the issues of downtown parking and affordable housing.
Wheeler and his wife, Pat, a Providence Health Systems financial analyst, have two children: one is a graduate of Oregon, the other is finishing at OSU.