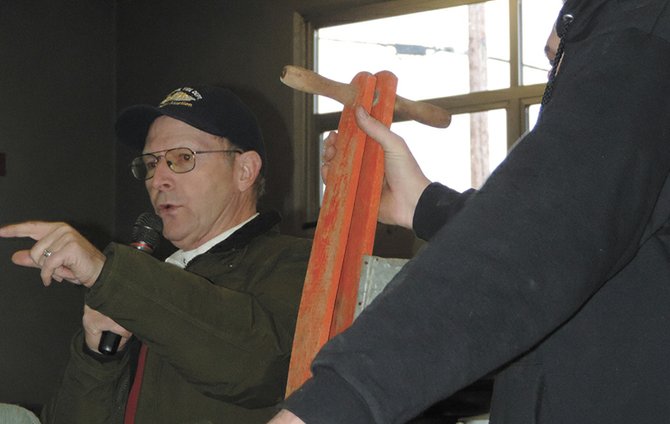 Few items go unsold at the Pine Grove Fire Department Auction, but veteran Leonard Wood saw to it Saturday that one thing stayed in-house.
Wood bought a 1970s-issue fire extinguisher, outbidding another person at $20 so the relic could go into the small museum located in the fire hall entrance, a memento upon the auction's 50th anniversary.
There is much history to be considered with the auction, which drew several hundred people from around the county, the Gorge, and from out of state.
"It's amazing. It's a neighborhood happening that nobody wants us to quit, and we have a lot of loyal buyers and year after year they're out here," Wood said. "It doesn't matter whether it's 70 degrees or 30. They're here."
They come to buy toys, tools, housewares, farm equipment, vehicles, and many more items, ranging from antique corn planters to commemorative cereal boxes with the corn product still inside.
Inside items included Christmas stuff, toys, small furnishings, a microwave, tents, a fireplace hopper, a U.S. Mail sign, picnic supplies, lighting, stuffed animals, a lunch pail, a saddle, DVDs, cookery, baskets, photo and record albums, furniture, shelving, filing cabinets, and a totem,.
About 100 people sat in the bleachers for the inside portion, while another 50-60 stood outside. Larger items, from full-sized trailers and other farm equipment to kids' bicycles, remain in the yard, and while the outside pickings were thinner this year, flecks of snow did not deter the bidders.
"Some folks just come for the outside bidding," Wood said.
No doubt the coffee, soup, pies and cookies sold inside in the kitchen drew some of them in, however.
"It's kind of cool, actually," said Odell orchardist Larry Packer. "As much as it is a fundraiser it's a big social." He bought a small forklift in the outside sale and a small doll house for his wife, Tammi, who was minding the store on Highway 35. Their daughter, Jenni, was in the fire hall kitchen, selling Packer cookies and other refreshments with proceeds going to the fire auction: There is no monetary goal for the event, and no decision yet on how the revenue will be spent, outside of using some of it to build a new storage shed. Past auctions have helped buy fire vehicles, fire fighting protective gear known as turnouts, and defibrillators.
It was a good year for collections, according to co-coordinators Ryan Dethman and Kevin Long, part of the younger set of volunteers who have gradually taken on the auction responsibilities.
"Collections came in slow at first because of the snow (in early February) but people came through, and the amount of stuff and the turnout are good as the years before," Dethman said. He and Long noted that they started learning to run the auction two or three years ago.
"We're going to keep on doing it," Long said.
"The department will end up in a real positive cash position from this, I'm sure," said auctioneer Greg Murray, who with his father, Wilbur, was made honorary member 30 or so years ago for the time and material the Murray auction house donated to the auction. The Murray business scaled back the auction work a few years back, and now operates two furniture stores in Hood River, one new and one clearance.
"We've got things kicking around out at our warehouse for years and we're continually in the clean-up process," Murray said.
He said between his donations and those of the community, "It has been amazing what's gone through here."
"It started because the fire department was kind of poor," (the late) George Ackerman told the Hood River News in 1990. "We tried all kind of things, and we weren't making a whole lot of money."
A scrap metal drive was one precursor. People would dump metal off at the fire station, a huge pile of metal would build up, and the department members would scrounge scrap where they could, and off they'd go with the collection.
"Once we had an eight-truck caravan," (the late) Shig Yamaki said in a 1990 Hood River News article. But the authorities took issue with farm trucks hauling scrap, and Bob Thomsen, Ackerman and Wilbur Murray forged the auction idea in 1964.
"This has been quite a story about how this has all worked out," Greg Murray said. "A lot of community events come and go and not a lot of them survive.
"There's a lot of dedicated guys with this auction. We did what we could but it takes the involvement of the community here to keep it going. It's really been a success story."
"Wilbur helped start this, and Greg has been very helpful," Wood said. "He brings over a tremendous amount of merchandise, stuff he's picked up through Murray's. We (firefighters) used to pick up stuff all year long, and store it in our barns but pretty soon the barns got so full we couldn't sell it all in one year, so we finally cleaned out the barns and started accepting the first of February. It comes and people know about it."
Murray was about to take his turn at the microphone.
"One of the risks of having a sale early in March — that schedule all had to do with most of the members being farmers and this tended to be a slack time — is the weather," he said. "We ran into a bit of weather sometimes, shoveling the snow off the merchandise."
Of Saturday's snowfall (the start of a 6-12 inch valley accumulation Saturday night) he said, "is not good but it's nothing terrible. People are here from a long ways away, and they may be concerned about the weather forecast and getting home, but the crowd is sticking around pretty good it."