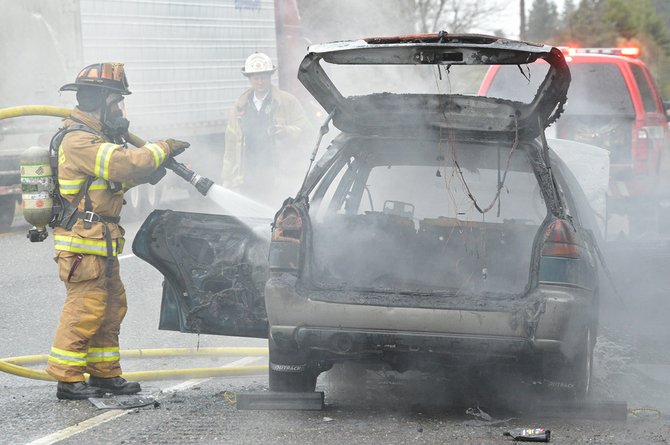 A Spokane, Wash., family en route to purchase a new Subaru in Portland got their trip cut short when the current Subaru they were driving burst into flames along Interstate 84 near Hood River shortly after 10 a.m. Thursday.
A couple, who asked they not be identified in the story, were traveling westbound on I-84 near milepost 63 with their two young children when their 1998 Subaru Outback began making a knocking sound and started to smoke according to Hood River Fire Chief Devon Wells.
The family pulled over and evacuated the vehicle, grabbing as many of their belongings as they could before the engine caught fire and consumed the entire car.
Crews with Hood River and Wy'east fire arrived on scene shortly after to put out the flames that had fully engulfed the Subaru and leapt several feet into the air. The family stood on the shoulder of the freeway, kids wrapped in blankets, as they watched their vehicle burn. Firefighters were able to quickly extinguish the flames, but when the smoke cleared, only a shell of the vehicle remained.
What exactly triggered the fire is unknown, but Wells said it was obvious that "something catastrophic happened inside the engine block," and suggested it was "perhaps a thrown rod or a blown valve." He added that under the hood the vehicle was covered in oil, which contributed greatly to the fire.
Hood River Police Department, Oregon State Police, and the Oregon Department of Transportation also arrived on scene. The right lane of I-84 westbound was blocked off around the fire area for approximately one hour while firefighters completed their investigation and the vehicle was towed away.
Wells said the children lost some toys when their vehicle burned, so firefighters took them to Walmart and purchased a My Little Pony and a LEGO set for the kids while they waited for their grandfather to come and pick them up.
"They were very grateful," Wells noted. "They were great kids."