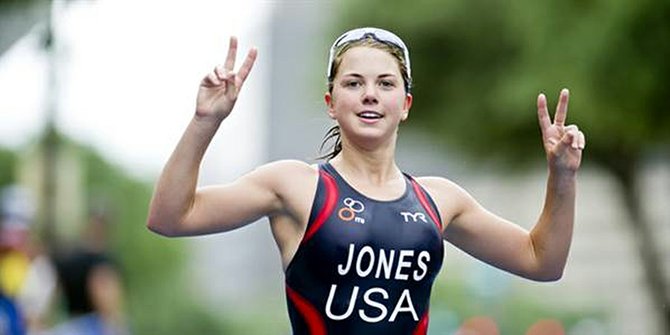 USA Triathlon recently announced its 2013 Elite Triathletes of the Year awards, and among the list of the nation's best and most promising triathletes is Hood River's Erin Jones. Named the female Under-23 Athlete of the Year, Jones was recognized for her outstanding 2013 season highlighted by a Collegiate National Championship win last April, a second-place finish at the Dallas ITU Pan American Cup and top-10 finishes at three ITU World Cup events.
"I definitely had a better year than I thought I would," Jones said this week from Colorado. "I don't think anyone is out there trying to get these awards — in the end I just want my results to speak for themselves — but it's nice to be recognized in this way."
Jones is a 2009 Hood River Valley High School graduate living and training at the Elite Training Academy in Colorado Springs, at the Olympic Training Center. If she stays healthy in the next couple of years, she'll be fiercely pursuing an opportunity to represent the United States at the 2016 Olympics in Rio de Janeiro. In the meantime, she continues to balance the schedule of training full-time and completing her college degree.
"I had an injury at the end of last year (hip injury) that I had to bounce back from," she said. "This year I'm trying to finish college and hopefully get on the national team. Once I finish I can focus full-time on training and competing and chasing my dream of going to Rio in 2016. But that's still a ways out; right now I'm focusing on getting more experience and races in. I think next year will be more of a crucial year as far as the Olympics go."
Jones said that although she trains and competes all over the world and lives at one of the country's most elite training facilities, she still thinks about Hood River often.
"I'm always bragging to people about Hood River; about how nice of a place it is and how much there is to do there," she said. "I grew up playing outdoors, doing many of the same things I'm doing now; only now it's my job."
Jones is finishing up her degree in Health Care Science through the University of Colorado in Colorado Springs while training full-time and traveling, internationally sometimes, to compete. She says she'll race next in the Continental Cup this April in Barbados, followed by a world qualifier this June in Dallas.
"I was second there last year so I'm hoping to win it this year, but who knows" she said of the Dallas race.
Jones made plenty of headlines during her days at HRVHS, where she was a standout cross country runner in the fall, swimmer in the winter and track athlete in the spring. Her former coaches remember her fondly as a fierce competitor and a coachable athlete — a combination that surely contributed to her current success. Recognizing her as a well-rounded athlete, Jones' former coaches first encouraged her to try triathlons.
"I can't thank people in Hood River enough for their support," she said. "If they hadn't supported me, believe in me and pushed me, I wouldn't have gotten this far."
After high school Jones went on to run for Oregon State University for three years before transferring to the Elite Training Academy.