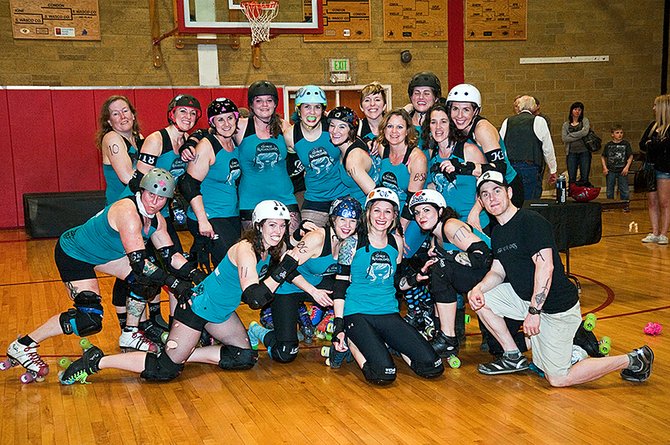 The Gorge Roller Girls upped their record to 2-0 with a 199-118 win over the Rose City Rollers' Fresh Meat team Saturday at Dufur High School. Along with adding another victory notch to their bedposts, the win was all the more pleasurable because it came with a taste of revenge. Last year the Gorge Roller Girls, in their inaugural season, lost to the same team by 12 points.
"It was an exciting game until the end," said team member Janet Davis. "And it sure feels nice to turn the tables on the score this year. The game was one of the hardest-hitting, fastest-skating games that GRG has ever played. What sets this year's team apart from last year's team is how we work together."
Representing the home team, Maytag was named MVP of the bout, voted on by the other team.
"We have spent every practice focusing on each teammate's strengths and weaknesses and learning how to use both to our advantage," Davis said. "We did not win because one skater had an outstanding game; we won because every skater on that bench worked together as one unit. We did not allow the other team to score a point until the 11th jam. That is huge."
The team moves on in its schedule with an April 18 bout in Wenatchee against the Apple City Roller Girls, followed the following weekend with an April 26 exhibition bout at Goldendale High School. The team returns to Hood River Valley High School May 10 to take on the Storm City Roller Girls and June 14 to challenge the Atomic City Roller Girls of Tri City.
An upcoming new skater intake session is scheduled for March 23. For details, contact gorgerollergirls@gmail.com.