I have been fascinated with Cuba all my adult life. In 1959, Fidel Castro and Che Guevara led a small group of young men and women into Havana, Cuba, and took over the government of Fulgencio Batista. In 1959 Dick Schmuck and I were married. Finally, 55 years later, we visited Cuba.
In January 2014, Dick and I traveled on an education visa from Miami, Fla., with Rick Moritz, a professor of history, and Cathryn Suarez from Chabot College.
Cuba is a small island, a mere 780 miles across, with a population of 11 million and only 90 miles from Florida; it has been a burr in the saddle of United States political life for all these years. My curiosity was abated. Upon return to the USA, however, it surprises me that while most people know the name Fidel Castro, few people know about our countries' long-strained relationship.
n
Cuba's revolution paralleled social upheaval in the United States. In 1959 Dick and I were graduate students at the University of Michigan. It was a heady time of social and political change in the United States. We were involved with Students for a Democratic Society, Student Non-Violent Coordinating Committee, and Women Strike for Peace. The Cuban revolution was an inspiration to change political life in the USA.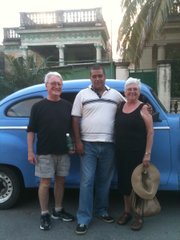 The United States government did not support the Cuban revolution, or our own insurgence over civil rights. In the USA advocates for civil rights were beaten and jailed. In Cuba, the CIA-backed "Bay of Pigs" invasion brought in American troops and bombers to thwart the successful revolution. The invasion failed.
The loss at the Bay of Pigs led to Operation Mongoose — another U.S. plan to destabilize the Cuban government and economy.
Fifty-five years later, our Cuban Blockade still exists. For many liberal thinkers in the United States, as well as most economically developing countries, this small country 90 miles from Miami, has heroically stood up to imperialist America.
In October 1962, an American U-2 spy plane secretly photographed nuclear missile sites being built by the Soviet Union on Cuba. It was a time of breathless waiting. Would Khrushchev back down upon Kennedy's orders?
I was teaching fifth grade in Ann Arbor, Mich.; all students and teachers went to a bomb shelter in the basement. We were close to a nuclear war. Although the Missiles departed, relations between the United States and Cuba remained strained while the Soviet Union and the Eastern Block supported Cuba, politically and economically.
n
In 1967 we moved to Eugene with jobs at the University of Oregon and faced new life challenges. Raising a family, developing careers, and becoming involved in local community activities dampened my revolutionary zeal but not my interest in Cuba. I followed Fidel's very long presentations to the United Nations, read about Che's death, noted the arrest of the "Cuban Five" as "terrorists" in Miami in 1997 (they were just released in February 2014), and have followed the struggle over Guantanamo.
"The Faces of Cuba" was a formal 12-day tour of six original pueblos — Havana, Trinidad, Camaguey, Cienfuegos, Matanzas and Santa Clara — each about a century old; as well as the famed Varadero beach resort which for years catered to rich Canadians, South Americans, Europeans and Asians — even after the Revolution — without the obvious gambling and prostitution which the Mafia brought there from the 1920s to the 1950s.
We arrived at the Jose Marti Airport on Jan. 3. I had never heard of Jose Marti. This was my first indication of how much I-did-not-know about Cuba.
I came away with a much more complex, nuanced view of Cuba. Every Cuban is guaranteed a roof overhead, a minimal food allotment, a job, public education and free health care. Within this prescribed "paradise," however, we saw buildings in disrepair, food rationing stations with long lines, scarce supplies in stores, and lots of things that did not work.
n
One sight we did not see was a typical Third World slum with open sewers, beggars and roaming gangs of youth. The poorest neighborhoods we saw, although poor indeed, were orderly and relatively clean and safe.
The Spanish Empire plays a big part in Cuban history and society. During the 1490s Columbus landed several times in Cuba; subsequent Spaniards arrived and gathered the wealth of the area. Havana Harbor became the center of the wealth to be delivered to Spain through the 19th century.
The country became poorer and poorer. In 1898 Cubans revolted against the Spanish. Jose Marti (1858-1895) led insurrections and is immortalized at Havana Revolutionary Square. While he never lived to see independence, he holds an important place in Cubans' affections.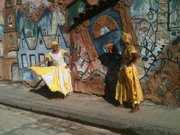 The Spanish-American War, when the U.S. supported the Cuban rebels (some say, the USA coveted Cuba) sent in the Battleship Maine to Havana Harbor to help fight the Spanish. It was sunk in 1898; "Remember the Maine" became a U.S. mantra. In 1902 Cuba achieved independence.
n
The years 1902-1959 were the Republic Period. Havana became one of the most attractive cities in the world. Huge mansions bordered the Prado, the Paseo de Marti, a beautiful boulevard running to the Malacón, a 5-mile sea wall with an exquisite esplanade for walking (except when the ferocious Atlantic spills over the wall).
This beautiful Havana was known as the "Bordello of the United States" during Prohibition (1920-1933) with strong interests from the Mafia. Lucky Luciano was immortalized in a meeting at the opulent Hotel Nacional in "The Godfather.
While wealth and excess existed in Havana, 80 percent of the population living in the rural countryside was poor, illiterate and unhealthy.
On Jan. 1, 1959, after a slow five days of moving from east to west, Fidel and Che arrived in Havana to a tumultuous welcome. One of the first acts of the youthful, idealistic revolutionary leaders was to close the strip clubs, casinos and brothels.
As time unveiled the Marxist nature of the new regime, a mass exodus of the wealthy and middle class went to Miami, Fla., and inexorably changed the face of Havana. All the resources went to land reform, education and health in rural areas.
Visiting Havana today is like being caught in a 1950s time warp. Most of the magnificent mansions are divided into small apartments with laundry hanging from marble porches. Batista's former grandiose home is the Museum of the Revolution. Classic old Detroit cars dominate traffic; we rode in a 1948 Plymouth taxi.
Streets are teeming with people, restaurants are full, and guides hawk at the tourists. The Plaza de Cathedral with a baroque 18th century cathedral in old Havana hosts women in traditional white dress, smoking cigars, who will gladly pose for a picture for a price, a CUC.
A CUC is the Cuban Press Convertible, money for tourists. For Cuban citizens the peso is the exchange; there are 20-25 pesos to a CUC. Cuban citizens have access only to pesos and most cannot afford to go to places for tourists. It is a bit contradictory considering the Revolution was about equalizing resources for Cubans. For instance, a doctor in Cuba makes about 20 CUCs a month; our room in Havana cost about 170 CUCs.
n
The Soviet collapse in 1990 led to huge economic problems, Cuba lost about 85 percent of its world market. Although Cuba continues to trade with other countries, except the United States and Israel, there isn't much to trade. A friend noted the wonderful absence of billboards but it was pointed out, however, "there is nothing to sell."
Food ration books, dwindling supplies for education and health has made the "special period" a most difficult period for many citizens. Crime has increased and an unaccustomed cynicism is becoming apparent. Yet there is still evidence of proud patriotic nationalism.
n
We were guests at a local CDR (Committee for the Defense of the Revolution) party; about 200 people stood around a neighborhood street light and numerous porch lights in the darkened evening, as we, as guests, sat in chairs. A table of snack food was provided and many bottles of rum and beer were apparent. There was much conversation in Spanish and English, or Spanglish, and young people played music and danced.
Cuban dancing is a joy to behold; 3-year-old children already had the wonderful Cuban shoulder shimmy. The president of the local CDR made a political speech to his USA neighbors stressing neighborliness and shared interests. Fidel's and Raul's names brought huge cheers from the crowd.

n
CDRs were formed in 1960 as a collective system of revolutionary vigilance, especially since there were continued attempts to thwart the revolution. They were developed into local neighborhoods to fix problems at a local level. The CDRs are contentious. Critics cite restraints on individual freedom and developing mistrust among neighbors. Supporters cite local vaccination campaigns, blood banks, waste recycling, practicing evacuations for hurricanes, and fighting against corruption.
Vestiges of early Spanish occupation exist today. Many Cubans practice the Santaria religion; a systematic mix of Catholicism and Nigerian religion, Yoruba.
Many early Spanish planters owned slaves from Nigeria, and they demanded Catholic adherence from their slaves. The slaves overlaid their own religion on Catholicism. In order to preserve their ancestral and traditional beliefs, they synchronized their Orichás with Roman Catholic Saints; the terms "saint" and "orichá" are even today used interchangeably. Thus slaves could pray to the Catholic saint and simultaneously to their Orisha.
n
A babalawo is a priest of Santaria. We visited a babalawo in his house-temple in beautiful old Trinidad who described his history of religiosity. He lived in a home that had been in the family for several generations; his father was Spanish, his mother black. As a child he had visions and could predict the future and he pursued the study of Santaria for several years and became a babalawo. He holds services in a temple in his home and provides help and consultation to his parishioners.
Cuban music and dancing is everywhere; live bands perform in jazz clubs, bars and restaurants and on the street. Energetic, enthusiastic men and women dance the traditional Yoruba dances as well as flamenco and rumba. We saw a highly skilled professional company of dancers as well as teen-age boys and girls in beautiful ornate costumes representing the Orishas of Santaria. At the end of each performance we were invited to join the troupe and discovered a few agile dancers among us doing the rumba and shimmying to the drums. As is customary, hats were passed for donations — one must always have 1 CUC ready for tips.
n
The free health care system is impressive. Cubans say, "We live poor, but we die rich." It is a four-tier system; first, we met a local family doctor. She (65 percent of doctors are women), with an assistant, serves a community of about 1,000. She sees about 40 patients a day at the clinic and makes house calls. The focus is on preventative health and emphasizes natural remedies.
If tests or more serious problems exist, patients are referred to the second tier, the Polyclinic, where they receive more specialized treatment. More serious ailments are at the third tier, the National level. Research and development is the fourth tier.

One of our tour members experienced a heart problem; he had a doctor's consultation, tests including an EKG, and a short hospital stay. Since he was not a Cuban, he had to pay — he paid $64.
There are now about 70,000 doctors trained in Cuba, about 32,000 serve in other places such as Haiti and a number of countries in Africa. However, it is not a well-paid profession; doctors typically make less money than farmers, people in the tourist industry or other entrepreneurs. We met a male medical researcher who works full-time at a resort; his wife is a doctor and he makes more money than she. Between the two of them, they are relatively comfortable.
n
Since the Soviet collapse there has been a strong investment in farming, especially organic farming. Farmers are the new elite in Cuba. We visited a cooperative organic farm outside of Havana, in Alamar, a small town of 100,000, with Soviet-built apartments — square unadorned concrete blocks with many floors, and elevators that often don't work. I am an organic gardener and I was most impressed. They grow 300 tons of food yearly on 30 acres with 178 working members.
Such cooperatives are growing throughout Cuba; they are semi-private. Seventy years of sugar cane monoculture and chemical fertilizers provide a challenge to organic gardeners; the soil must be replenished. Rachael Carson's book "The Silent Spring" is revered among farmers.

The tourist industry has been targeted as a contemporary economic salvation for Cuba. The United States is providing more tour licenses and we saw many tour buses. Five thousand tourist buses were recently bought from China and air pollution is already a concern.
n
Canadians, Europeans and South Americans are investing in joint ventures with the Cuban government to build resorts. The minister of economic development told us of their plan to build 40,000 tourist rooms; she also stressed that these new buildings would not
degrade the environment
or pollute the water or air.
It seems an irresolvable problem.
We stayed in satisfactory accommodations but inevitably something did not work. Hotel Tejadillo in Old Havana was a beautiful restored three-story hotel with a lovely courtyard, a grand marble staircase and a non-operating elevator. In Santa Clara, Los Caneyes, an old resort, our evening was spent watching a fashion show of designer clothes.
Tourism may well be the dawning of capitalism. As Dick whispered to me, "The sounds of capitalism are no longer muted."
My curiosity was satisfied about what the Cuban Revolution wrought. I believe the Revolution was successful in bringing about positive changes for most people, especially in education and health.
Now I am curious about Cuba's future. Will the second- and third-generation population care about the ideals of the Revolution? Will we see some of the destructive elements of capitalism? Will Cuba develop a more obvious class structure? Will there be more disenfranchised people?
Will the attention to free education and health care be jeopardized? Will the tourist industry degrade the environment? Will the political system change? I may have to go back in a few years.