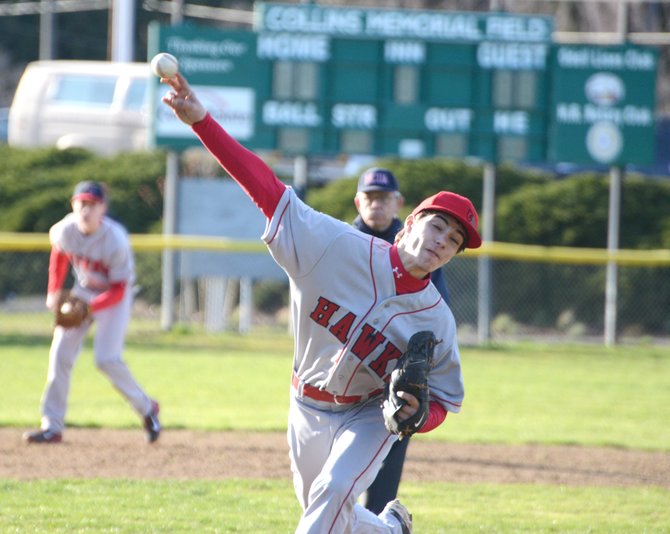 Horizon Christian School's baseball team kicked off its season in a big way Tuesday with a commanding 11-2 win over the visiting Blue Jays of Portland Lutheran. The high-scoring game at Hood River's Collins Field got off to a stifled start as both teams worked out first-game jitters, but, for the Hawks at least, once they found an offensive rhythm it turned into a productive day at the ballpark.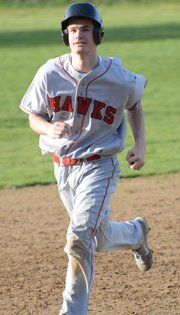 Horizon senior Matt Totaro got the slugfest started in the fourth with a three-run homer over right-center field, knocking in RJ Hicks and Micah Engel, who both singled to get on base. Hitting 2-3 in the game, Engel matched Totaro's homer the following inning with a three-run four-bagger of his own, sending Kirby Carter and Quinn Roetcisoender the rest of the way around the bases to score ahead of him. In all, eight players scored one run or more in the game for the Hawks. Meanwhile, the team's defense held the Jays to just one hit, led by Hicks, Roetcisoender and Engel who shared time on the mound.
Hicks opened with three and two-thirds innings, allowing one hit and striking out seven before pitching into a bases-load situation and handing control over to Roetcisoender to finish out the inning. Engel picked up from there for the final three innings, where he tallied five strikeouts to close out the game.
"We played a good team game, and considering we only had one full week as a team to practice, we gelled quite well," first-year head coach Todd Bofferding noted after the game.
The Hawks were meant to host Culver Thursday but the game was canceled; instead, their next outing is a doubleheader Saturday vs. Western Mennonite (11 a.m. and 1 p.m. start times) at Collins Field.