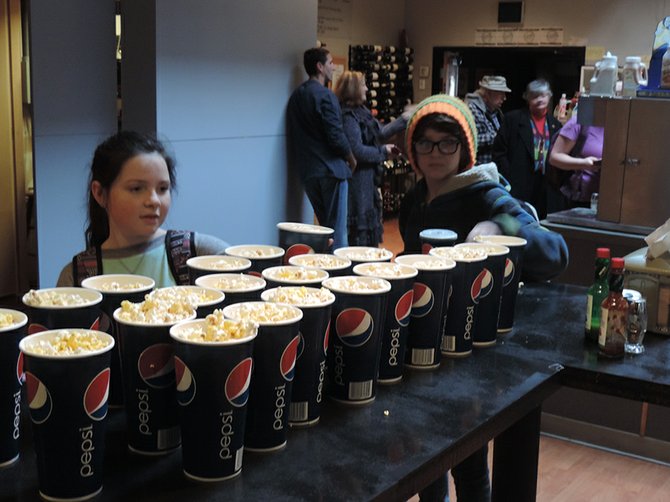 A group of middle schoolers got together Wednesday after school at Skylight Theatre.
What's so unusual about teenagers flocking to the movie house?
It was what was on the screen: a DVD presentation of "The Kid Next Door," the musical by Mark Steighner, presented by the Hood River Middle School drama department in early March.
Parents and Andrew's Pizza/Skylight Theatre hosted the screening of the DVD and all cast members were invited to attend. Principal Brent Emmons and family also attended.
Music teacher Rebecca Nederhiser said, "Since our first musical three years ago, it has been a tradition to have our cast party at Andrew's Pizza.
"Shawn Meyle from the high school records a DVD of our performance, allowing the kids the experience of seeing themselves on stage. Being backstage during the show, for many of them, this is the first time that they see it as one fluid entity.
"It is a great way for the cast to celebrate their hard work, while laughing and eating pizza in the theater," Nederhiser said. "This year we were fortunate to have donations from community members to help support this experience. We appreciate Andrew's Pizza and their willingness to host us each year!"
Past parties have been for the productions of "The Princess Slob" and "Three and a Half Wishes" in 2012 and 2013, also written by Steighner.
Skylight Theatre closed April 7-25
Skylight Theatre will close April 7-25 for theater and lobby renovations, but Andrew's Pizza will remain open. Renovations started earlier this month in the lobby.