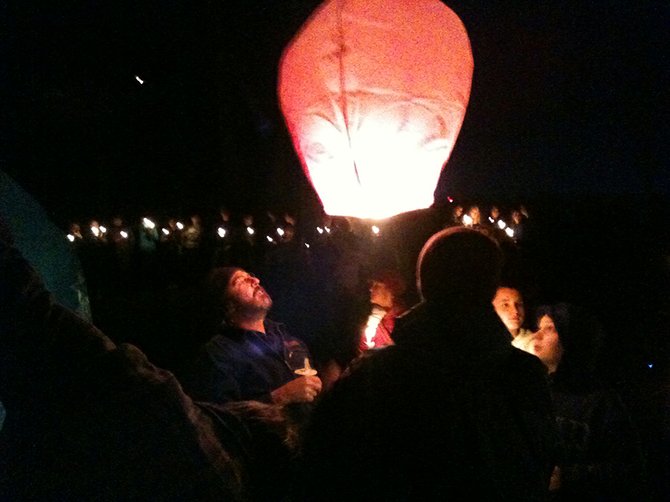 A 200-flame constellation shone in the Friday night air as the community gathered to celebrate Owen Stolte, who died March 20 at age 14.
A group of friends from Mosier Community School, where Owen attended, organized the candlelight vigil at Jackson Park. They worked with Owen's mother, Kim, who handed out the candles and his father, John, who hosted a memorial service Saturday. Singers performed the Beatles' "In My Life" as the circle of candles grew.
"The loss of Owen drives greatly on many hearts because of who he was," said Savanah Rogan, a friend of Owen's. "He was hilarious and witty, and amazing. It is sad that the world lost someone like him so soon. Owen was one of the coolest people I'm glad to say I knew. He made everyone laugh. It was just the way he was. He could cheer up anyone in any situation and turn it into a comedy show. He was a good person and I'll miss him a lot."
Owen was diagnosed in July with osteosarcoma, cancerous bone tumors in his legs. An active youth with a keen interest in biking, sailing and swimming, as well as music, he attended Mosier Community School and later enrolled in the online charter school Insight Oregon, as his illness prevented attending Hood River Valley High School, where he would have been a freshman.
Friends remembered Owen with inscriptions in a guestbook, and some signed up for an American Cancer Society Relay For Life team that will walk in his memory July 20-21. Friday's speakers included Owen's grandfather, Eric Hougard from Montana, who said, "I loved spending time with Owen, but always wished I had more time to get to know him. Tonight I have seen how many friends he has, and I feel like I have come to know him better. For that, I am grateful."
The community rallied last fall for Owen when he underwent chemotherapy and then surgery at hospitals in Portland and Seattle. Gorge Roller Girls held fundraisers, Salon Visio donated haircuts, and numerous local businesses donated on Owen's behalf.
Pints of non-alcoholic root beer "Oh Man," created by brewer Matt Swihart and company, are available at Double Mountain Brewery; Swihart said sales of Oh Man will continue to help the Stolte family with medical bills, and within a few months proceeds will be given to other families of children battling cancer.
Friends and family also gathered Saturday at the Stolte home, where Owen was born, for a memorial.
"He will be going full circle," Kim Stolte in thanking the congregation for its support on Friday. To the gospel standard "I'll Fly Away," sky lanterns, one for each of his 14 years, were illuminated and set aloft in Owen's memory. The first lantern quickly ascended but got stuck in the branch of an oak tree next to the stage. "If Owen had let that off, it would have gone correctly," someone said, to laughter.