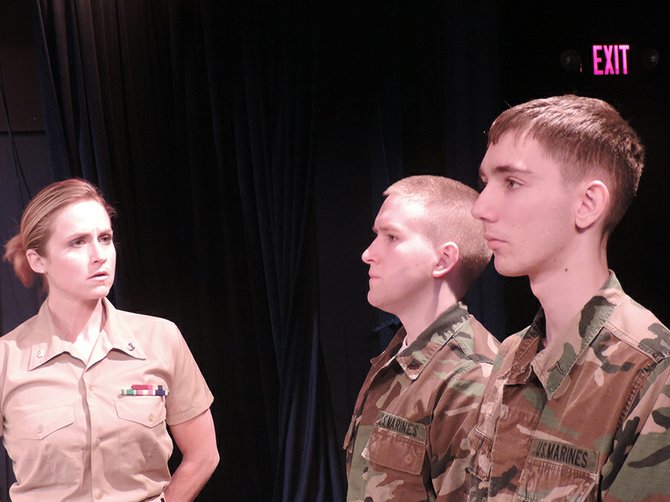 The cool thing about a large-cast theater production is the greater likelihood of seeing new faces on stage.
The drama "A Few Good Men," opening Friday at CAST, blends several CAST veterans with plenty of newcomers. In some cases, these new faces are known from other dramatic settings, but never before at CAST.
They add a new dimension to what the audience will see when the taut Aaron Sorkin courtroom drama comes to Columbia Center for the Arts. (The play was turned into a 1992 film starring Tom Cruise, Jack Nicholson and Demi Moore, but the script differs somewhat. Sorkin's play was originally produced in 1989.)
'A Few Good Men'
The play runs about two and a half hours, with intermission.
It contains repeated "F-bombs" and other mature language, and there is a simulated gunshot.
Proceeds benefit the Columbia Center of the Arts. The production is produced by Fox-Tail Cider.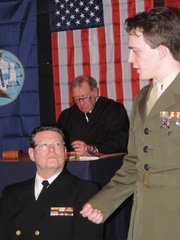 The fast-paced drama brings the talents of Jonas Grosserhode as Lt. J.G. Dan Kaffe, Blaire Carroll as Lt. Commander Galloway and Lisa Roth as Lt. J.G. Sam Weinberg, facing off with CAST veteran Tom Butler ("Wait Until Dark," "Bullshot Crummond") as Lt. Col. Nathan Jessep, the commander of Guantanamo Base in Cuba, where the murder takes place.
Roth was last seen in "Circle, Mirror, Transformation," and Carroll has acted in "Of Mice and Men," and "One Flew Over the Cuckoo's Nest," among others. Grosserhode has taken small roles in a few plays or provided technical assistance in recent years.
The four leads in the play are mostly familiar, but audiences will also see performers who have never acted in a CAST production, or any at all in Hood River. New to CAST are Jesse Benefield, Steve Carroll (Blaire's husband), Jason Fritz, Mike Glover, Josh Duffus, Oscar Gamez, Jordan Jameson, and in his first stage experience, Donald Hull — though Hull, retired Circuit Court judge, holds a familiar place, as Judge Randolph. (He even uses his own robe for the role.)
Glover, the executive director of Hood River Chamber of Commerce, had also never acted before; he takes the role of Cmdr. Dr. Walter Stone, who is put in a tenuous position by Jessep that was not shown in the film.
Jake Camp and Matthew Oldfield take on the challenging roles of two young Marines who are charged with murder after a Marine is found dead in his bunk. Camp has been in a variety of CAST productions, and Oldfield, a 2013 high school graduate, performed at HRVHS.
Meanwhile, Mike Oates and his son, Jimmie, both have small roles. The Oateses are known for performing in Lions Follies, as is Bob Fox, taking his first crack at directing a play.
In addition, stage manager Casey Aschauer takes on that backstage role for the first time.
n
The synopsis, according to Fox: "It's up to a fresh-out-of-law-school naval officer who has more experience playing softball then defending clients to find out what really happened down in Cuba. What seems like an open-and-shut case has two sides playing a cat and mouse game of keeping secrets and exposing them. Will two young Marines accused of murder spend the rest of their lives in prison? Can a cover-up be uncovered? And, can you handle the truth?"
n
Tickets are on sale soon at Columbia Center for the Arts, Waucoma Bookstore, Mugs Coffee in Bingen, or at columbiaarts.org. Ticket prices are $18 for adults, $15 for students, seniors and veterans. Show times are at 7:30 p.m. with a matinee on April 5 at 2 p.m. at Columbia Center for the Arts, 215 Cascade Ave.