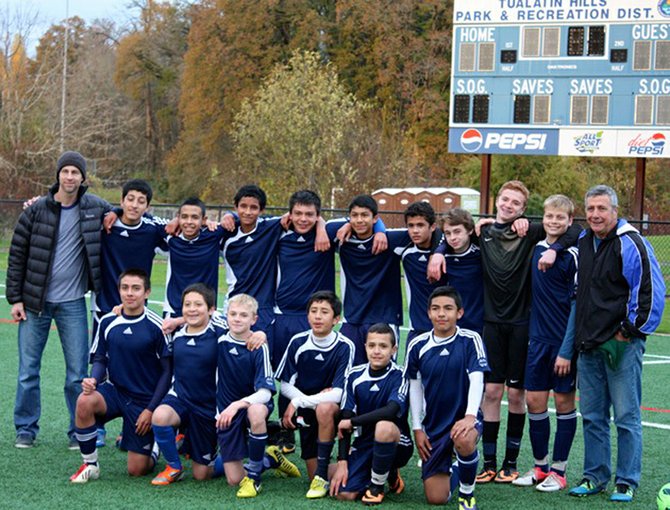 Coach Pero Lovrin likens the conquest of his U14 Hood River Strikers soccer team to the fable of David and Goliath. Competing in the state's most elite youth division — the National Premier League of Oregon — the group of 15 small-town boys battled against big city teams and premier clubs with long-running histories and much larger pools of star players to draw from. Despite their underdog status, however, the Strikers finished the fall season triumphant, and with the 10-2-2 record and league champion status, earned the right to play in the 2014 National Premiere League Tournament.
How to help
Come to the May 4 fundraiser, sponsor the team or donate auction items. For more info call Kelly Running at 503-887-3346.
"I have coached soccer for the Hood River Dynamo Club for the last 17 years, and although our club has produced some outstanding players and teams, no soccer team from our community has earned the honor to represent the state of Oregon at this national level tournament," Lovrin explained. "We have great local talent, but it takes much more than that to compete against big clubs from the Portland metro area. We're kind of like a 1A school going against a 6A school; like David and Goliath.
"We have managed to grow and develop this group of boys to climb to the very top of youth soccer in the state of Oregon. In my soccer experience this is a huge accomplishment and very unusual for a community similar to ours."
The NPL Tournament takes place this summer, July 10-14 in Greensboro, N.C. But before traveling across the country to represent Hood River against some of the nation's best young teams, the Strikers must first get past a different kind of obstacle: the price tag of the trip.
With a goal of raising $10,000 by early summer, Lovrin and the boys are turning to the community for any support they can muster.
"I wish that each one of their (players') families could write a check to cover the necessary fees associated with this tournament," Lovrin said. But for many of them and their families, this is a severe financial hardship. We need the community's support."
With airfare, hotel, transportation, food and other expenses, the cost of the trip is about $1,150 per player. In addition to welcoming team sponsors and flat donations, the team is hosting a dinner and silent auction on Sunday, May 4, 5-7 p.m. at the Hood River Elks Lodge. Donations are also being solicited as auction items for the event. All donations are tax-deductible.
"Hood River has always been a very supportive community," Lovrin said. "We're really hoping people will show their support for this team and the unique accomplishment they have made. An investment in this team is a great investment in the future of Hood River soccer because almost all of them will be playing for Hood River Valley High School within the next two years."
For team sponsorship inquires, auction item donation or additional information about the May. 4 event and additional fundraising activities or ideas, contact team assistant Kelly Running at 503-887-3346.
The team has also started a crowdsourcing campaign to help raise funds online through the site GoFundMe. Anonymous donations through that effort can be made at gofundme.com/5g2dck.