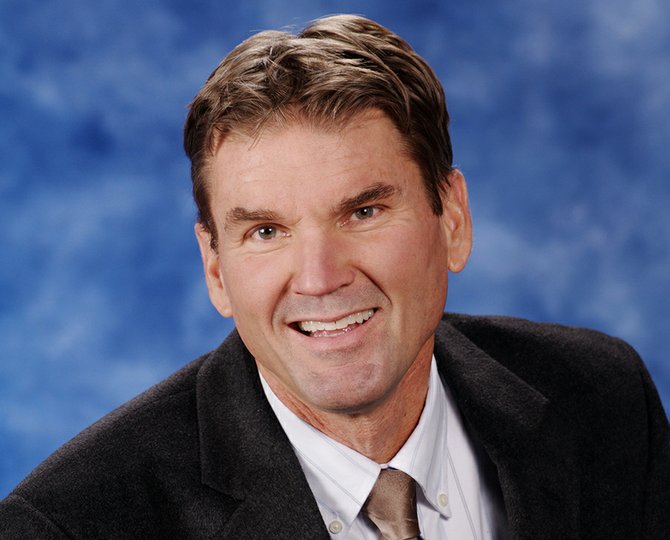 Dennis Linthicum, 58, decided to take on 16-year incumbent Greg Walden out of the belief that "establishment Republicans" are steering the party — and nation — in the wrong direction.
Linthicum said the people who inhabit Oregon's Second Congressional District — the seventh largest in the nation — need to know their representative in Washington, D.C., truly wants to rein in runaway government spending.
He said it is time for the GOP to stop caving in to pressure from Democrats and special interest groups and stand firm on constitutional principles of limited government and a free enterprise system.
For that reason, he is challenging Walden for the GOP ticket in the May 20 primary election.
"It is formidable to take on an incumbent but people in this district need to see what a Constitutional Conservative looks like," said Linthicum.
He said Walden has voted three times to raise the debt ceiling and three against, and that same pattern of inconsistency plays out with other major decisions. For that reason, he said FreedomWorks and the Heritage Foundation, both conservative think-tanks, have given Walden an average grade on his voting scorecard because his support for debt reform appears to be a "coin toss."
"By political whim or momentum, our officials never ask if there's a barrier to the federal government engaging in a policy," said Linthicum. "And they don't seem to care if we can't afford whatever they want to do, they just print more money."
He said Walden and other career politicians seem more intent on getting re-elected these days by voting not on principle but party allegiance. In fact, he said a disturbing trend is emerging where GOP leaders attack more conservative House members who refuse to support more spending.
"Our country cannot survive if we keep this engine stoked and heading toward the cliff," said Linthicum, who currently serves as a Klamath County Commissioner.
"Leaving our children a $17.5 trillion debt is shameful and immoral."
He said the only way to reform Congress, which has the lowest public opinion rating on record, is to replace politicians who have been in office too long with people who understand the intent of the founders. He said the Constitution was written to give the federal government the role of regulating commerce and providing a common defense, with states given the authority to make most other decisions.
Linthicum said, while Walden has spent most of his adult life in public office, he has been working in private industry for the past 30 years. He holds a bachelor's degree in economics from the University of California Los Angeles, Calif., and a Master of Arts from Biola University in southern California.
His career began at Hughes Aircraft in California as a software developer and eventually worked his way into the position of senior vice president of management information systems at Lange Financial Corporation and in the same position for Pacific Mutual Life Insurance.
After moving to Oregon, he became a small-business owner, working as a technology consultant in southern and central Oregon. He and his wife, Diane, have lived on a small cattle ranch in the unincorporated community of Beatty, east of Klamath Falls, for the past 18 years. Their homestead is "off the grid," with electricity provided by solar panels.
Linthicum acknowledges that it will be an uphill battle to change the way business is done in Washington, D.C., with a societal shift toward bigger government. But he believes the time is right to take on that fight because, if it does not happen soon, the economy is likely to collapse.
Taxpayers and private businesses fund government services but agencies are continually throwing up regulatory roadblocks that stifle prosperity, said Linthicum. He said every proposal in Congress to impose a new rule should have a cost-benefit analysis performed to show how it will play out on the ground.
He also strongly believes that all federally managed lands should be transferred into the hands of the jurisdictions where they are located. He said hunters, foresters, campers and other recreationists not only know the history of these parcels but would have more of a vested interest in good management, which includes best use of resources.
"We need to heal this disconnect between Americans and government officials in the hallowed halls of D.C. who are more concerned about keeping power than leading," he said.
More information about Linthicum is available on his website, dennis2014.com.