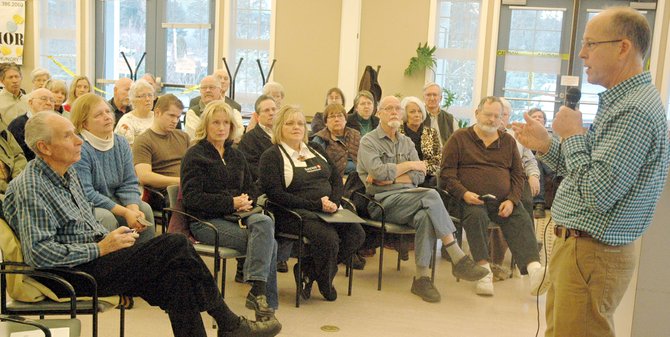 Greg Walden is seeking his ninth term in the U.S. House of Representatives, representing eastern Oregon in the 2nd Congressional District.
The Hood River Republican's foe in the primary is Dennis B. Linthicum of Beatty in Klamath County. His first primary challenger since 2006, Walden questioned Linthicum's stands describing Social Security and Medicare as unconstitutional, and the strict constitutionalist's interest in seeing U.S. Senators appointed, rather than elected, as the Constitution originally prescribed.
Longevity and experience give a congressman some advantages in serving his constituents, Walden said, in a recent interview.
"I think this district is so big and there are so many individual sets of issues that you can begin to have a much stronger grasp of people and problems in each location," he said. He cited his experience dealing with issues like the Fort Dalles Readiness Center, which took years accomplish.
Gaining seniority in the House and familiarity with its party leaders is also a good thing, Walden said.
"It allows you a little more throw weight when you want to get things done," he said.
Despite public perception of polarity within Congress, Walden said successful legislation involves working across party lines.
"The forestry bill is an example of that," Walden said. "Peter DeFazio, Kurt Schrader and I worked for three-and-a-half years to develop bipartisan forestry legislation. That's about as hot a topic as you can get in Oregon. It passed last September.
"We got the bill done and it will keep the coastal counties from going insolvent, and generate 3,000 jobs and $100 million in revenue."
Other bipartisan bills he has played a role in include an Internet freedom bill, one on reporting and one on Bowman Dam in Prineville.
"There are ways to work the process to get things done," he said. "Also there are philosophical differences between liberals and conservatives, Republicans and Democrats that you're never going to breach. If you do, you have something called a dictatorship."
One of the challenges that Walden said affects perception of the conflict is electronically dispersed rhetoric.
"It makes governing more difficult," he said. "Literally every word I utter now can go global — and does on occasion. Even if [the quotes] aren't accurate. I'm amazed at the inaccurate information out there."
Walden touched on a number of issues relevant to his constituency:
Farm Bill: "We got some reforms and we got some costs down," he said. He cited importance of research funded by the bill, especially on issues of food and water safety, and the looming possibility of a sage grouse listing. "If we don't stay ahead of the listing, it can make the spotted owl look like child's play."
Hanford: "We have to continue to be very vigilant to be sure the cleanup continues to progress," he said. Oregon remains at the table, along with Washington, because of the risk to populations in both states. "Cleanup is proceeding pretty much according to plan but, clearly, we've got to make sure the containers don't leak, either."
Yucca Mountain: "The administration unilaterally and probably illegally put a stop to any future consideration of it," Walden said. "The issue is in the courts right now … We need to secure a national repository. Absent that, you're storing all this nuclear waste at individual locations across the country. You are better served with a common location with appropriate security."
Hazardous material shipping through the Columbia Gorge: Walden suspects more hazardous waste is shipped through the gorge than the oil shipments that have been the topic of a recent Oregonian series. "We've got to make sure the rail cars are safe, appropriate spill cleanup mechanisms are in place and first-responders know what to do," he said. He said the current discussion is tied into the debate over climate change. However, he questioned the advisability of publicly posting identifying materials shipped through the gorge because of threat of terrorism.
Running the Republican House campaign: "I'm trying to recruit and elect people who, when they get to Washington know that they are supposed to govern. That's not always easy. It's easy to throw rocks, especially when you're in the minority. But when you catch the bus, you're supposed to drive the bus."
Walden said he has worked to improve legislative processes, including publishing bills three calendar days before a vote, more open rules, hold floor votes only after 1 p.m. most days so they won't interrupt committee meetings, and implementing bipartisan work groups for "deep dives" into issues.