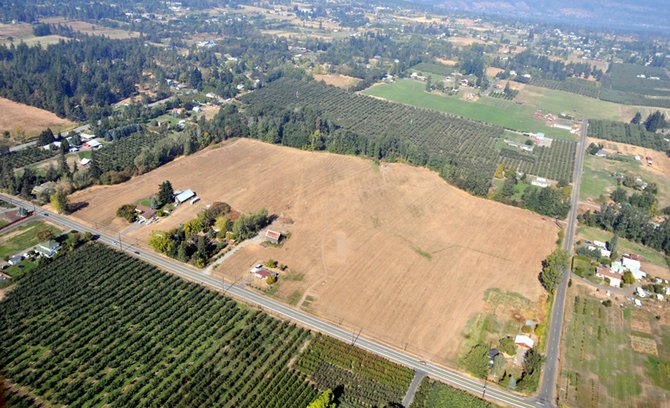 Barrett Park has been the source of much controversy over the past two years and now, once again, finds itself embroiled in not one, but two new disputes over land use issues.
Last week, Polly Wood, president of the Hood River Valley Residents Committee, a local land use watchdog group, sent a letter to the director of the Oregon Parks and Recreation Department requesting the state agency "not execute" a $494,000 grant agreement with Hood River Valley Parks and Recreation District that would be used to develop the park, alleging HRVPRD "did not have local land use approval" for the park.
On top of that, HRVRC is also now appealing a recent ministerial action by the Hood River County Planning Department to award a land use permit to HRVPRD for the construction of facilities at Barrett Park for flying radio-controlled model airplanes, arguing the county's decision violates county zoning ordinances as well as state statutes governing land use decisions.
HRVPRD Director Lori Stirn respectfully disagreed with HRVRC's statements.
"That's certainly their opinion," she said, "and Hood River Valley Parks and Rec has their own opinion."
Barrett Park Timeline
2005: Hood River Valley Parks and Recreation District identifies acquiring land for play fields as a number-one priority. HRVPRD begins searching the county for suitable property to fill this need.
Summer 2007: HRVPRD purchases a 31.4-acre parcel of orchard land at 4010 Barrett Drive. In October, HRVPRD receives a $325,800 acquisition grant from the state for the park.
Late 2010: After continuing to lease the land for three years as an orchard, HRVPRD ends the lease and removes the fruit trees from the property due to grant provisions.
Spring 2011: Meetings are held by HRVPRD to hear the public's suggestions on what kind of recreation facilities should be developed at Barrett Park.
July 2011: HRVPRD looks to form Barrett Park committee.
May 2012: The Hood River County Planning Commission approves HRVPRD's conditional use permit to develop the park.
August 2012: The Hood River County Board of Commissioners hears an appeal from local orchardists Fritz and JoAnn von Lubken regarding the planning commission's decision. County commissioners vote to reverse the approval of the permit.
September 2012: HRVPRD appeals the board of commissioners' decision to the state Land Use Board of Appeals. That same month, HRVPRD was awarded a $494,000 grant from Oregon Parks and Recreation Department to develop the park.
May 2013: LUBA finds the board of commissioners made several errors when hearing the von Lubkens' appeal and remands the decision back to the county.
Fall 2013: Planning commission deadlocks during an October public hearing regarding whether or not to issue the conditional use permit. In early December, the county commission votes 4-1 not to grant the permit. HRVPRD decides not to appeal, but adopts a resolution the next week designating the land "in perpetuity for park and recreation purposes."
March 2014: HRVPRD applies to the Hood River County Planning Department for a land use permit to construct facilities for an RC flyer field at the park. County planning approves the request the next month.
HRVRC has publicly requested that HRVPRD sell the Barrett Park property, which was purchased in 2007 with the help of a $325,800 acquisition grant. In a recent article published in the News, Wood argued that now "the size of the investment seems out of proportion to the benefit."
HRVPRD originally bought the 31.4-acre parcel near the corner of Barrett Drive and Alameda Road with the intent of putting ball fields and other play fields on the property due to a field shortage in the valley. However the county determined that the park, which is on land zoned exclusive farm use, should not have developed ball fields on it, and rejected the plan, but eventually approved a conditional use permit in 2009 that allowed the extension of the Indian Creek trail across the property.
In 2012, HRVPRD applied for a Local Government Grant Program grant to develop a new park plan, which included informal play fields, a mountain bike skill development area, picnic shelters and other features instead of developed ball fields. HRVPRD was approved for the $494,000 grant, comprised of state lottery revenues, in the fall, but the funds have not yet been dispersed. Wood stated in her letter to OPRD that the grant "was by far the largest awarded that year," by the agency.
Ultimately, the county did not approve HRVPRD's conditional use permit for the new park plan, but HRVPRD drafted a resolution shortly thereafter that designated the land in perpetuity for recreational uses. Since then, the park has worked with a local RC flyer club, the Columbia Gorge Aeromodelers, to develop the facilities.
HRVPRD is now asking that only $160,000 of the original $494,000 development grant be dispersed due to the smaller scope of development for Barrett Park. However, Heather Staten, vice president of HRVRC, said HRVPRD would be pulling "a little bit of a bait-and-switch" if it decided to accept any money from the grant. She said HRVPRD's original 2012 proposal scored highly with the OPRD Commission and beat out other projects due to its grand scope and that HRVPRD "would be hard-pressed to get funding for the limited use of the park" that the agency is trying to build today.
"There are lots of projects that didn't get funded in 2012 that probably could have been built by now," Staten noted.
Moreover, Wood stated in her letter to OPRD that although the RC field was "briefly mentioned as a possible Phase 2 improvement, it was not part of the narrative or budget of Phase 1 development in HRVPRD's grant application." She also argued that although the county planning commission originally approved the park's conditional use permit in May 2012, HRVPRD never had the required land use approval due to an appeal of the permit decision that was filed that same month by local orchardists Fritz and JoAnn von Lubken — an appeal that ultimately resulted in the county commission overturning the approval of the conditional use permit.
Scott Baker, assistant director of HRVPRD, disagreed wholeheartedly with Wood's statements and said that "when you have an approval under appeal, that's still an approval." He added that the "RC flyers have been a part of the Barrett Park plan since the very beginning," and had always been included in the grant as they are an allowable use on EFU land. He also noted most of the grant would be put toward the trail that skirts the northern edge of Barrett Park and that the RC flyer facilities would only require about $8,000 to construct.
HRVRC has asked OPRD to pull the grant and have HRVPRD submit a revised grant application. Baker said HRVPRD could still use money from its system development charges and general fund — pending approval of HRVPRD's board — to develop the RC field without the grant money.
"It's not whether the improvements will be made, it's whether they will be made with lottery dollars or local dollars," he said.
While the state examines HRVRC's request to not execute the grant agreement with HRVPRD, the county planning commission will be examining HRVRC's appeal of county planning's recent decision to approve a land use permit for the RC facilities, which are to include: a 40-foot-wide by 300-foot-long grass or geo-textile fabric runway; a 6-foot high by approximately 50-foot-long wire safety fence parallel to the runway; a 19-foot by 10-foot, 3-inch, precast concrete restroom; (4) a 10-foot by 30-foot "shade shelter"; four 4-foot by 8-foot tables with bench seating; a small informational sign; a grass parking area; and perimeter landscaping, according to the permit document.
Staten said that HRVRC isn't asking for the planning commission to deny the proposal outright as RC flyer fields are allowed uses on EFU land, but are looking for a "modified decision with additional conditions." In particular, HRVRC takes umbrage with the construction of the restrooms, due to a stipulation in an Oregon statute that does not allow structures "to be placed on a permanent foundation" at RC flyer fields on EFU land.
"By appealing this decision we are looking for more limitations to the buildings as we do not consider a new restroom facility on a cement slab and plumbed toilets which drain into a septic field non-permanent," Wood explained. "Port-a-potties would better define non-permanent in this case."
In addition, Staten argued there was no public process for the permit and that "we believe the application should have been processed as a land-use decision rather than as a ministerial one."
Stirn said it was "certainly their right" for HRVRC to appeal but added that she was "not sure where that fits within a ministerial decision."
A public hearing regarding the appeal is tentatively planned for Wednesday, June 11, at 7 p.m. As for the grant, Chris Havel associate director of OPRD, said his agency has HRVRC's letter "and will review it carefully," with a decision likely to be handed down sometime next week.