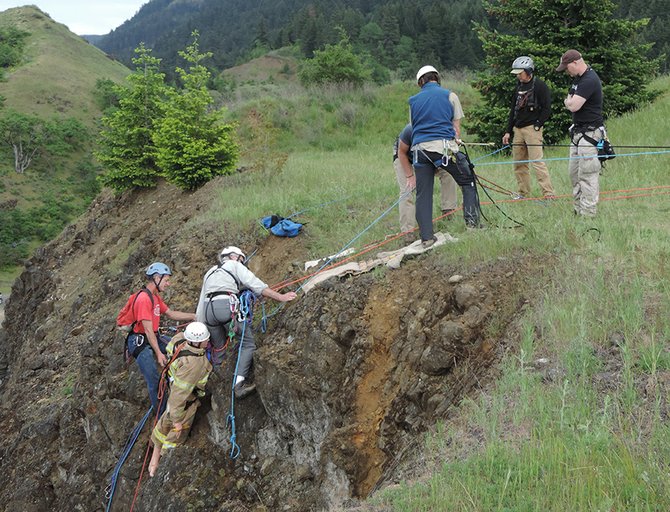 Crag Rats clung to a jagged cliff worthy of their name Saturday afternoon.
The scene was a 60-foot cliff in a former rock quarry just west of the Mark O. Hatfield Trailhead, with views of Mosier and the Columbia River. Rockfall — airborne geological debris — was part of the challenge as 20 volunteers with the mountain rescue group trained via the scenario of an injured climber needing assistance getting off the cliff face. "Denny," a 180-pound training dummy on loan from Parkdale Fire Department, served as the victim.
"We're just out trying to pick him off the wall," said Crag Rats President Gavin Vanderpool, who designed the simulation: The volunteers had to find and rescue a climber who was on a cliff and injured.
Every five years the group is required by Oregon State Sheriff's Association and Oregon Emergency Management to gain recertification via the Mountain Rescue Association in rock, ice and avalanche rescue skills. Crag Rats Asa Mueller and Rick Ragan acted Saturday as evaluators, and Crag Rats will do a second training in a week to prepare for the MRA recertification test in Government Camp on May 17. They'll be evaluated by peers from Oregon Mountain Rescue, Portland Mountain Rescue and Deschutes Mountain Rescue.
Saturday's training, overseen by Vanderpool, was a first in one way, though it covered vertical territory and techniques familiar to the volunteers amidst a search and rescue scenario drawn up by Vanderpool. Most Crag Rats have experience with ropes, harnesses and crampons, and they reviewed rope handling, belaying, and emergency victim stabilization while on the rock face.
But first they had to find the guy.
"The real work was the evidence; the clues in the vehicle and trying to figure out what the scenario might be," Vanderpool said. "I've participated as an evaluator for some of these other groups; the search thing is new for us. We haven't had to test on that before, but it's a new certification MRA decided we should have. I've seen it sometimes where you end up with a witness, sometimes you end up with a vehicle. We haven't done it as a group so that's why I'm throwing that out, so we can go through the whole thing."
Crag Rats secretary Tom Rousseau said, "We've often had to do the search, but it's only recently that it's become part of the recertification."
By this time John Inglish and Steve Castagnoli had climbed down to Denny and stabilized him and harnessed him for extraction; Vanderpool gave the rescuers the choice of taking Denny down or lifting him to the top; they chose the latter because of the rockfall on what was a somewhat unstable wall. (Several times, Castagnoli had to recheck his hand-holds as basalt chunks fell away under his grip.)
"The rock's not great but it gave us the opportunity to first show up and — based on the evidence we first found at the vehicle and at the last point the person's vehicle was missing — send everyone out on a search," Vanderpool said.
He explained, "It seemed like he was out on a mountain bike until we were able to find a key and got into the vehicle and found a receipt for a bike shop that indicated he had dropped off his bike this morning. So we looked at stuff in the vehicle, and he wasn't running; he wasn't biking; all his climbing gear was gone; and until we have another SAR group we got into contact with and were able to ping (the victim's cellphone) with coordinates, and they came back to us with coordinates and we locked on him and they got us right to him."
In the end, Denny suffered a broken arm but was alert and stable by the time "EMS" arrived. For the exercise, no ambulance or crew actually showed up, but the volunteers went through the process of determining how and when to make that call.
The essence of any training is learning "this is what's available to us to find this person," Vanderpool said. "What resources do I need and what resources can I call out and how do I use them wisely?"
Also, Vanderpool and others gave real-time notifications to 9-1-1 Dispatch which, to prevent any misunderstandings, aired reminders every half-hour that the Crag Rats were engaged in a simulated incident for training purposes.