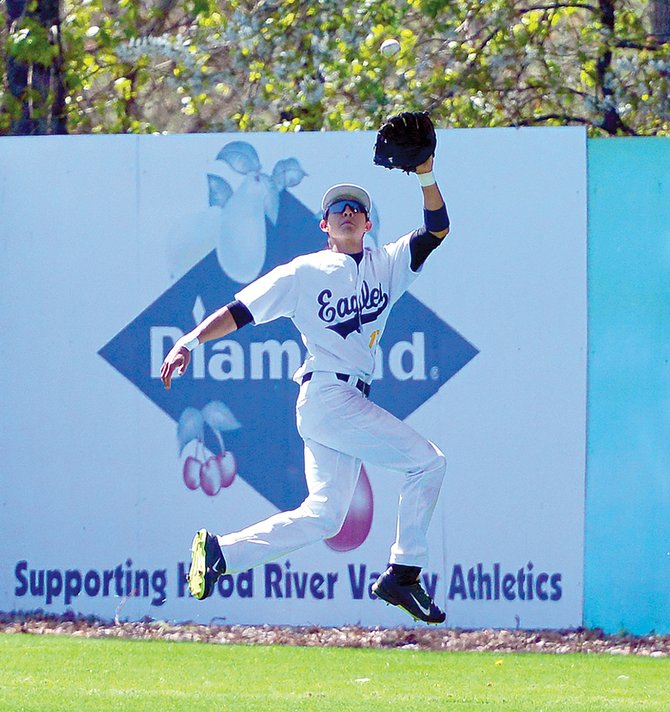 Hood River Valley junior hurler Ryan Ward pitched his first complete game no-hitter to help lead the Eagles to a 4-0 win over arch rival The Dalles-Wahtonka Eagle Indians in the opening contest of Columbia River Conference baseball doubleheader. HRV's success continued in game two, as four pitchers combined on a one-hitter in a 6-5 win to help coach Eric Harjo's Eagles earn the impressive sweep Saturday at HRV's Traner Field.
State playoffs?
5A rankings freeze on May 19. The top eight teams qualify automatically while 9-24 will have a play-in game May 23. HRV is currently ranked 20th.
"I couldn't be any happier or more proud of our guys to come out here and get the sweep," said Harjo. "It sure feels like we're heading in the right direction. This helps move us one step closer in trying to reach our peak performance level by the end of the regular season."
Prior to the contest versus highly regarded TDW (8th ranked in OSAA Class 5A), the 20th ranked Eagles had lost nine of their last 10. The sweep could prove to be a turning point of the season, as the Eagles are hoping to remain in the top 24 of the rankings to qualify for a state play-in round.
After two scoreless innings of Game 1, the Eagles gained the upper hand in the third. Junior Connor Curtis (2-for-3) ignited an offensive outburst by smashing a high fly ball deep to center field for a leadoff double. After sophomore Skyler Hunter followed with a bunt single, Curtis scored on a sacrifice fly RBI by senior center fielder Alex Jimenez (1-for-4, 2 RBI) for a 1-0 Eagle edge.
Sophomore Kellan Duffy (1-for-3, walk) then drilled a line drive to left field for an RBI single, driving home Hunter for a 2-0 lead. Two batters later, Duffy scored on Patrick Harvey's RBI double to the right field gap as HRV built a 3-0 advantage.
The Eagles added a run to extend their lead to 4-0 in the fourth. An RBI single by Jimenez scored Austin Martin, who earlier singled with a line drive up the middle. Three scoreless frames followed as the Eagles managed to shut out TDW by playing rock solid defense to help preserve Ward's no-hitter — the second one of his career. .
"I felt good and I was throwing my fastball pretty well to get lots of strikes," said Ward, who struck out 11 and walked one. "It was nice to get the complete game no-hitter. We knew they (TDW) were a good team, but I wasn't surprised we got the sweep. We know that we can beat anyone on any given day."
HRV infielders Kam Walker, Hunter and Duffy each made key defensive putouts in the sixth. Junior right fielder Riley Van Hoose grabbed a high fly ball while diving onto the ground in foul territory for the third out. Ward was just overpowering the Eagle Indians with his fastball the entire game and he struck out the first two batters in the top of the seventh.
"Getting a big sweep against The Dalles could really help turn our season around," said Van Hoose, who batted 1-for-3 with a double. "We've played really well all year, but things just haven't turned out too good for us until now. Everything is finally starting to come together and we deserve to have some success, because we've been working hard all season."
TDW's Clay Copper had the final at-bat and he hit a solid shot to left center field. Jimenez made a remarkable catch while running to his right and snatching the ball into his glove while running in stride for the final put-out.
"We have tons of confidence with Alex as an outfielder and he's made some really good catches throughout his three-year varsity career, so I'm extremely proud of him," said Harjo. "You see plays like that all the time on ESPN, when it comes down to the last out to get the no-hitter. Alex just made a great play."
The Eagles continued playing solid baseball in Game 2 to pull out an exciting come-from-behind victory. Starting pitcher Duffy and relievers Van Hoose, Dallas Buckley and Hunter combined to limit TDW to only one hit.
TDW led 1-0 in the first, but HRV responded by scoring three runs in the bottom half of the frame for a 3-1 edge. Following three scoreless innings, TDW jumped ahead 4-3 with a three-run fifth. The Eagles came back and answered the challenge to regain a 5-4 advantage after five. Van Hoose then provided HRV with the highlight of the game as he crushed a ball over the 293-foot right field fence in the sixth, giving the Eagles a 6-4 lead. It was Van Hoose's first homer of the year and it proved to be the game-winning hit as well, because the Eagle Indians added a run in the top of the seventh for the final 6-5 margin.
The Eagles were hoping to notch a third straight win when they faced The Dalles-Wahtonka again Tuesday in The Dalles (results unavailable as of press time).