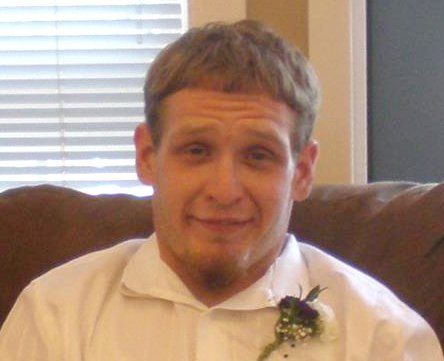 The Hood River County Sheriff's Office is currently searching for a Parkdale man who has been missing from his home since Monday.
Jason Muschaweck, 24, has been missing from his home at 7390 Clear Creek Road since at least Monday evening. Jessica Muschaweck, sister-in-law of Jason, reported that a conversation over Facebook with a family friend at 10:05 p.m. Sunday was the last anyone had heard from Jason, who lives at the Clear Creek Road residence with his brother.
Hood River County Sheriff's deputies were called to the residence at 6:18 p.m., Monday by relatives, who Sheriff Matt English said reported a "possible burglary." Inside, deputies found Jason's dog, a 2-year-old female pit bull named Sox, in a bathroom with multiple puncture wounds to the throat, possibly from a pair of scissors, as well as a gunshot wound to the head. The dog survived and as of press time is at Tucker Road Animal Hospital, in Hood River, although Jessica said that veterinarians were unable to extract the bullet fragments.
Jessica described the house as "ransacked" and reported that "guns, money, electronics, and a big-screen TV" were missing from the house, but that Jason's cellphone was found on his bed. English reported a cellphone was recovered from the scene, but that HRSCO did not have conclusive evidence that there was indeed a burglary and did not know who attacked the dog. HRCSO is currently in the process of analyzing evidence taken from the scene.
Jason is described by his family as 5-foot-11 with blue eyes and brownish-blond hair and was last seen wearing blue jeans and a blue and white shirt. HRCSO has entered him as a missing person and has conducted air searches, as well as interviews and is following up on any available leads. English reported Friday morning that investigators have been brought in from Wasco County, The Dalles Police Department, and the Hood River Police Department, but few people have come forward and law enforcement has received little information about Jason's possible whereabouts.
As for Sox, Jason's mother, Sharon Muschaweck, reported she is getting better, but appears to have brain damage and will likely have to be taken to a veterinary hospital in Portland to fix a tear in the dog's esophagus that was caused by one of the stab wounds. Sharon said the family is worrying about being able to pay for the surgery and has set up a donation account at Pacific Northwest Federal Credit Union in Hood River in Sharon's name for "Jason and Sox and for the family's expenses at this difficult time."
Jessica described Jason, who attended Hood River Valley High School, as well-liked and said the family was unaware of "any disputes" he may have had.
"There was absolutely no reason for this to happen," she said.
Those with any information about the incident or Jason Muschaweck are encouraged to call the Sheriff's office tip line at 541-387-7077.