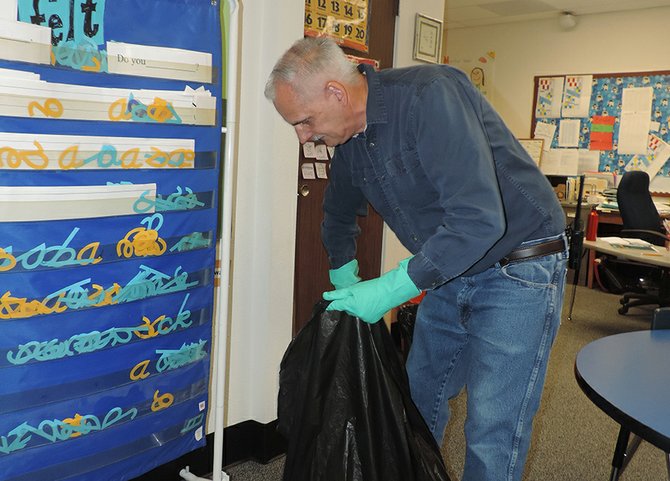 "Got your running shoes?" Ed Walston asks when you tell him you plan to follow him around on the job for awhile.
Walston, 60, does not so much go to work as work to go.
On June 21 he will mark 37 years as custodian of the same facility, May Street School, including 35 as lead custodian after his first two years as night custodian. He officially retired in March but continued work under the customary retirement extension because PERS benefits take 90 days to kick in.
"It's quite a scary situation. It'll be different, not coming to work," Walston said. "I come to work at 5 in the morning. It'll be different. I'll have to adjust a lot. I feel like it's been almost a second home to me, in a way, because people have been so nice to me, the staff and everything. I will miss the people, the staff and the kids, the most. I've been very fortunate to have been able to have this job and spend the many years with this job.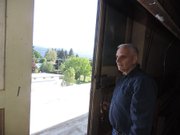 "I was going to stick it out a couple of more years, but I'm just wore out. It's a lot of physical labor and a lot of planning," he said. "You can think of what you have to do for the day and that can just change, you never know what kind of emergency is going to come up or anything."
But one task he took upon himself last fall was to heat Danette Level's apron every morning. "I just put it in the dryer and by the time she comes in at 5:30 she has a nice warm apron. I started doing it last fall. I don't know what got me started doing it," he says, laughing, "She appreciates that on mornings when it's cold out."
Then Walston is off to clean sinks, sweep the gym floor, or fix some small thing.
"If something gets broken, I take care of it. The other day it was a chair in room 7 where the swivel wheels had a plastic part that got broken, so I found a dowel and worked out how to replace it," he said. "That's one thing about the job; you have to sit down and think about how it's going to work and sometimes it may not work and you have to redo it over."
But there is not much sitting down for Ed Walston. The photo of him with his postcard collection in the 2005 Panorama shows him in rare form: sitting in a chair rather than fixing it.
On Wednesday of this week, Level told him to put on the mileage counter he uses on his regular hikes throughout the Gorge.
"She's been talking about it," he said. "I guess it's common knowledge that I'm just running through the kitchen most days."
By 8:15 a.m. he had already covered 2.5 miles. He predicted he would cover "six or seven" miles that day.
"I have quite a bit of running around today," he said. Among other things, he would need to replace a sprinkler head on the west side of the grounds, where some new plantings were recently done by parents.
"Before Lyle Harpe was principal (in the 1980s-1990s) we had to drag hoses (to irrigate) and he said, 'No more,' so Sam Losa (now at Westside) and Don Springer (district maintenance) and I put (the pipes) in the ground" about 18 years ago. "It's sure been a lifesaver, because before I had to go out mid-morning after the break and water."
Explaining the irrigation system is one of those details he'll make time for with his successor.
"It's going to be a little bit of a challenge for anyone coming in to kind of plan it out," Walston said. "Summer time is the busy time, to get everything all taken care of, the cleaning done and the maintenance, combined with building rentals in the summer, and we have a timeline we gotta get everything done.
"People ask me why I keep working, and it's because I keep pulling a paycheck; but it's also so I can see the school year all the way through. Then I hand in my keys and it's out the door," he said, with his quiet laugh. "It's really not that simple. It's quite a procedure with retiring. You have to get everything in synch. If you don't get it in the right way ..."
Walston was hired by the late Willard Schilling, whose son, Gary, is lead custodian at Hood River Middle School. The playground, aka Schilling Field, was a dusty expanse until Schilling added turf about 30 years ago.
"He was quite a principal," Walston said. "If he left a note on your desk, you made sure you remembered that note. If you didn't, you heard about it." Walston recalled one year in the 1980s when he and other staffers "adopted" students who were having some trouble.
"I just hung out when we could, and talked during the day," Walston said. "I'll never forget the boy's parent coming up to thank me for what I did for the kid and everything. That was real nice."
He said he tries to engage students in how their day is going. "They say 'hi' and 'have a good day,' and usually I return that to them. A kid thanked me for holding the door open and it makes you feel good when students do that."
"Some of them will carry a conversation with you. I ask them how things are going, and we just chat about the day, what's going on."
He described May Street as "really friendly, and you'd have to say interesting." He has seen people come and go and come again.
"It's quite a deal. You can see teachers who were students, there are I think four of them now, and students back then who are now mothers with kids here." Walston laughs at a memory from 1980, the last year May Street had sixth graders.
"Some of them set the trash cans on fire in the boys' room and I think they did it in the girls. So we had a good send-off from the sixth graders," Walston said.
May Street started as Hood River High School prior to 1927, and was a junior high until 1957. He said the gym was temporarily divided into classrooms while the new building was built in 1957. Walking across the squeaky gym floor he points out that there are two previous gym floors below it. Looking up, he points to one of the school's unique features: an elaborate cord-and-pulley ceiling trap door system operated from the mezzanine above the gymnasium.
Atop the gym is an attic that is spacious enough for LaMarcus Aldridge to stand up in. He points to the lumber company stencil on one of the main beams, and notices a stack of wooden chairs stenciled "Hood River District 3," from back when the county had multiple districts instead of one as it is now.
"I told someone a while back about those chairs," Walston muses, and he lowers one down the narrow wooden ladder that leads to the attic. "It's a part of the school the public never gets to see." (See photo, page A11.)
He's looking forward to spending a week or so "to show the new person the ropes." Walston loves his school, known for being clean to the point of shining, and he won't leave without training his successor, Denise Meyers, currently night custodian at Wy'east Middle School.
"There's a lot to know. It's not just the cleaning procedure, it's the maintenance, all the valves and switches and what they're for, and in what area," said Walston, who is looking forward to doing more hiking in his retirement. He is well known as a leader of day hikes through Community Education. The Dalles native lives in Mosier, and is a Gorge history buff, something manifest in his collection of thousands of postcards, many focused on the history of the Gorge and Oregon and Washington. His collection was featured in the Hood River News' Panorama section in 2005.
And no one knows May Street, parts of which are nearly a century old, better than Walston. "I pretty well know the ins and outs of where things are and the history of the building. It's been pretty fascinating learning from people who went to junior high and everything." (The main part of the school was built in 1957, around the 1916 gymnasium, which was upgraded in 2011. The east classroom wing was built in 2002 and expanded in 2008.)
"The old section of the gym has got a lot of character. You can see the history of the building," he said, including chimneys for fireplaces to heat classrooms, and former window spaces including windows on the west wall before the stairway was installed. Many of the old features were revealed three years ago when the gym and the warren of classrooms, and small rooms on ground floor were gutted in order to do seismic upgrades.
"It's pretty neat. And even the other parts of the building have a lot of character," Walston said. "After these few years you get used to hearing different noises from the heat units and the way they cooperate and everything. I worked two years as night custodian before I went to the day job." Back then he was with Jim Frigaard, and when he retired he became head custodian, 35 years ago. "They asked if I wanted it, and I said, 'yep.'"
Walston said he "learned a lot from other maintenance guys," such as how to do minor plumbing, a frequent need at May Street. "They showed me all that stuff." None of the school custodians do electrical work, but otherwise the job brings out the jack-of-all-trades in guys like Walston. He points to a chunk of concrete missing from the south outside stairway landing.
"I'll be patching that up before I go," he said.