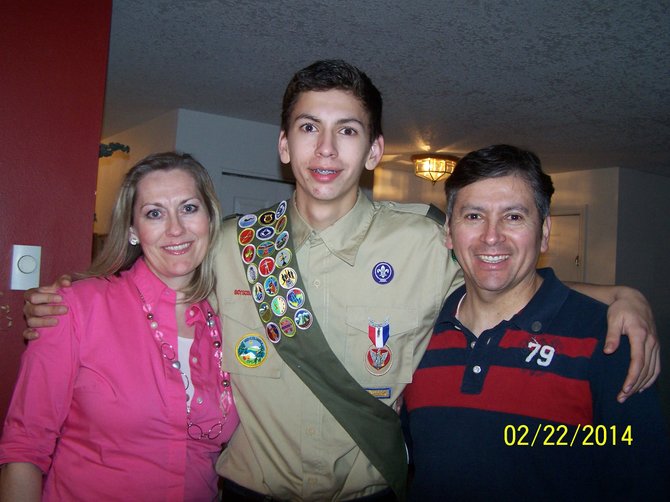 On and off the court, Scottie Ziegner has made his mark at the Tsuruta Tennis Courts, located on May Street next to the Hood River Aquatic Center.
Zeigner, who is currently Hood River Valley High School varsity boys tennis team's No. 1 singles player, built 14 spectator benches around the courts, in conjunction with the Hood River Tennis Committee's community effort to refurbish the courts last fall.
For his efforts, Zeigner, an HRVHS junior, received his Eagle Rank this spring. An Eagle Scout Court of Honor was held earlier this spring in his honor.
Zeigner, 16, had earned all of his merit badges and needed to decide on an Eagle Project. As an avid tennis player, he wanted to do a project that he had a vested interest in, as well as benefit the community. He contacted Hood River Public Works and discovered the courts' renovation project.
He worked closely with Leslie Kerr and Greg Shepherd of the committee in organizing and planning out the project.
The committee needed someone to oversee the building of 14 benches and some landscaping and paths. Zeigner took it on, with 57 volunteers ranging in age from 6 to 70 and accumulated 465 service hours. Both Subway and Domino's Pizza donated food two different days to those who were volunteering for the Sept. 7-14 work parties.
Fundraising for the project had been done previously by the Community Tennis Court Fundraising Committee. It raised over $280,000 through donations and grants, and was headed up by Leslie Kerr. For Scottie's part of the project, the cost for each bench was approximately $314.30, with a grand total of $4,400 for 14 benches.
The purpose of an Eagle Project is to allow a Scout to show leadership abilities and to learn a few things along the way. When asked about the leadership experience, Zeigner said, "I learned that it was hard being in control of something this big, but with the help from friends, leaders, committee members, adult volunteers and family members it can be done.
"I realized that it takes more than just my knowledge of how to do things. I can learn from other people's experiences and gather the information necessary to make the best choices.
"I learned you have to be very patient, especially when my decision might not be what they think should happen. I have to trust myself and my decisions, but be willing to change things later if necessary."
His mentors said Zeigner showed his talents in leadership and concern for community through working on this labor of love.