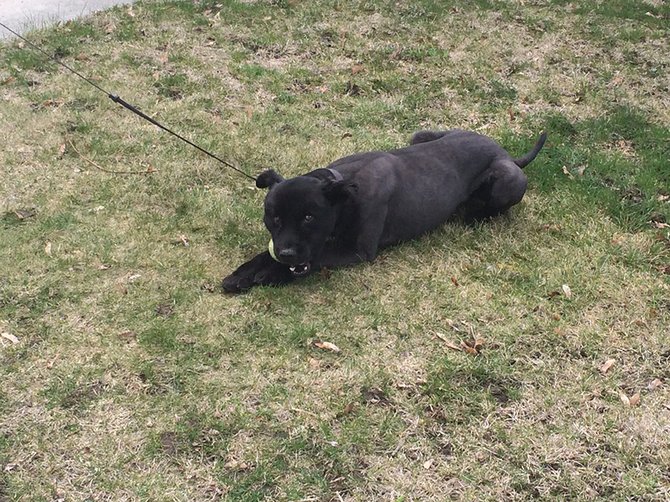 The Hood River County Sheriff's Office has received permission from the county to acquire a narcotic detection dog, which Sheriff Matt English said will be "uncharted territory" and the first time HRCSO has owned a drug dog in the department's history.
In a special meeting held at 12:15 p.m. Monday, Hood River County Commissioners Maui Meyer, Les Perkins, and Ron Rivers voted to approve the acquisition after listening to a brief presentation from English about the dog — a 5-year-old chow mix named Luke — which has served as a K9 for the Sherman County Sheriff's Office for the past five years.
English explained during the meeting that the dog was originally a pound dog that had been trained solely to sniff out narcotics, specifically marijuana, methamphetamine, heroin, and cocaine. According to HRCSO policy, the dog would be used to "assist in the search for controlled substances during a search warrant service; to obtain a search warrant by using the detection canine in support of probable cause; to search vehicles, buildings, bags, and any other articles deemed necessary," but would "not be used to search a person for controlled substances." He added the dog could also be used for public relations events, particularly at local schools.
Currently, HRCSO has to request assistance from other agencies if it is need of a K9. English wrote in his report to county commissioners that having a drug K9 program at the department would help greatly with enforcement efforts.
"Having a narcotics K9 team within an organization is far more advantageous than calling another agency for assistance," he explained. "Having a working team on the road every week, ensures that the team is addressing the needs of your jurisdiction and the narcotics problems in your community."
With a budget that has been tight for years, HRCSO might not normally be able to afford a K9 unit, which English said typically costs anywhere from $8,000 to $10,000. However, SCSO has agreed to provide the K9 free of charge as the department's deputy that currently handles the dog is looking to transition out of the responsibility.
Initial team training costs also typically run about $4,000, according to English, but those costs will also be taken care of by a local resident, who is retired from the California Highway Patrol's K9 program. The resident, whom English declined to name out of respect to the individual's privacy, has committed to help train both K9 and handler so they will pass the Oregon K9 certification process. Science Diet, a pet food company, has also committed to providing free food for the dog.
English anticipated there would be costs associated with additional training, overtime, outfitting a patrol vehicle with K9 equipment, as well as a $250 monthly stipend for the handler, who is required to live with and care for the dog during off-duty hours. English said Deputy Travis Paulsen has been identified as the likely candidate to be the handler and described him as "highly motivated" to take on this "huge commitment." According to the HRCSO K9 policy, handlers are required to be assigned to the position for the working life of their animals, which in Luke's case, is another 3-5 years.
Despite the extra costs, English told commissioners his department was "fortunate this year to have room within our budget" for the added expense of the dog. Commissioners seemed to agree with County Finance and Budget Department Director Sandi Borowy's assessment that the impact to the department's budget would be "minimal," and voted unanimously for HRCSO to acquire the dog.
English reported he planned to have training for both dog and handler start in June and hoped to have the dog on the road by mid-summer. He added that his department will monitor the program over the coming years in an attempt to measure the K9's impact on narcotics possession and trafficking in the county, as well as the program's costs.
"After that time, we will evaluate whether or not this is a program that should continue in the future," English said in his report.