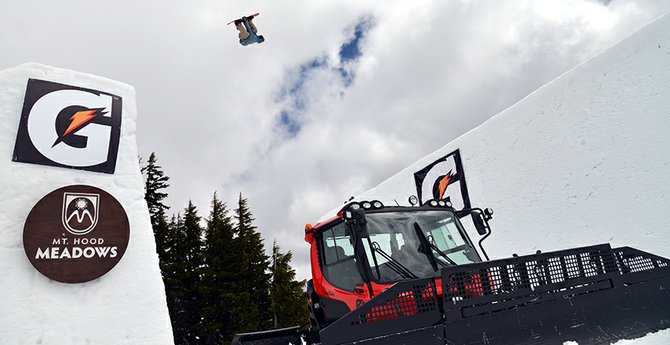 Many of the world's best snowboarders were at Mt. Hood Meadows last week for the 18th installment of SNOWBOARDER Magazine's highly touted Superpark exhibition, which featured a closed-to-the-public course of features that can only be described as ludicrous by anyone but the select few crazy, and talented, enough to fly off them at breakneck speeds.
"There is nothing stock about Superpark," says Pat Bridges, SNOWBOARDER Magazine's Creative. "The terrain is more challenging, tricks more innovative, and depth of talent significantly deeper than you will see at any other contest or photo shoot in the world of snowboarding."
Bridges said that, among many others, some of the big-name riders in attendance were Frank April, Scott Stevens, Jessica Kimura, Sebastién Toutant, Jamie Lynn, Chris Roach, Dan Brisse, Louif Paradis and Danny Kass.
The park was located along the resort's Shooting Star lift, where riders from around the world congregated and performed the latest and greatest acrobatic, off-axis, corked-out tricks while photographers and videographers collected footage for video parts, magazine spreads and other industry usage.
Capping off the week-long event were exhibitions Saturday and Sunday in the base area, where riders threw down on a setup of jumps, rails, walls and stairs that resembled the corner of a city park. Hood River native Dylan Thompson was atop the best-of-the-best list promoted for that event. Webcast of those two-hour session can be found at snowboardermag.com.
This world-caliber event is a milestone first for Meadows, which has been working to establish itself as the Northwest's premier destination for freestyle skiers and snowboarders. After a slow start to this winter's park and pipe-building season due to lack of snow, Meadows ended with a praiseworthy selection of crafted freestyle terrain, including its signature 18-foot superpipe.
Season ends
Meadows hosts its season-ending Beer and Music Fest on Saturday; lifts will run from 9 a.m. to 2 p.m., while the celebratory festivities will run from 11 a.m. to 5 p.m. on the sundeck of the main lodge.
"We're excited about throwing the free party for our guests to celebrate the end of this extraordinary season" said Dave Tragethon, Meadows executive director of communications. "Our friends at Double Mountain are bringing this fabulous lineup of music at no charge to our guests."
For those without season or spring passes, Meadows is holding an online special: $49 for a lift pass and a $20 Double Mountain gift card (or $59 for both and equipment rentals). Entertainment includes the music lineup of Gorge-based bluegrass/roots band, Green Neck Daredevils, Portland-based power trio The Quick and Easy Boys and a headlining performance by the Bad Livers.
More info at skihood.com.
Snowpack
After a grim start to the season and a worrisome snowpack that lasted well into 2014, late winter storms rejuvenated Mount Hood's supply of snow over the last couple months.
An unusual but not unprecedented storm last week deposited almost another foot of snow on the slopes of Meadows in what has been labeled "the last powder day of the season, the third," named, of course, after the first and second "last powder days of the season" that occurred in April.
As of deadline Tuesday, official National Resource Conservation Service data shows the Mt. Hood Test Site (at 5,370 feet) measuring 94 percent of normal, while the Hood/Sandy/Deschutes region is 88 percent of normal.