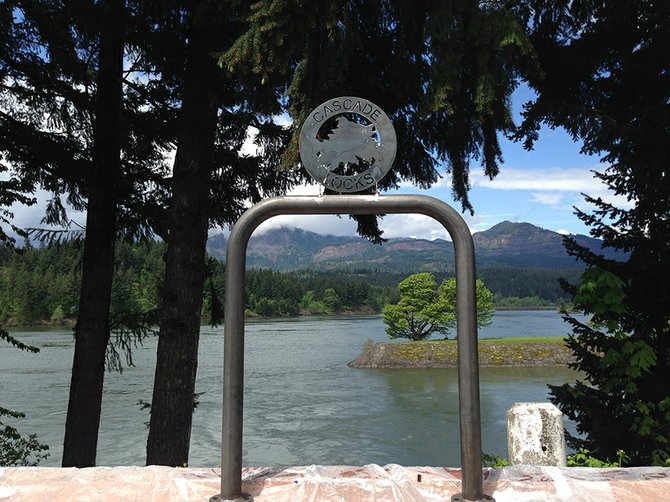 The city of Cascade Locks has been cranking away at becoming an increasingly bike-friendly destination over the past couple of years.
In late 2011, work began on the two-mile Cascade Locks International Mountain Bike (CLIMB) Trail located on land owned by the Port of Cascade Locks on the east side of town. The trail has been the site of numerous events over the past couple years and is envisioned to be part of a larger mountain bike trail system in the future.
For road bikers (or mountain bikers too), in November of last year, the Oregon Department of Transportation and the Oregon Parks and Recreation Department opened a new, 1.6-mile section of the Historic Columbia River Highway State Trail that now allows people to bike from Troutdale all the way to Cascade Locks without ever having to travel on the shoulder of Interstate 84. Eventually, this trail is supposed to run all the way to Hood River.
With more bikers pedaling to Cascade Locks, local businesses, associations, and government agencies have banded together to launch the Cascade Locks Bike Rack Program, which looks to have brand-new bike racks installed in front of businesses around town to help draw bikers to the community.
"It is an impressive partnership between the City Tourism Committee, the Cascade Locks Business Association, local businesses and the port," said Holly Howell, marketing and development manager for the port. "The goal is to have at least 30 new racks in town by June, plus 10 in the Marine Park."
The metal racks are made in Portland but are topped with designs from Cascade Locks metal artist Brad Lorang that are each designed to reflect "a unique aspect of our community's culture, history, recreation, or stunning natural surroundings," said Howell. Designs include depictions of salmon, sailboats, hikers, bikers, the Bridge of the Gods and others. Funding for the racks, which cost about $93 without the designs, has been provided by the Cascade Locks Tourism Committee and Nestlé to businesses that are members of the local business association. Businesses are asked to pay $84 for the design to be painted and attached to the rack, or pay more if they wish to have a custom design.
Howell credited Dave Lipps, co-founder of Thunder Island Brewing Company in Cascade Locks, as being the "main champion of the project." (As a side note, Lipps is an avid cyclist himself and his brewery is currently hosting Adventure Cycling's traveling Bicycle Eclectic Portrait Exhibit, which features a selection of black-and-white portraits of long-distance cyclists, until the end of June.) Lipps sees bicycling as a huge draw to Cascade Locks and is also a member of the local tourism committee and business association.
"I'm pretty excited about it," he said of the project. "We've had a lot of interest from all over town."
Lipps said the city has eight locations where bike racks are currently located, but they are the older, "front-wheel" style racks where bikes are arranged perpendicular to the rack, and are typically fastened by locking the front wheel to the rack.
However, Lipps said those racks are less secure, and that riders have a tendency to "shove their bikes in there and scratch other bikes."
"If you have a $2,000 road bike, you're not going to want to park it there," he noted.
The new bike racks that are arriving at Cascade Locks are shaped like an upside down "U" and allow for bikes to be parked on each side, parallel to the rack. Lipps said the design is increasingly being used in Portland and prevents bikes from toppling onto each other, as well as offering more options for riders to secure their bikes.
The arrival of the bike racks dovetails well with another current bike promotion project that is under consideration in Cascade Locks, as well as other cities in the Columbia River Gorge. Howell reported that the port is participating in a "regional dialogue" regarding "Gorge Hubs." The project, which is headed by ODOT, would consist of a chain of bike rest areas throughout the cities of the Gorge and would include such features as bike racks (of course), parking, drinking fountains, restrooms, maps, bike repair stations, benches, and information on local businesses.
Gorge Hubs is still in its conceptual stage, but Howell said partners in the project planned to meet with Travel Oregon "to discuss marketing opportunities" and are also "considering upcoming grant opportunities for design assistance and program planning."