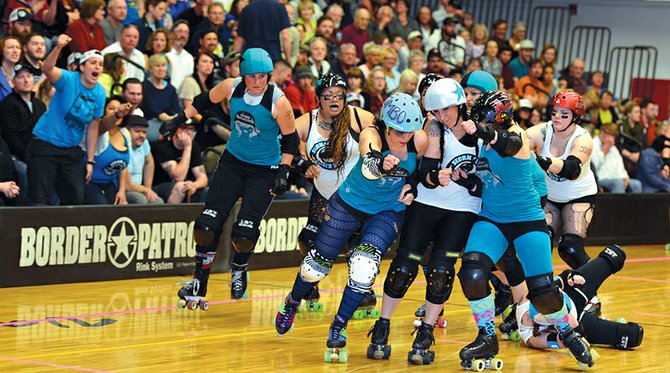 An unfortunate but timely reminder during warm-ups of the risks skaters take in the sport of roller derby set the tone for Saturday's home bout hosted by the Gorge Roller Girls. After receiving a standing ovation as paramedics hoisted a Storm City Roller Girls skater into an awaiting ambulance with a broken leg, players from both teams did a quick gear check with referees before getting started with the bout.
With close to 700 people filling the stands in the Hood River Valley High School gymnasium, the bout was loud, rowdy, rough-and-tumble — just the way the girls like it.
In their first bout in Hood River this season, the GRG All Stars pretty much annihilated the less-experienced Storm City team out of Vancouver, Wash., as was evident by a final score of 382-68.
"The energy our fans bring to bouts is unbeatable," said Wreck-Less on behalf of the team. "Nothing is better than the adrenalin rush a skater gets when the crowd goes wild. This was probably the strongest game that we have played."
GRG's high scorer was Ginger Binger Danger Hips, whose quick and agile skating proved unstoppable for Storm City; she finished with a game-high 104 points for the home team. As is customary at the end of each bout, each team selected an MVP from the other team. Storm City voted Comet as the GRG's MVP.
Saturday's bout was the team's sixth of the season. The team travels to Salem later this month to take on the Cherry City Derby Girls before returning to HRVHS on June 14 (6 p.m.) for the final bout of the season against the Atomic City Roller Girls out of Tri Cities.
For women interested in joining the action, the team is hosting a new skater intake event on May 18. For details or to register, send an email to gorgerollergirlsjoin@gmail.com or visit gorgerollergirls.org.