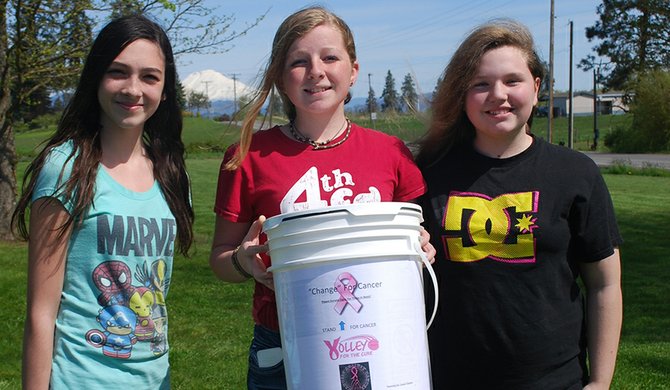 The noisy coins clink and slosh in the big white bin, hand-labeled with the famous pink ribbon denoting breast cancer awareness. That "noise" has become the sweetest sound for three seventh-grade girls at Wy'east Middle School who, over the last seven months, raised $139.50 to help prevent breast cancer in our community.
"We read it was breast cancer awareness month (in October) and the three of us all wrote journal entries about it for our class," piped up Gracee Dillingham, 12, on the topic of how she and friends Aarya Bradley, 13, and Josee Claxton-Beam, 13, formed their plan to raise money and donate it to the Julie Beliel Breast Cancer Screening Voucher Program at Providence Hood River Memorial Hospital Foundation.
"We had so many people … teachers and everyone who put money in the bucket in classrooms, at assemblies and games," said Claxton-Beam. Their goal: $175 — the approximate cost for one discounted mammogram through the hospital foundation for an uninsured or low-income woman in need of a screening. The girls got very, very close to goal this year and hope to continue their efforts for years to come.
"We plan to do this every year until we graduate high school," said the trio in virtual unison. "And, we want to start a tradition here at Wy'east — we want to pass this idea on to the next class of sixth-graders coming up."
Wy'east Middle School Principal Catherine Dalbey had high praise for the ambitious threesome with a nod to the difficulty faced by anyone trying to start something new.
"These three exceptional young ladies had to hound me to get this to happen," she said. Laughing, the girls acknowledge that being a bit "pesky" in this case was all for a good cause — a cause close to their hearts.
"I have a friend who lost her mother to cancer," said Bradley. "I felt bad and we all wanted to do something." Both Gracee and Josee also had either family or friends affected by breast cancer and other cancers.
The steps to reach their goal included reading about breast cancer, creating a collection bin and locating logos to paste on it. Then came the collecting: With their first successes, small issues arose and the girls learned to respond. Securing their coins presented a bit of a challenge, with the girls creating a solution by screwing the lid of their collection bucket closed to keep the contents safe in unguarded locations.
The most successful part of the project, they said, was the time they spent visiting every classroom at Wy'east and teaching other youth about their cause and encouraging donations. With generous pockets opened, the bucket began to fill. Adding to the effort, the girls brought their bucket to assemblies and girls volleyball games where teachers and parents added more.
"These girls are an inspiring example of what all of us are capable of — changing the world one caring effort at a time," said Julie Raefield-Gobbo, executive director of the PHRMH Foundation, which received the girls' stack of donated dollars and coins.
While not quite reaching their goal this year, the trio hopes that others may match their effort with a donation to the foundation to support the breast cancer screening program. For those wishing to help, call 541-387-6950 or use an online donation form available at providencefoundations.org/hoodriver or http://bitly/1iUBDdv.