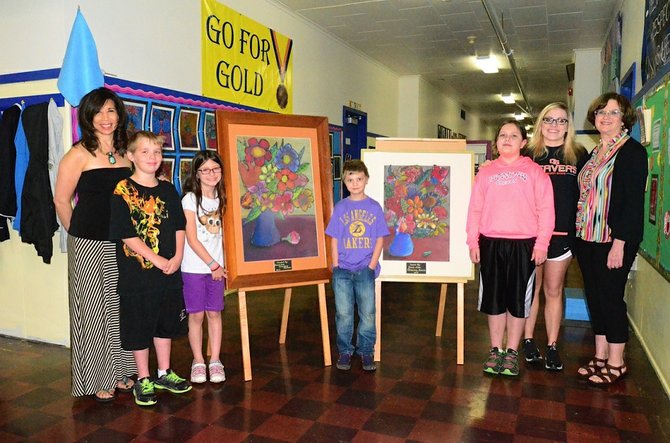 The Charburger Restaurant in Cascade Locks recently accepted a generous donation of art from students at Cascade Locks Elementary School. The piece was created as part of a Columbia Gorge Arts in Education project at the school last month.
Artist-in-residence Camille Hinman recently taught lessons in drawing, shading, texture, line, value and color to all Cascade Locks school children, in grades K-5. Utilizing newly learned techniques, each child created his or her own still life in soft pastels.
Extending the lessons further, students collaborated on two still life "masterpieces." One of the framed paintings will hang in the Cascade Locks Elementary School library. The second painting will hang in the entrance of Charburger Restaurant, as thanks to the business for sponsoring part of the project.
"For the group paintings, each child created a piece of the final project — be it a leaf, stem or flower," explained Hinman. "The collage was later assembled and glued down to a stunning effect."
The Charburger, a landmark restaurant, has been undergoing renovations under new ownership.
"The student painting will be a focal point in the restaurant entrance, giving local children something to be proud of," Hinman said.
n
Columbia Gorge Arts in Education is a nonprofit organization providing arts education to K-12 school children in Hood River, Wasco and Sherman counties in Oregon, and Klickitat County in Washington. For more information, visit cgaie.org.