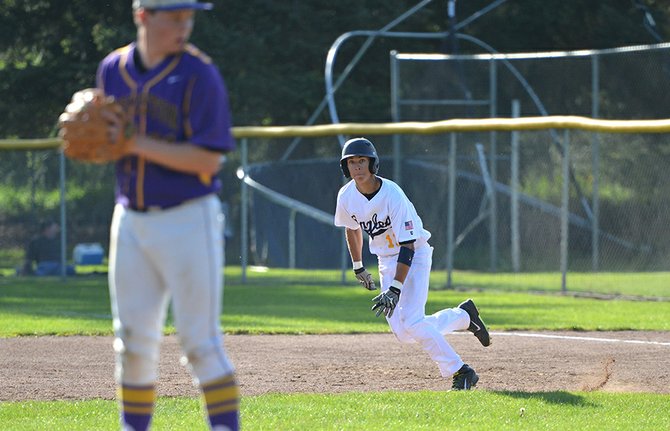 Hood River Valley baseball fell just short of an exciting upset over the Columbia River Conference-leading Hermiston Bulldogs in a stifling home contest Tuesday afternoon at Traner Field that ended with a 5-4 loss.

After two scoreless innings the Eagles took a 1-0 lead in the third off a two-out rally sparked by a line drive single from Skyler Hunter. Alex Jimenez then singled to get on base and Kellan Duffy followed with a shot to left field to drive in Hunter.
The Eagles followed with a ruinous fourth that included three fielding errors to give up four runs in the top of the inning and three straight ground-outs at the bottom of the inning. A rally in the fifth brought the game to within one for HRV after Connor Curtis, Skyler Hunter, Alex Jiminez and Ryan Ward all had hits. Ward's clutch RBI in the inning – a line drive to left field — was one of thee he had off his team-leading three hits.
Kam Walker opened with five innings on the mound before stepping aside for Patrick Harvey to close out the game. The two managed at total of just five strikeouts, giving credit to Hermiston's hitting, but were backed by solid fielding efforts from the rest of the team. Outfielder Riley Van Hoose gets credit for a team-high four putouts in right field, including two seventh-inning catches that gave HRV one final chance for the comeback.

After giving up a fifth run in the sixth inning to go down by two, the Eagles put their sticks to work in the seventh. Jiminez reached base on an error and Duffy and Ward both singled to left field to load the bases with one out. Patrick Harvy lined out to center field, but Jiminez was able to make the tag and spring home. Walker then walked to load the bases again. Van Hoose connected on the following play but Hermiston was able to make the play at first for the final out.
"Leaving the bases loaded like that in the seventh inning was a tough pill to swallow," coach Erich Harjo said. "But it's a big part of taking another step towards being mentally tough. It was our seniors' last home game, so a win would have been ideal but it just didn't happen. Gotta' tip your cap to Hermiston. They have a really competitive and gritty group over there."
The result put HRV at 3-8 in conference action with one game left to in the regular season (Friday at The Dalles, results unavailable as of press time). The team's 5a No. 19 ranking as of Friday morning isn't likely to chance much regardless of Friday's outcome, which means HRV will travel to one of the mid-teen ranked teams on May 23 for a state play-in game and a shot to advance into the 16-team state championship bracket.