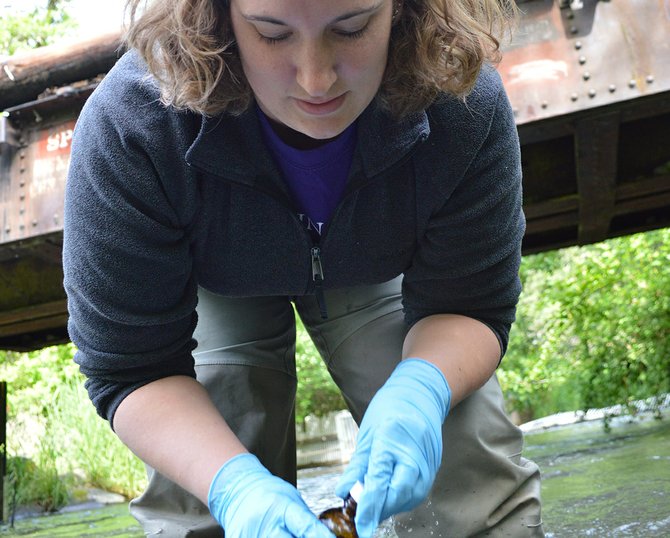 On paper, Megan Saunders has not just one, but two job titles, and in reality, should could have many more.
Water sampler. Volunteer coordinator. Tour guide. Secretary. River monitor. Grant writer. Educator. Data analyst. Habitat enhancer. And, one of Saunders' personal-favorite, would-be titles: Dead fish chucker.
Instead, Saunders is officially known as a conservation technician and watershed assistant, working with the Hood River Soil and Water Conservation District and the Hood River Watershed Group where she had been employed full-time for the past three and a half years. HRSWCD is one of 45 conservation districts in the state that help local residents with conservation techniques and management practices designed to protect natural resources, while the HRWG is a forum of landowners, citizens, growers, irrigation and water districts, environmental organizations, businesses, recreationists, governments and tribal representatives that help implement these goals. They are supported by funding from Confederated Tribes of Warm Springs, Middle Fork Irrigation District, East Fork Irrigation District, Farmers Irrigation District, and the Oregon Watershed Enhancement Board.
Saunders works with these and other agencies and partners in the Gorge on various projects to ensure the forks and the tributaries of the Hood River remain healthy. But that means, as we've already established, a lot of different jobs. For one, Saunders says she does "a good chunk of the water monitoring" for HRSWCD, which entails collecting data on temperature, turbidity (how much sediment is suspended in the water), flow, and any pesticides that may be present in the water and then sending that data to the Department of Environmental Quality.
However, education is also a big part of Megan's job, which can range from anything from informing local landowners about best practices in water conservation, facilitating a fish dissection class to teach grade-schoolers about salmon and their importance in local waterways, to leading guided community tours, including a water supply tour last month that Saunders hosted to show the public how they get their tap water. Additionally, Saunders also helps with grant writing and takes the minutes at the monthly HRWG meetings.
Those who are creatures of habit and love routine would probably not be suited for Saunders' job, which she says doesn't have much of a day-to-day quality to it, much to her pleasure.
"I really like the variety," she says of her job, and then smiles. "I really like everything, actually."
Saunders' love of the natural world stretches way back to when she was a young child and, if you look at her parents' background, is likely sequenced somewhere in her DNA. Saunders says her parents met at Brandeis University, in Waltham, Mass., where her mother, Carol, worked in the biology department and her father, Bill, was a photographer for the microbiology department.
Saunders grew up about a half-hour away from Brandeis in the town of Reading, Mass. Despite her parents' backgrounds in biology, Saunders says her love of natural sciences developed fairly organically, other than some coaxing from her parents by means of a cookie bribe to go on nature hikes that, as a child, Saunders detested. (She says she has now, especially in the Gorge, grown out of her hike hatred.)
Spending summers in Alpena, located in northern Michigan, gave Saunders time to explore an area that was more rural than her hometown located in the Boston metro area. Saunders says she would "collect minnows and crawdads and stuff and put them in a pail and create little habitats for them."
"I always liked biology, but I guess it really started in high school," she explains of her interest in environmental science. "There was an elective class that my brother took that I heard about from him that I took before the [teacher] retired, but it was a field ecology and biology class where we would just go out and sample vernal pools and collect macroinvertebrates."
(In lay terms, a body of water that doesn't exist year-round and, animals without spines that you can see with your naked eye.)
"This teacher had been studying these for 30-40 years and he was the local expert, so obviously we learned a lot, but also we just got to go out and do cool stuff," she continues, recalling wading through the cranberry bogs of New England and going on field trips to watch salamanders breed.
"It was one of those things where, if you have a good teacher, they make things more fun than they already even would be," Saunders notes.
After high school, Saunders attended Colby College in Waterville, Maine, where she graduated with a bachelor's degree in environmental studies, with a policy concentration. After a temp job as a data worker, Saunders applied to serve in AmeriCorps at sites all over the United States, and wound up serving as the watershed assistant for HRSWCD, doing some similar work, including water quality monitoring and salmon enhancement, that she does now.
Near the end of her 11-month term, funding for the AmeriCorps program that supported Saunders' position was cut and she was unsure where she would work next. She applied for the position she holds now and discovered on the final day of her AmeriCorps term that she had gotten the job and would be staying in the Gorge.
Saunders says she loves going outside for her job and getting in the field, which can involve strapping on some waders and scrambling over boulders and down into stream beds to collect water samples. Like the flow of the river, the number of times she's out in the rivers and streams is seasonal.
"In the winter, it's once or twice or month," she explains. "During irrigation season, two or three days a week. Sometimes, it's every day."
The job is not without its occupational hazards. Saunders has run into poison oak before, scratched by errant brambles, had her heart leap into her throat after accidentally disturbing the nest site of particularly perturbed duck, and had a staring contest with a juvenile bear that stumbled upon Saunders while she was taking a water sample on Neal Creek not far from the Mt. Hood Forest Products mill. (Saunders won, especially Mama Bear never showed up).
Those experiences, however, don't compare to thrill Saunders gets of throwing dead, frozen fish into a stream, which are used to replenish nutrient levels in streams when salmon runs are low, and fewer fish die and decompose.
"It's actually one of my favorite days," she says with a sheepish chuckle. ""They're just like fish popsicles. It's just funny."
The people make her job, special as well. Saunders explains she likes how her organizations operate and interact with the many agencies and citizens they interact with in the community.
"It's voluntary, it's cooperative; you're working with people who want to work with you," she notes. "Since I've worked here, I've worked with many great people."
"I've learned a lot in the four years I've been here," she continues. "It's been pretty awesome."
And as for the Gorge, she says it's "certainly different" than New England, but it continues to feel more and more like home. After all, it's pretty hard not to like the Gorge, she notes.
"I think I even fit in better out here than I do there," she says. "It's pretty perfect for me."