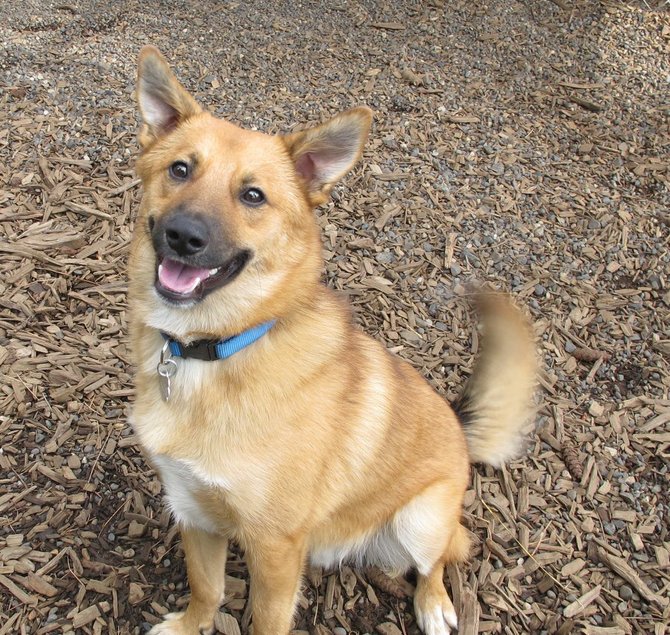 This week volunteers at Adopt A Dog have selected Ylvis as the program's adoptable pet of the week. They describe him as follows:
"'What Does The Fox Say?' So many people think this handsome boy looks like a fox; we just couldn't resist the name! Ylvis is likely a Finnish Spitz mix, about 35 pounds, and as lively and happy as they come. (His name is pronounced IL-vis — like Elvis, sorta. It's catchy, especially if you sing the song he's known for!)
"Ylvis is pretty young — just a year old — so he's still figuring some things out, like how to play, or what to do with the fuzzy yellow ball — but he catches on fast enough. He's a smart boy and new tasks are easy and fun for him to learn.
"Ylvis would be happiest with an active, confident family with calm leadership ways, willing to lead him to a fun-filled life. When left alone and outside, Ylvis is a bit of a barker, but that's his breed. He's very quiet inside.
"Actually, the Finnish Spitz was bred to bark to alert the family of intruders, and he's very loyal to his people. But, regular hikes/walks/runs, and Ylvis uses up some of that energy and he's content to sleep at your feet at the end of the day."
Ylvis is current on shots, microchipped and neutered. His adoption fee for is $185. The fee to adopt is charged to recoup standard veterinary expenses.
Since many of AAD's dogs are in foster care, please call ahead to meet Ylvis at the Hukari Animal Shelter, 3910 Heron Drive, Odell; 541-354-1083. Adoption hours are Wednesdays from 5-7 p.m. and Saturdays from 9-11 a.m. Applications may be downloaded at hoodriveradoptadog.org and faxed to 877-833-7166.