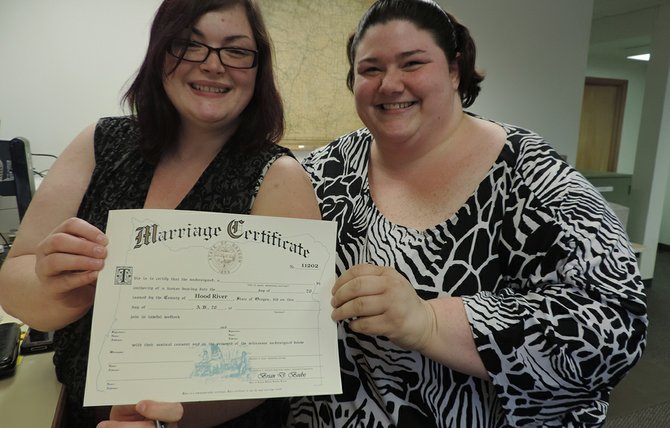 Samantha Meyers and Amanda Durnez made Hood River County history Tuesday – they purchased an Oregon Marriage Certificate, entitling them to marry, following a federal judge's ruling Monday that the ban on same-sex marriage in Oregon is unconstitutional. County Clerk Brian Beebe helped the couple with the paperwork; he said forms have been changed from "bride" and "groom" to Party A and Party B. "It's now done the exact same way for everyone," said Beebe. "It's an exciting day, a good day for Oregon," said Beebe, whose served as officiant earlier this year for the marriage in Seattle of his brother, who is gay.
"We're actually pretty excited. We opted for traditional vows. It didn't really feel like an option. It's kind of amazing," Durnez said.
"It's a crazy feeling. We feel wonderful, and it's an honor to realize we are the first," in the county, Meyers said. Meyers and Durnez, who will keep their names, will marry in a small, private ceremony at Laurance Lake on May 21, two years to the date they undertook Domestic Partnership under Oregon law. "People have been super supportive," Durnez said. Meyers works in admitting at Providence Hood River Memorial Hospital, and Durnez is a tax preparer for Mt. Hood Tax Service. Both graduated from Hood River Valley High School in 2002, have been friends for 15 years, and a couple for four. They are parents to Jack, 5, Durnez 's biological son, whose father lives in the community and also actively parents Jack. See full story in the May 24 Hood River News.